Advantech Launches UNO-3272G Entry-Level Fanless Control Cabinet PC for Diverse Automation Applications
6/30/2019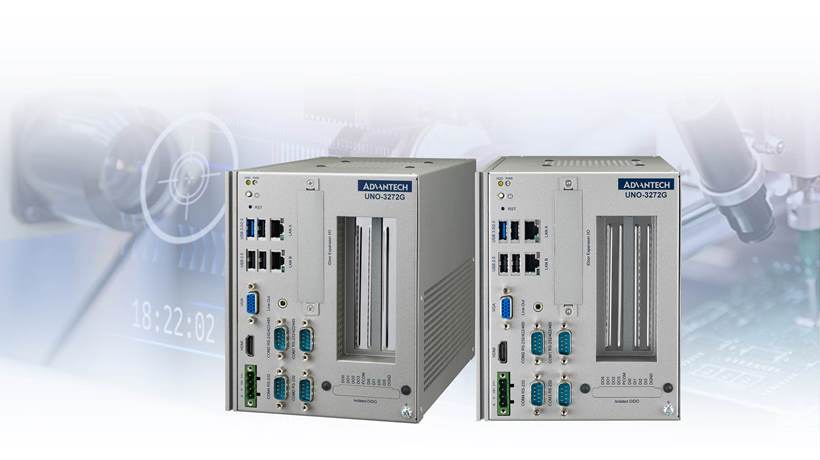 Advantech, a leading provider of automation technology, is pleased to announce UNO-3272G – a cost-effective entry-level fanless control cabinet PC. Equipped with an Intel® Celeron® J1900 quad-core processor, one USB 3.0, two GigaLAN, two RS-232/422/485, as well as one VGA and one HDMI display interface, UNO-3272G is an entry-level computer designed to deliver maximum flexibility for industrial machine/factory automation applications. The provision of two expansion slots (PCIe x1 or PCI) supports the inclusion of a PCI/PCIe expansion card. In addition to dual power inputs that ensure system stability and uninterrupted operation, UNO-3272G also supports iDoor technology to enable flexible functionality according to specific application requirements. With the integration of various iDoor modules, such as an industrial field bus, power-over-Ethernet, COM, or digital I/O module, the system functions can be extended or customized to provide purpose-built, future-proof solutions for diverse automation applications.
Industrial Design for Increased Reliability
To facilitate high-performance computing for industrial IoT applications, UNO-3272G is powered by an Intel® Celeron® J1900 quad-core, 2.0 GHz processor with 4 GB of DDR3L memory (two sockets can support up to 8 GB) that supports both HDMI and VGA display. The platform's ruggedization, which includes support for 10 ~ 36 VDC input power and a wide operating temperature range (-20 ~ 60 °C/-4 ~ 140 °F), provide the reliability to ensure stable operation in the most demanding industrial environments. Moreover, the provision of dual power inputs for power redundancy ensures a stable power supply, preventing unexpected shutdowns and interruptions.
Intel® Quad-Core Processor Delivers Highest Cost/Performance Ratio
Powered by a 6th generation Intel® Core™ i7 processor equipped with an Intel® QM170 PCH chipset as well as 6 x USB 3.0 and 2 x GigaLAN ports, UNO-3285C delivers the high-performance computing power to handle heavy loading, machine vision, motion controllers, and complex end devices. UNO-3285C provides a reliable and cost-efficient scalable system for diverse control and sensing applications.
Easy Optimization with Flexible Expansion
To ensure easy deployment for diverse industrial applications, UNO-3272G features an optimized all-in-one design that supports a variety of backplanes, offering increased convenience for integrating additional optional peripherals such as iDoor modules and DI/O cards. Furthermore, UNO-3272G is equipped with two PCI/PCIe expansion slots that enable the installation of machine vision/motion cards for diverse automation applications. As the latest generation of Advantech's UNO-3000 series, UNO-3272G also retains most of the I/O interfaces offered with previous models, which means existing UNO systems can be easily upgraded for more flexible I/O.
Built-In TPM 2.0 Chip Offers Enhanced Security
To ensure data security across platforms, UNO-3272G also features a built-in TPM 2.0 chip that provides industrial-grade, hardware-based security and supports functions such as encryption, system integrity monitoring, boot control, and key management. Because TPM chips use their own internal firmware and logic circuits for processing instructions, they are safe from software-based OS attacks, making them ideal for industrial process-based applications.
Intel® Celeron J1900 quad-core, 2.0 GHz processor with 4 GB of DDR4 memory
2 x GbE, 1 x USB 3.0, 2 x USB 2.0, and 2 x RS-232/422/485
1 x VGA and 1 x HDMI display output
2 x PCIe x1, 2 x full-size mini PCIe, 1 x CFast, 1 x mSATA (optional)

Supports fieldbus protocols via iDoor technology

Dual power inputs enable power redundancy

Front-facing LED indicators show system status

Advantech's UNO-3272G entry-level fanless control cabinet PC is available for order now. For more information about this or other Advantech products and services, contact your local sales support team or visit the Advantech website at www.advantech.com.
Founded in 1983, Advantech is a leading provider of trusted, innovative products, services, and solutions. Advantech offers comprehensive system integration, hardware, software, customer-centric design services, embedded systems, automation products, and global logistics support. We cooperate closely with our partners to provide complete solutions for a wide range of applications in diverse industries. Our mission is to enable an intelligent planet by developing automated and embedded computing products and solutions that facilitate smarter working and living. With Advantech products, the application and innovation potential becomes unlimited. (Corporate website: www.advantech.com).