Advantech Reveals the Market First Wide Temperature Industrial NVMe SSDs
5/17/2018
May 2018, Taipei –Advantech, a global leading provider of the industrial storage solution SQFlash, today released a series of the market first embedded NVMe SSDs with wide temperature support and self-management built-in for industrial markets. Advantech's SQFlash embedded NVMe SSD 710 series, includes not only M.2 2280 NVMe SSD (SQF-CM8 710), but also market first M.2 2230 A+E key NVMe SSD (SQF-CM3 710), and PCIe minicard NVMe SSD (SQF-CMS 710) with industry leading two-lane design. The series is designed for embedded applications which requests higher performance yet compact form factor and enhanced power efficiency. SQFlash 710 series works with superior power efficiency which benefits from advanced internal power managent design, along with sophisticated thermal simulation and real time thermal monitoring and throttling functions, therefore the heat generation can be further reduced.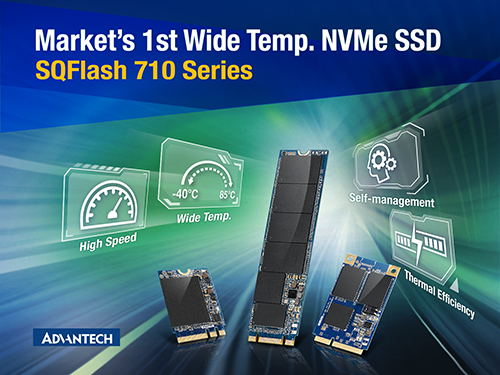 3X Performance with Multiple Form Factor Selections
SQFlash 710 series provides multiple form factors portfolio which are compatible with general embedded board and system designs offering great flexibility for system integrators. Among them, SQF-CM3 710 M.2 2230 A+E key NVMe SSD is mostly used by WIFI module and is growing popular in industrial motherboard design. This unique offering of SQFlash NVMe SSD comes with 22 x 30 mm small form factor which still support maximum 512GB capacity and up to 1.9 GB/s data process performance, the whole system performance can be boosted even in the most compact design. Other than M.2 2230, a very common form factor is PCIe MiniCard (MiniPCIe). SQF-CMS 710 MiniPCIe SSD offers optional two-lane support which gives 3x performance than SATA SSD.
Advanced Power Management and Built-in Self-Management
Wide temperature support is an essential part of industrial SSDs. SQFlash 710 series is designed with high reliability and quality which conforms to Advantech standard industrial product design process including strict verification, qualification and dedicated thermal solution to ensure the SSD can be operated in ruggedized environment. The series is also built-in with a dedicated power management chip to optimize power efficiency includes Soft Start Operation, Power Sequence Control, Low Power Mode Control, and Power Failure Protection. This enables SQFlash 710 series SSD to be operated in very stable power environment and ensure the SSD can fully reveal its high performance with stability and ultimate data reliability. Heading toward IoT applications, SQFlash 710 series is also the market first NVMe SSD with complete security feature support. With McAfee Anti-virus utility built-in, it provides an ultimate security solution for software protection, data security, and internal encryption. What's more, the cloud ready online predictive maintenance feature is also first available for the whole product series, which helps users to monitor SSD working condition from even unmanned application scenarios. To obtain more information, please contact your local sales office or visit the Advantech SQFlash website. (http://www.advantech.com/SQFlash)