Advantech Unveils New Family of Reconfigurable Accelerators for Video Processing at NAB 2018
4/6/2018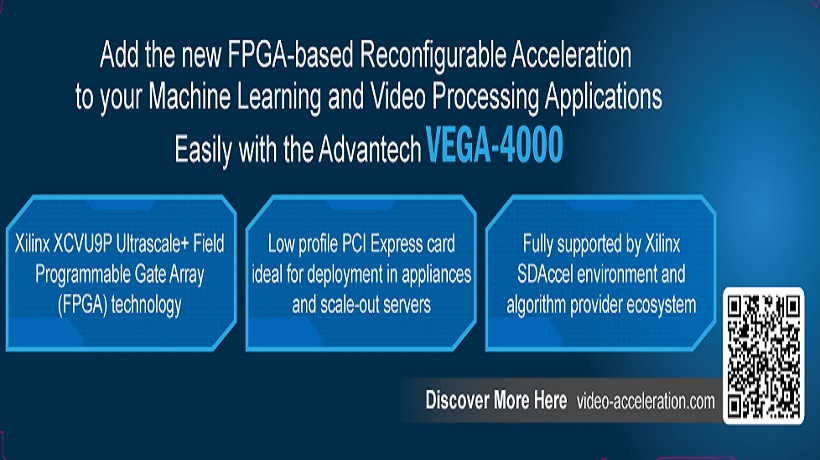 Las Vegas, NAB Show, April 6th, 2018 – Advantech (TWSE: 2395.TW) today announced the expansion of its successful VEGA video processing product portfolio into the area of video analytics and inferencing, with a new range of plug-in PCI Express accelerator cards based on Xilinx Ultrascale+ Field Programmable Gate Array (FPGA) technology.
As user-generated video content streaming becomes more and more pervasive and with new 5G applications on the horizon, there is an escalating service demand to analyze and classify this content in real time to ensure compliance to rules and to allow further innovative applications to be developed. The resulting processing workloads are not only immense, but rapidly evolving, so the need for both processing acceleration and flexibility is critical. The latest generation of FPGAs from Xilinx offers this acceleration in a power efficient manner while retaining future-proof reconfigurable capability; and Advantech's new VEGA-4000 family can provide access to this technology in a deployable PCI Express form factor, reducing development risk and gaining time-to-market advantages.
"Addressing video content intelligence and analytics represents a logical next step in our product line evolution," said David Lin, VP Video Solutions Division at Advantech. "There is a clear recognition of the value of acceleration in Deep Neural Network inferencing, and Xilinx have a strong value proposition."
The first two products unveiled are the VEGA-4000, a low profile card with a single XCVU9P FPGA ideal for appliances and scale-out servers, and the VEGA-4001, a GPU-sized card with two higher power XCVU9P FPGAs for high density applications. The cards are easy to develop applications for, being fully supported by the Xilinx SD Accel development environment, and Xilinx also offers optimized support libraries for several Deep Neural Network frameworks including Caffe and Mxnet now and TensorFlow in development.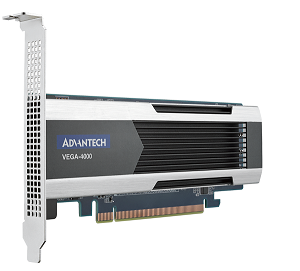 Advantech VEGA-4000
FPGA-based Reconfigurable Accelerators, designed for Machine Learning, Inferencing, Encoding and Transcoding
Advantech also offer custom development support services including algorithm integration and hardware customization, and the boards can be delivered already pre-integrated in a range of server platforms to further reduce installation and support complexity.
Advantech will be showcasing the new VEGA-4000 family in NAB booth SU12010, April 9-12, 2018 in Las Vegas. For more information and to book an appointment, please contact video.solutions@advantech.com or visit www.video-acceleration.com.
About Advantech Video Solutions
Founded in 1983, Advantech is a leader in providing trusted, innovative products, services, and solutions. Advantech VEGA Video Platforms and PCIe Adapters are designed to boost video infrastructure performance from acquisition to distribution at the lowest power budget while fully complying with the media industry needs. By providing access to the latest 4K/8K UHD video processing and IP media technologies on commercial-off-the-shelf IT platforms we accelerate the deployment of next-generation, open and more efficient video solutions across a wide range of applications from broadcast encoding and high-density OTT transcoding to cloud, mobile and 360° video. Advantech's standard portfolio can be tailored to meet a range of system requirements, significantly reducing time-to-market effort for our customers. Contact video.solutions@advantech.com or visit www.video-acceleration.com.
###