Advantech Launches HIT-W101C 10" Information Terminal for Healthcare Applications
7/3/2017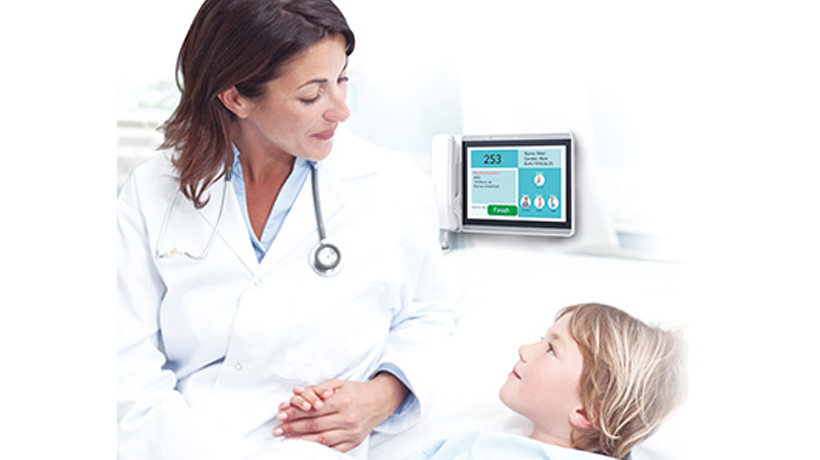 Taipei, Taiwan, July 4th, 2017 – Advantech, a leading provider of medical computing systems and services, is pleased to announce HIT-W101C – a 10" healthcare information terminal specifically designed for hospital applications. Featuring a Freescale™ i.MX6 A9 quad-core processor, Android 5.1 operating system, and 10.1" 16:9 widescreen multi-touch display with projected capacitive (PCAP) touch control, HIT-W101C offers healthcare providers a cost-effective and highly flexible medical computing device. In addition to a 2-megapixel camera and microphone with acoustic echo cancellation (AEC), HIT-W101C is equipped with rear-access I/O that includes USB, mini USB OTG, RJ12, RJ45 with power-over-Ethernet (PoE) support, and micro SD slots for convenient connectivity and integration. The IP65-rated true flat front panel protects against water and dust ingress and can be easily cleaned to ensure the highest levels of hygiene and infection control are maintained.
Compliant with EN 60950 and EN 60601-1-2 certifications, the HIT-W101C's lightweight (740 g) and slim (22 mm) design allow it to be easily mounted on walls, counter tops, mobile carts, and bedside swing arms to serve as medical equipment control panels, nurse station terminals, pharmacy information systems, medical cart devices, and patient infotainment terminals. Moreover, to expand the functionalities according to specific usage needs, HIT-W101C terminals can be integrated with a camera, and RFID/NFC/Wi-Fi/Bluetooth modules, as well as a voice-over-IP (VoIP) handset.
High Flexibility for Diverse Patient and Caregiver Applications
HIT-W101C can be installed in bedhead units or mounted on bedside swing arms to function as bedhead terminals or patient infotainment devices, respectively. Healthcare staff can use the terminals to access medical records and hospital information systems, retrieve laboratory results, monitor patient vital signs, and document treatment observations. Meanwhile, patients can use the terminals to watch movies/TV, make phone calls, play games, surf the Internet, send emails, request nurse assistance, and manage the ward environment, such as to adjust the bed height, lighting, curtains, and other equipment.
In other words, Advantech's HIT-W101C information terminal is a single solution that enables the efficient provision of digital entertainment and clinical services at the point-of-care. Furthermore, when mounted on nurse stations or mobile medical carts, healthcare staff can use the terminals for medication tracking and administration to reduce paper usage and potential data errors, thereby improving productivity and overall care service quality.
Supports a Wide Range of Peripherals for Easy Expansion
Advantech's high-performance HIT-W101C terminal can be integrated with diverse peripherals, such as a VoIP handset, camera, and RFID/NFC/Wi-Fi/Bluetooth modules, to expand the system functions according to application requirements and ensure compatibility with existing hospital systems and processes. Additionally, although installed with Android 5.1, HIT-W101C can be equipped with a Linux operating system upon request. Regarding mount options, HIT-W101C's ergonomic small form factor is suitable for counter top, cart, swing arm, and wall mount bracket ensuring flexible installation in even the most challenging of healthcare environments.
Key Features
Freescale™ i.MX6 A9 quad-core processor
10.1" 16:9 widescreen display with multi-touch PCAP control
2 megapixel camera for high-quality imaging applications
Integrated microphone with AEC and dedicated audio codec
1 x USB, 1 x mini USB OTG, 1 x micro SD, 1 x RJ12, and 1 x RJ45 port with optional PoE capabilities
Compatible with Android 5.1 and Linux operating systems
Supports counter top, cart, swing arm, and wall mount bracket
Advantech's HIT-W101C information terminal is available for order now. For more information about this or any other Advantech product or service, contact your local sales support or visit the company website at www.advantech.com.
---
About Advantech
Founded in 1983, Advantech is a leading provider of trusted, innovative products, services, and solutions. Advantech offers comprehensive system integration, hardware, software, customer-centric design services, embedded systems, automation products, and global logistics support. We cooperate closely with our partners to provide complete solutions for a wide range of applications in diverse industries. Our mission is to enable an intelligent planet by developing automated and embedded computing products and solutions that facilitate smarter working and living. (Website: www.advantech.com)