Advantech Releases New MIO-5375 3.5" and MIO-2375 Pico-ITX SBCs to Accelerate AI-Native Design
3/15/2021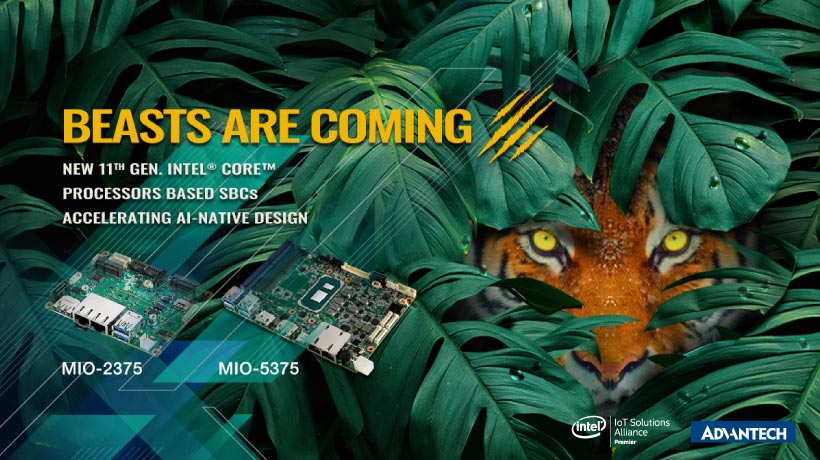 Taipei, Taiwan, March, 2021—Advantech, a leading global provider of intelligent IoT systems and embedded platforms, is pleased to release the new MIO-5375 3.5" and MIO-2375 Pico-ITX SBCs that are both powered by the latest 11th Gen. Intel® Core™ processors. These two small industrial form-factor single boards possess significantly enhanced AI computing performance and are great options for users who want to embed AI-native design into their products, especially in the factory automation, telemedicine, smart transportation, and smart city fields.
Outstanding AI inference performance without additional discrete graphic cards
Introducing the latest 11th Gen. Intel® Core™ processors (codename: Tiger Lake-UP3), which consists of the new Willow Cove CPU core microarchitecture that uses the new Intel 10nm SuperFin process and a new Iris Xe® graphics architecture which delivers a more than 20% CPU performance upgrade and 2 x times better graphics performance, but consumes less power and projects less heat. It delivers up to 96-execution units (768 shading units) and provides the SoC and board with sufficient AI inference performance without the need for an additional discrete graphics card which saves on cost, power, and thermal output.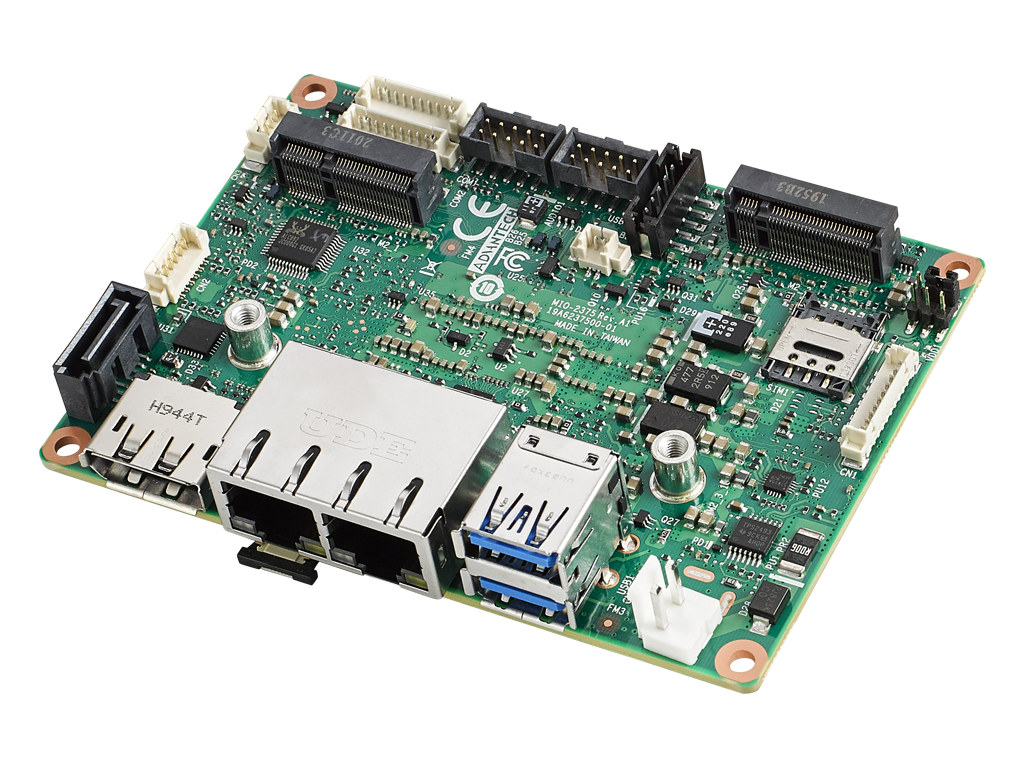 11th Gen. Intel Core Processor with Quad/Dual Cores, TDP 15W
Onboard LPDDR4x-4267 up to 32GB with IBECC (SKU dependency)
Dual displays via eDP & DP, up to 8K resolution
Dual GbE, 2 USB3.2, 2 USB2.0, 2 UART, I2C
M.2 E-key, B-key with NanoSIM, optional M-key PCIe Gen.4 NVMe SSD
Board Intelligence, software APIs, WISE-DeviceOn, Edge AI Suite

11th Gen. Intel Core Processor with Quad/Dual Cores, TDP 15W/28W
Dual Channel DDR4-3200 up to 64GB with IBECC (SKU dependency)
4 Simultaneous displays via LVDS/eDP/HDMI/DP/USB-Type C
Dual GbE, 4 USB3.2, USB Type-C, CANBus, 4 UARTs, DC-in 12~24V
M.2 E-key, B-key, M-key PCIe Gen.4 NVMe SSD, MIOe supports PCIe x1/x2/x4
Board Intelligence, software APIs, WISE-DeviceOn, Edge AI Suite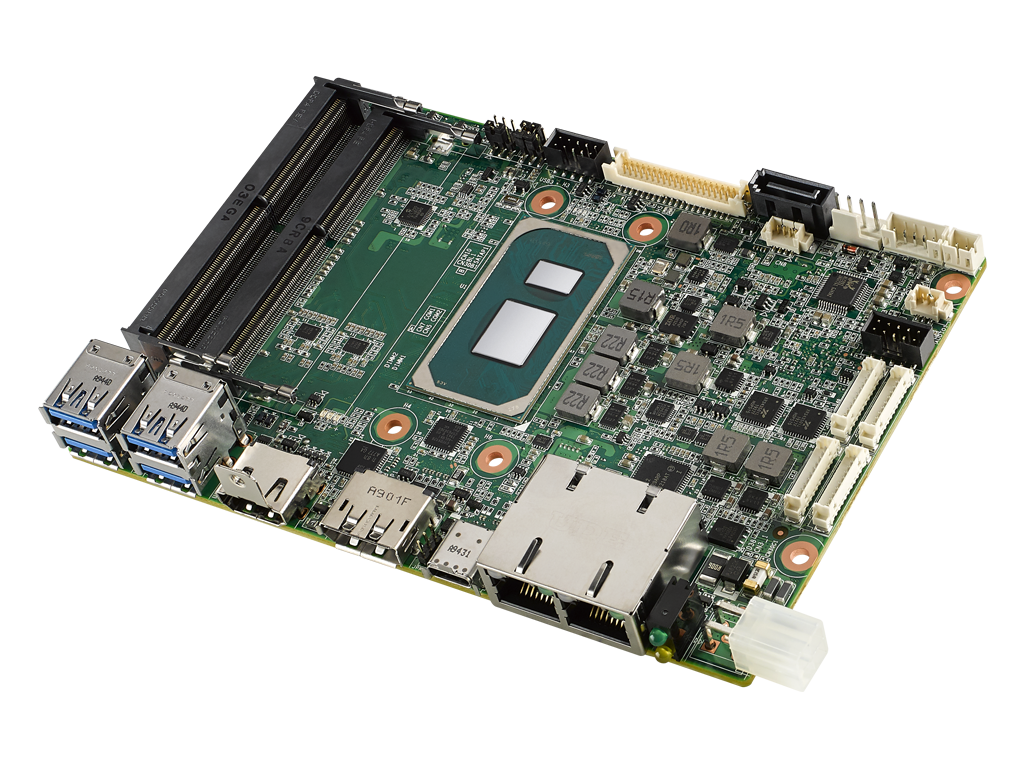 New SBCs with boosted AI for smart manufacturing and mission critical applications
As the most popular single board computer (SBC) provider, Advantech MIO-series always builds-in the latest technology and vertically focused I/O with the highest reliability. The new MIO-5375 SBC aims at the smart factory market and solutions for automatic guided vehicles (AGV) and automatic mobile robots (AMR). Its 12-24V wide range power input and multiple expansions on WWAN and LPWAN allow for easy integration with factory power rails and mobility devices. PCI Express Gen.4 expansion allows high speed PCIe SSDs to enhance overall system performance while USB Type-C provides 20Gbps external transmission data rates. MIO-2375 is designed with onboard LPDDR4x memory on a Pico-ITX sized board, making it small, rugged, and lightweight (under 500g). Both products support extended operating temperatures from -40 to 85°C. MIO-5375 and MIO-2375 meet the need from the industrial and commercial drone design and mission critical applications.
Advantech Board Intelligence & Software Solution for the world of AIoT
Advantech Board Intelligence is a management software established on an Advantech EIO-201/211 embedded controller. It can self-monitor and self-control through out-of-band (OOB) management and is fully independent of the CPU, chipset, and OS to deliver the highest flexibility and least payload on main systems. One of the most valuable features is the Boot-Guarantee function. Since the Board Intelligence controls the board power sequence and synchronization with the BIOS, it can monitor any unexpected issues that occur in terms of power instability, silicon sequence margins, and BIOS abnormality then shut down to protect or restart the system. Board Intelligence also provides unified APIs and a utility, which are compatible with Windows and Linux-based OS, making it easier for software development, platform migration, and upgrades.
Additionally, Advantech Edge AI Suite helps customers to experience what benefits AI could bring to their business. The 1-click, 3-minute installation automatically sets up an AI environment for demo. Advantech WISE-DeviceOn provides a public and/or private cloud or on-premise setup to implement remote management. Edge AI Suite dramatically lowers maintenance effort for customers who need to monitoring and managing many edge devices remotely 24/7. They also get updates over-the-air to prevent security vulnerabilities. Both software have been validated on MIO-5375 and MIO-2375 and will be bundled into the standard OS image free of charge to speed up migration to the world of AIoT.