New Mini-ITX AIMB-228 with Quad 4K Displays support, AMD® Ryzen™ Embedded V1000/R1000 (SoC)
7/1/2019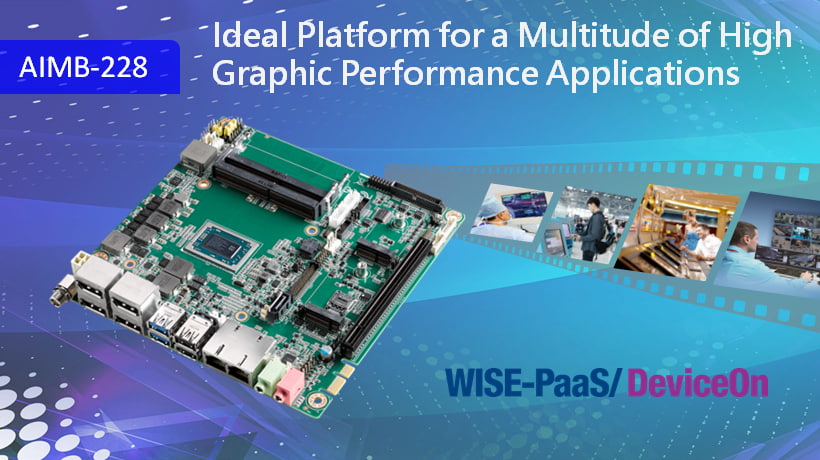 Advantech, a leading, global, embedded computing and intelligent applications provider, today announces the release of AIMB-228, a new industrial-grade Mini-ITX motherboard based on the latest and first 14nm AMD® Embedded V/R-series System-on-Chip (12~54W TDP) with up to 4 cores/8 threads, and up to 11 Compute units to offer up to 3X more GPU performance. Furthermore, AIMB-228 can power up to four independent displays with up to 4K resolution, offering high computing and great graphic performance at low power consumption.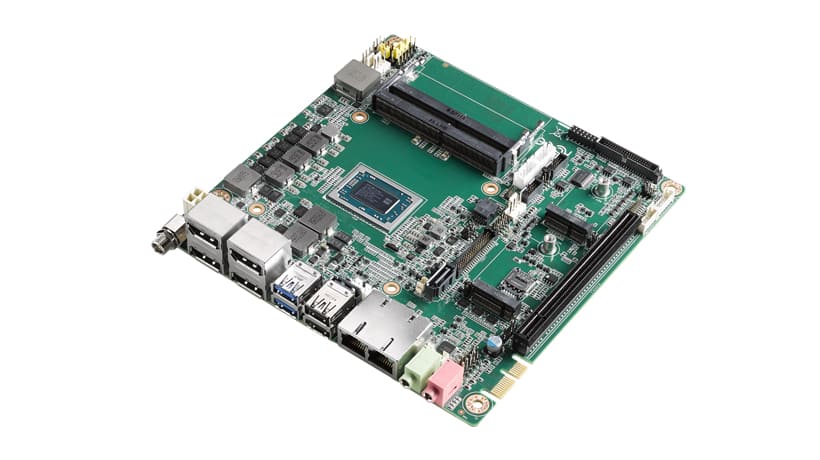 Wide Range DC Power & Abundant I/O connectivity
AIMB-228 is designed for wide-range DC power source (DC 12V~24V) that offers the flexibility to fit in customer's system design. Besides of that, AIMB-228 comes with rich I/O connectivity and multiple high-speed I/O including: 2 x USB 3.1 Gen2, 4 x USB 2.0, 2 x SATAIII, 1 x internal keyboard/mouse port, 1 x Intrusion Protection, 6 x COM (RS422/485, CCtalk, TTL), PCIe x8, 1 x M.2 B Key accompanied with one SIM card holder for easy 3G/LTE module or NVMe storage installation, 1 M.2 E key expansion socket for WiFi module connectivity. Furthermore, AIMB-228 supports 16-bit digital programmable I/O, dual Gigabit Ethernet ports (Realtek 8111E) delivering up to 1000 Mbps of bandwidth at each port, and one PCIe x1 via golden finger for external Field Programmable Gate Array(FPGA) module.
Quad Independent Displays with up to 4K Resolution
AIMB-228 Mini-ITX motherboard integrates the latest AMD VEGA GCN (Up to 11 CUs), supports High Efficiency Video Coding (HEVC) 10-bit (4K H.2654 and H.264) decode and 8-bit encode, delivering the excellent graphic performance. With four independent displays are supported with DisplayPort(DP) 1.2, and the option to use the Low Voltage Differential Signaling (LVDS) interfaces, AIMB-228 also built in many specific features, such as TTL/CCtalk, 10W amplifier, and the highest level 4 ESD protection , making it ideal for gaming, digital signage, or medical imaging application which requires high graphic performance and will locate in noisy or sensitive environment.
Remote management & monitoring for IoT Applications
AIMB-228 has bundled with WISE-PaaS/DeviceOn, an IoT device operations and management software. Beginning with onboarding devices, WISE-PaaS/DeviceOn's zero-touch IoT tech seamlessly registers Advantech embedded platforms with identity security and field site settings. The fast and simple setup helps provide instant intelligent edge onboarding, data acquisition, and status visualization at the device operations center. Power on/off, troubleshooting, and mission-critical actions are available at the tap of a button for quick and easy access. OTA software updates itself securely by sending software patches, firmware, software, and configuration updates through batch provisioning.
Supports AMD V1000 / R1000 series processor
Two 260-pin SO-DIMM up to 32GB DDR4 3200 SDRAM
Supports Quad display with 4DP or 3DP + LVDS
Supports 1 PCIe x8 (R1000 support PCIe x4), 2 M.2 B/E key expansion slots

6 COM (1 RS-422/485, 1 CC talk, 1 TTL)

4 USB 2.0, 2 USB 3.1 Gen2, 1 Intrusion Protection, 10W amplifier (optional)

12-24V wide range DC-input Supports WISE-PaaS/ DeviceOn and Embedded Software APIs