NFVTime SD-WAN Solutions based on Advantech White-box uCPE
2/22/2019
Fully-integrated, Service-ready SD-WAN
Optimized for vRouter, vFirewall and SD-WAN deployment across a broad range of Advantech White-box uCPEs
Built on the award-winning NFVTime-OS from Telco Systems and the latest generation of Advantech white-box uCPEs, the NFVTime-Verge portfolio delivers a powerful framework for next generation uCPE rollout with out of the-box support for Virtual Network Functions from select vendors. These include fully managed vRouters, leading network security VNFs and virtual SD-WAN functions among others.
Advantech's white-box uCPE portfolio brings scalable processing performance, outstanding network throughput and flexible connectivity options. Optimized for uCPE and SD-WAN, the white boxes are powered by processors based on Intel® architecture and are scalable from 2-16 cores using Intel-based SoCs, and upto 28-cores using a single socket Intel® Xeon® Scalable processor. Advantech commercial-off-the-shelf uCPEs are readily available and come with a choice of hybrid LTE, WiFi, xDSL, G.fast & SFP+ configurations, depending on the selected platform.
NFVTime-Verge from Telco Systems streamlines Advantech uCPE deployment by simplifying the out of the box experience with verified hardware and software building blocks. Built upon the innovative NFVTime- OSarchitecture, NFVTime-Verge has been optimized for performance and throughput on Advantech uCPEs, andfully tested with service chains from key VNF partners.
With NFVTime-Verge, service providers can deploy 1-10Gbps for service chains containing SD-WAN, security, and routing functions on entry-level devices. Moreover, NFVTime-Verge is highly scalable across Advantech hardware payloads, offering the configurability needed to address small office and retail outlets well as mid to high end Enterprise installations. NFVTime is easily adapted for industry-specific market segments and can be configured for the right mix of price performance, throughput and connectivity.
SD-WAN solutions founded on a stable, verified NFVTimeand Advantech uCPE base provide a solid foundation for the delivery of scalable, multi-tenant SD-WAN rollouts. Service providers can rely on the underlying NFV Infrastructure to deploy their virtual overlays needed to securely and reliably connect users to applications.
Service providers also gain in flexibility to deploy any combination of MPLS, broadband, xDSL and LTE transport services without compromising network or application performance. Moreover, the NFVTime solution enables greater elasticity allowing additional VNFs to be added remotely.
NFVTime on Advantech uCPEs provides a cost-effective platform for high-performance routing , thereby enabling service providers with the latest virtual networking capabilities.Service Providers can avoid vendor lock-in through a growing list of vendor-specific vRouter features such as robust APIs for management and orchestration, higher layer routing features including L3 routing and L2 bridging, traffic management and load balancing, security and multitenancy, as well as firewall capabilities for policy management and more.
NFVTime supports vFirewall VNFs from recognized industry leaders, enabling fast and secure implementations based on preferred security vendors. Security is pre-tested by service chaining vFirewalls with other VNFs for a smooth and reliable uCPE rollout.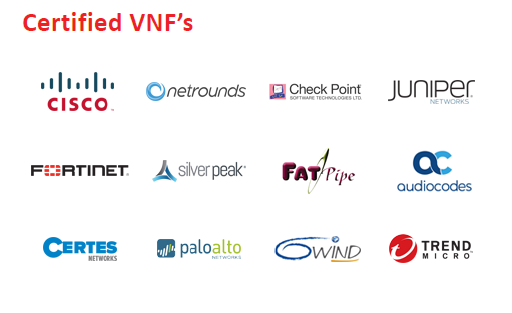 NFVTime solutions integrated on Advantech white-box uCPEs are fully elastic and scalable, offering the ability to integrate additional network functions on the fly, drawn from our extensive partner ecosystem VNF library.
Telco Systems offers a variety of flexible pricing options,including pay-as-you-grow, try-and- buy, and other customer-specific models.
All NFVTime solutions can be pre-configured and remotely loaded with a variety of additional VNF services that are certified and tested by Telco Systemson Advantech white-box uCPEs. Other VNFs can also be loaded, configured and tested by service providers and enterprise customers depending on their specific needs.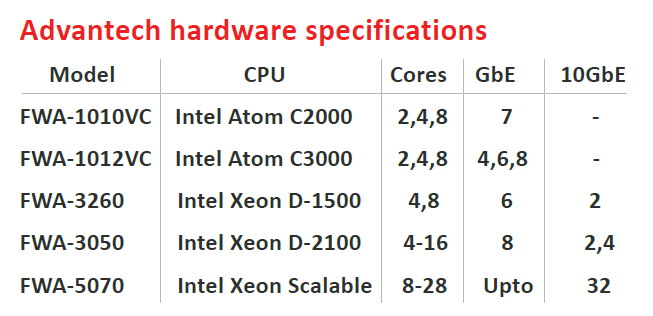 If you would like to download a PDF version of this Solution Brief please click here
Telco Systems delivers a portfolio of carrier Ethernet and MPLS-based demarcation, aggregation, and uCPE solutions that enables service providers to create intelligent, service-assured, CE 2.0-compliant networks for mobile backhaul, business services, and cloud networking. Telco Systems' end-to-end Ethernet, SDN/NFV-ready product portfolio delivers significant advantages to service providers, utilities, and city carriers competing in a rapidly evolving telecommunications market. Telco Systems is a wholly owned subsidiary of BATM Advanced Communications.