VEGA-3000 IP Media Interface Adapters
Fast Track to the All-IP Media Facility
The broadcast and media industry are moving to an all-IP future, driven both UltraHD and the universal flexibility that comes from an IP based infrastructure. IP differs from media-specific Serial Digital Interface (SDI) in many inherent aspects. Accurate synchronization, high availability or low latency are some of the video-critical features that need to be reproduced in the best-effort, connectionless IP world so as to guarantee media integrity.
Advantech accompanies customers on their migration to IP-based media and works together with key partners through industry alliances such as AIMS or IP Live to help solve the technical and interoperability challenges of high-resolution IP video transport and unlock the full potential of an agnostic IP infrastructure able to support future resolutions and services.

Standards Watch
SMPTE 2022-5/-6/-7 are the early adopted standards to transport uncompressed SDI signals over IP. The more recent VSF TR-03 recommendation goes one step further carrying audio, video and ancillary data transport over IP as separate streams without SDI encapsulation. VSF TR-03 supports SMPTE 2059 synchronization and uses AES67 for audio streams. The related VSF TR-04 enables SMPTE 2022-6 as the payload of a VSF TR-03 system where SDI and IP coexist. These two VSF recommendations are being standardize by SMPTE in the soon-to-come SMPTE ST 2110.
Sony IP Live initiative enables 4K live production over standard IP networks. It implements a near-lossless, low latency video compression codec (LLVC) to fit 4K video signals over 10GbE links. The idea of using lightweight compression to carry high-resolution video over standard Ethernet pipes is also the focus of the TICO compression technology.
Choose Your Standard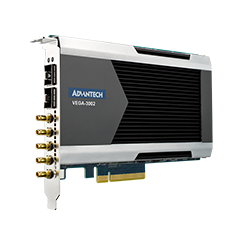 Universal Media-over-IP Adapter
The VEGA-3002 is a PCI Express interface card supporting low latency transmission of uncompressed or lightly compressed video over IP networks according to industry agreed standards. As a low power, half-length board, it is ideal for adding IP media connectivity to IT-server-based media applications, and can also optimize expansion slot usage by offering a traditional SDI interface on the same board.
The VEGA-3002 fully supports the roadmap set out by AIMS in tandem with the Society of Motion Picture and Television Engineers (SMPTE), and can be firmware-upgraded to support additions and agreed enhancements to those standards in future. This includes "Virtual SDI" SMPTE 2022-5/-6/-7 standards, VSF TR-03 and TR-04 recommendations, AES67 audio, SMPTE 2059 synchronization, and optional virtually lossless TICO compression for UHD.
As a software-configurable board, the VEGA-3002 can support multiple application and deployment scenarios through firmware selections. This, together with the additional support for direct 3G-SDI or 12G-SDI capture and tri-level synchronization, allows a user to move their video application confidently into an IP future with minimum risk.
4K IP Live Production
Sony IP Live Production technology overcomes SDI limitations in the transition to 4K workflows by delivering noise-free switching of HD and UHD media on standard IP networks. Low latency visually-lossless compression is used to fit one 4Kp60 data streams into a convenient 10GbE link.

\The VEGA-3001 is a PCI Express interface adapter that utilizes Sony IP Live Production technology to encapsulate HD and UHD video streams together with audio and metadata from a host server into an IP stream that can be carried over commercial-off-the-shelf IP cables, switchers and routers. As a half-length board consuming under 20W, VEGA-3001 is compatible with the majority of server architectures in use today. Both transmit and receive functions are supported, while dual GbE ports and dual 10GbE ports support network redundancy schemes that can be automatically managed by Sony IP Live Production System. The VEGA-3001 can be used to add UHD Video over IP streaming capabilities to contribution equipment or editing and encoding servers that can then be deployed as part of a Sony IP Live Production System.
Virtual SDI Bridging
A key requirement for the IP media transition is a way to bridge existing SDI based cameras and equipment to an IP core, and the IP switches that implement the new connectivity. The VEGA-3000 plug-in adapter allows customers to bridge legacy SDI cameras and video equipment to the IP world using the SMPTE 2022-6 and SMPTE 2022-5 standard to encapsulate SDI streams into IP packets. The VEGA-3000 PCIe interface card can add SDI over IP interfacing to standard servers as well as allowing users to create standalone bridges.
How it works
The VEGA-3000 is a PCI Express card implementing the SMPTE 2022 standard for video over IP bridging. It effectively creates up to three "virtual SDI" channels within a 10GbE Ethernet network link, and bridges each channel either to a physical SDI connection or to a logical server port across the PCI Express bus. When the board is configured in standalone mode, it can be installed in a small single or multiple-card enclosure to create a multi-port bridge device without the need for a host.

Quick Links