Achieving The Key Success of PCB Manufacturing:Automated Optical Inspection (AOI) Systems
5/31/2021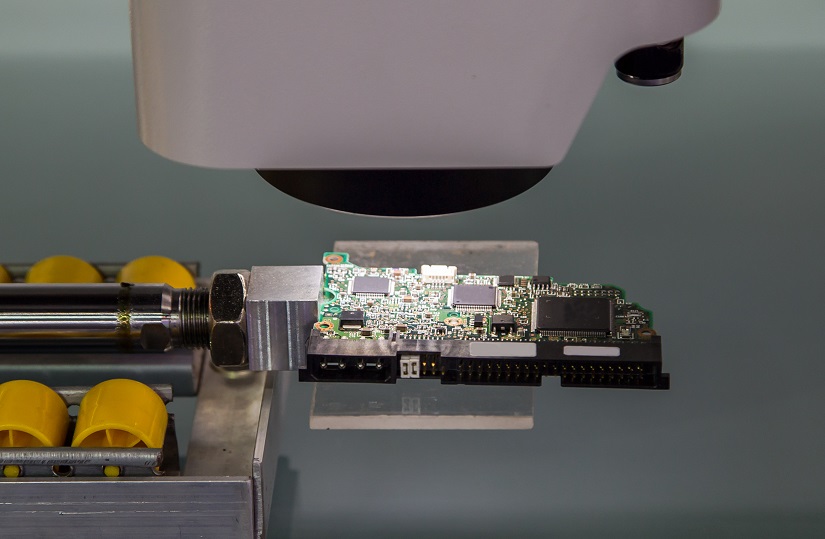 Location: Israel
Automated optical inspection (AOI) systems perform visual inspections of printed circuit boards (PCB) during manufacturing in which a camera is used to scan the board in extremely fine detail to check for any defects or failures. AOI is the integration of optics, mechanics, electronic control, and software to replace the human eye. In the real world, PCBs are getting smaller and more complex; even a relatively simple board can be made up of literally thousands of soldered components. AOI monitors the quality of PCB production and corrects them in the process flow, which is a key to success in today's competitive PCB production environment.
AOI System needs Speed, Efficiency, and Flexibility
AOI systems are commonly used in the production of all kinds of products but are especially important for monitoring printed circuit boards for defects and accurate measurements beyond the capabilities of a human inspector. They are able to detect a variety of surface feature defects, such as nodules, scratches, stains, open circuits, and the thinning of soldered joints. However, the development of an AOI system for PCBs is unlike an AOI general purpose system. There are some specific features that are only for the development of an AOI system used for PCB manufacturing. To provide truer co-planarity inspection capabilities and volumetric inspection data, an AOI system requires different types of cards to connect to devices such as robotic arms and CCD cameras. For the AOI system to keep pace with increasing manufacturing speeds, a powerful Graphics Processing Unit (GPU) card is needed.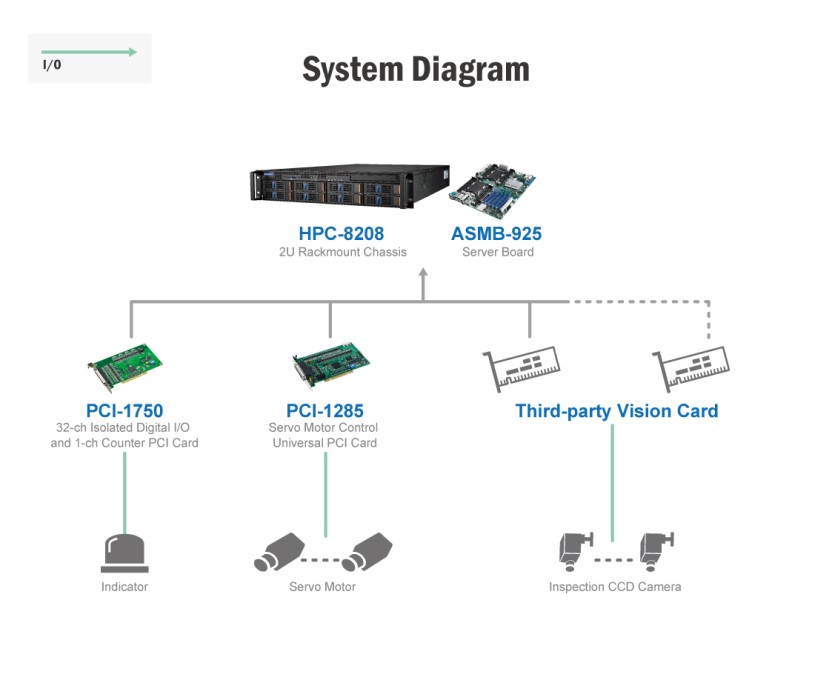 Because of technological improvements, AOI systems can now very accurately detect defects with only a small number of failures. The Advantech ASMB-935 motherboard provided a powerful computing solution to fulfill the customer's needs. The ASMB-935 motherboard is an EATX server board with dual Xeon® scalable processor supporting 24 x DIMMs and up to 1.5 TB of memory operating at 0 ~ 40°C ambient temperature ranges.
When comparing the speed, efficiency, and flexibility of other test and inspection methods, the benefits of AOI are clear; using a powerful GPU card was key to speeding up the inspection process. The Advantech ASMB-935 server motherboard supports five PCIe x16 slots (Gen3), one PCIe x8 slots (Gen3.0). It can support other GPU cards and other PCIe cards such as COM and NIC cards. The Advantech HPC-8208 2U rackmount server chassis was used as it can support ATX/EATX motherboards with eight hot swap SAS/SATA drive bays.
The Advantech ASMB-935 utilizes 16GB 288-Pin DDR4 RDIMM module from Micron Technology. Advantech works with Micron Technology as an Industrial Quotient (IQ) Partner because IQ goals include design-for-reliability, extensive QA testing, extended longevity, application-specific optimization, and ruggedization.
Industrial Features for PCB Manufacturing's Success
Investing in AOI systems means less waste, a lower cost of production, and maximized yields. Advantech server boards not only deliver the necessary power for the AOI system, they also work in a 0 ~ 40°C temperature ranges. Another reason why the customer chose Advantech was the continued support beyond the longevity product life of up to seven years. We believe that our server motherboards and industrial computer chassis will meet both the current and future needs of AOI customers.
Industrial Quotient (IQ) Partner - Micron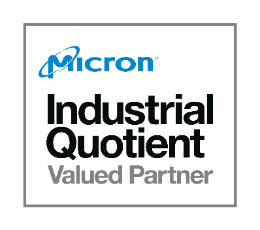 Micron is an industry leader in innovative memory and storage solutions transforming how the world uses information to enrich life for all. With a relentless focus on our customers, technology leadership, and manufacturing and operational excellence, Micron delivers a rich portfolio of high-performance DRAM, NAND and NOR memory and storage products through our Micron® and Crucial® brands. Every day, the innovations that our people create fuel the data economy, enabling advances in artificial intelligence and 5G applications that unleash opportunities — from the data center to the intelligent edge and across the client and mobile user experience. To learn more about Micron Technology, Inc. (Nasdaq: MU), visit www.micron.com.
7-years product longevity product support
Advantech ASMB-935 motherboard supports up to 7 x full-length single deck or 5 x double deck (PCIe x16 link) expansion cards for high-end critical use
Advantech HPC-8208 chassis supports 0 ~ 40°C ambient operating temperature range