General Energy Solution (GES) and Advantech Share The Solar Power Monitoring Success with The World
7/29/2019
The Trend:
Renewable Energy Is A Fastest-Increasing Source of Electricity Generation

Due to a combination of rising environmental awareness and falling prices, clean energy is currently flourishing. In January 2019, a US Energy Department report indicated that renewable energy — led by solar and wind — will be the fastest-increasing source of US electricity generation over the next two years. A leading American market research company projects that the solar energy industry will grow by 10% in 2019 and 17% in 2020.
Geographical Challenge:
Most Distributed Solar Power Farms Are In Remote Areas

As the industry keeps developing, land availability is becoming a significant challenge for companies setting up traditional large-scale solar power stations. Yan-jiun Luo, the manager of Advantech's China Solar Power Department, stated that "nowadays, an increasing proportion of distributed solar power farms are located in China and most of these stations are in remote areas. In the past, generators could only be maintained through manual inspection. To improve management efficiency, companies now rely on IoT technology to instantaneously collect energy data and check facility conditions."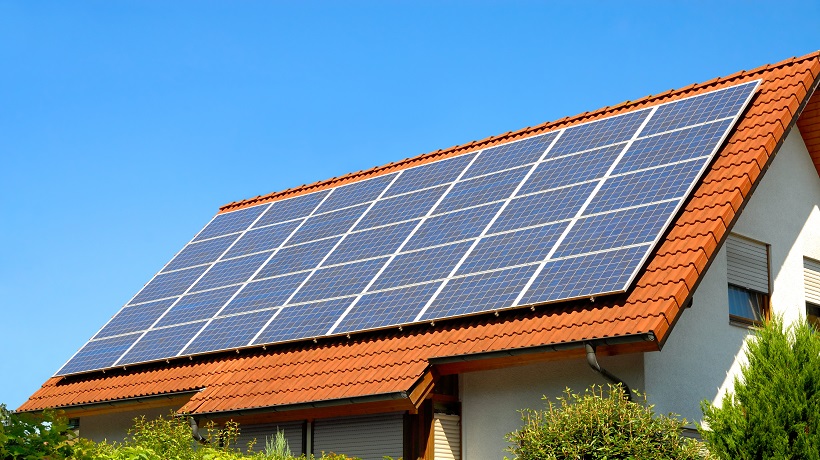 Technology Challenge:
Multi-Protocol Data Acquisition And Remote Data Transmission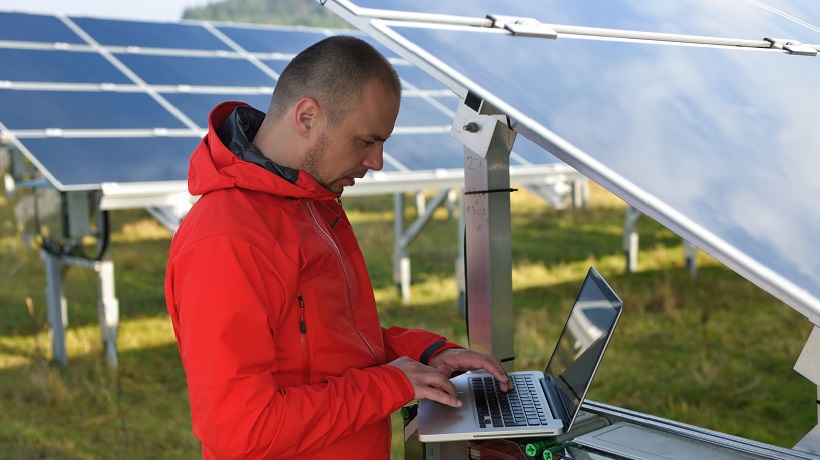 With many solar generator equipment providers operating in a highly competitive market, communication protocols tend to vary between products like inverters, junction boxes, and electricity meters. Data collection thus requires a multi-protocol gateway that unifies energy data on a cloud platform for remote monitoring. In addition to data collection, data transmission is also an important component of the overall process. While supervising videos are usually required for solar power monitoring, they increase costs significantly by taking up a lot of bandwidth. In many cases, fiber optic networks cannot be buried underground due to site limitations. Data needs to be transferred through other sources — such as Wi-Fi and 4G.
Partnership of two industry giants:
General Energy Solution(GES) and Advantech Bring In Remote Monitoring System

General Energy Solutions (GES), a Taiwanese solar power company with branches across Asia, Europe, North and Latin America, cooperated with Advantech, a company specializing in industry automation and IoT technology, to develop improved remote monitoring systems for distributed solar power generators.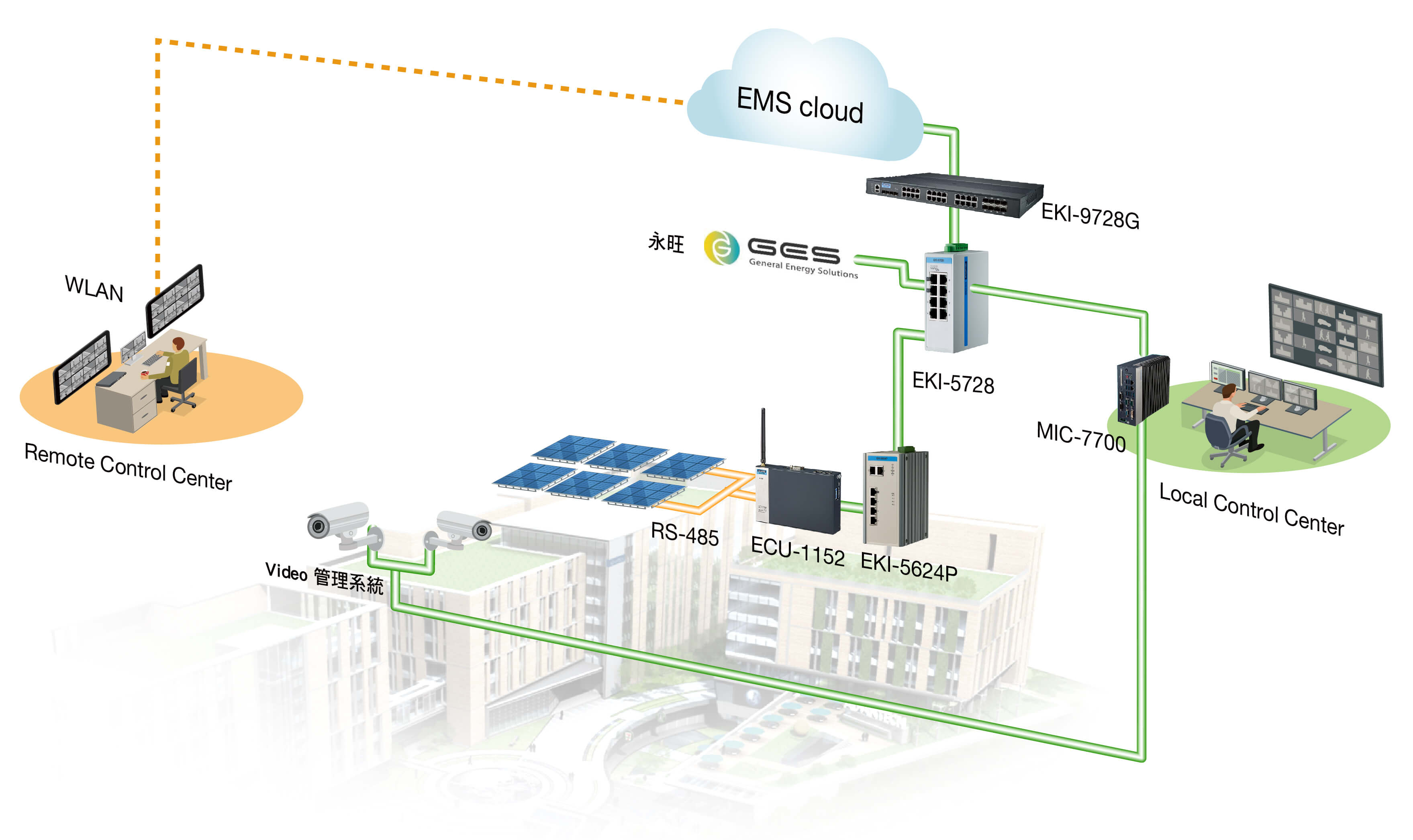 Advantech Lindou Smart Campus:
The Demo Cast of Remote Solar Power Monitoring

Working together, GES set up distributed solar power generators at the Advantech Linkou Smart Campus as a demo cast. Implementing the energy maintenance system (EMS) Cloud, deploying the ECU-1152 gateway, and installing EKI-5624P and EKI-5728 unmanaged Ethernet switches to transfer data to the MIC7500 central monitoring system enabled remote monitoring with immediately visible data.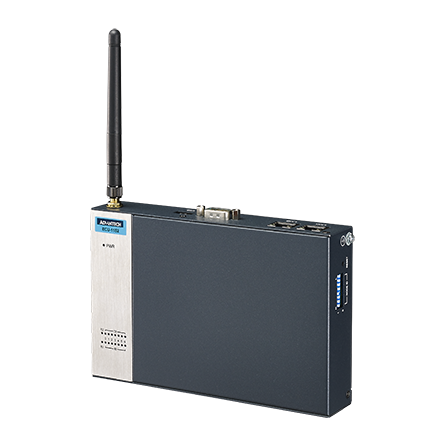 Multiple Protocol Conversion and Wireless Data Transmission: ECU-1152
The ECU-1152 was a MODBUS RTU to TCP gateway that solved any issues with communication protocols and also provided Wi-Fi and 4G connectivity for wired and wireless on site data transmission. With the multi-function gateway in place, energy data could be easily collected and transferred for monitoring and analysis.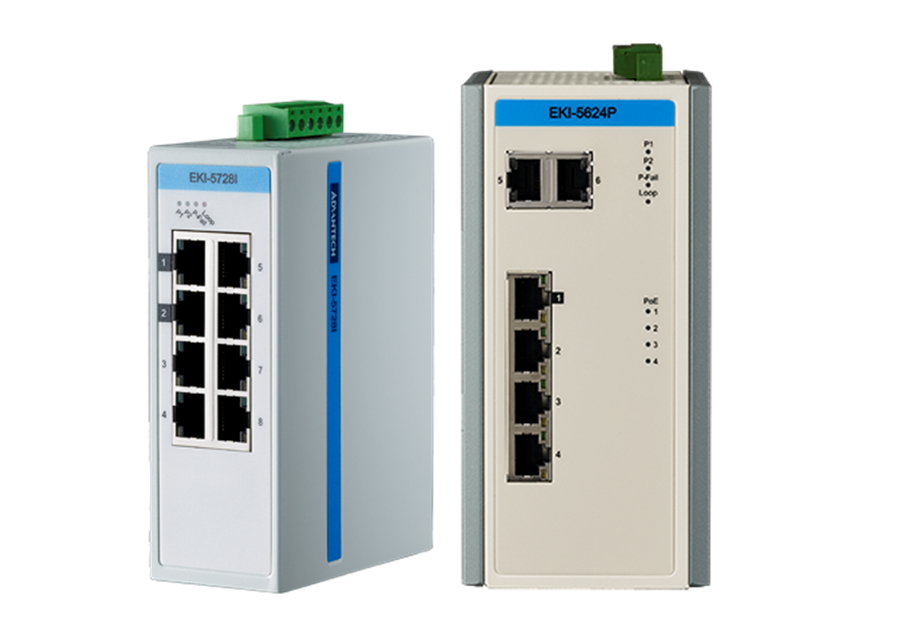 Interconnectivity between the roof and the control center: EKI-5624 and EKI-5728
The EKI-5600 and EKI-5700 Ethernet switches were responsible for interconnectivity between field sites and control center. Supporting wide operating temperature from -40~75oC means the Ethernet switches could stand high temperature under the sun in humid summer days. The inverter data collected from solar devices was sent from ECU-1152 gateways to EKI-5624 unmanaged Ethernet switches on the roof and then got transferred to EKI-5728, another unmanaged Ethernet switch, in the control center.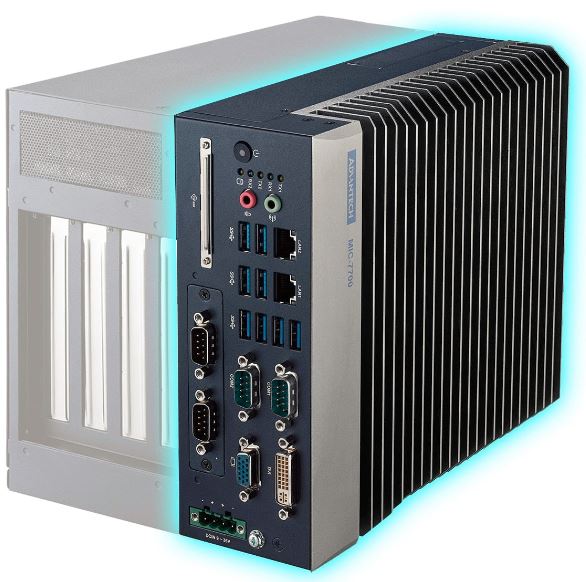 High performance, Compact, Fanless System for Central Management: MIC-7700
MIC-7700, a high performance, compact, fanless IPC with the latest Intel® Core i™ socket-type CPU provides highly flexible expansion capability and excellent computing through the Intel® 6th/7th generation Core™ i socket type processor, DDR4 memory, optional I/O modules and unique Advantech i-module products. Together, these features will satisfy applications in the automation fields as the main system in control center for data gathering and processing. The compact size and ruggedized design of MIC-7700 withstand.

Routing L3 Ethernet switch for remote control an warning system: EKI-9728G
The EKI-9728G is a layer 3 managed Ethernet switch that support routing functionalities that allows for cross-lan network communication, fulfilling remote control, management and warning from different network areas. Its four 10G ports were ready for mass data transmission such as video image and also solar panel data.
Share The Solar Monitoring Success with The World
As distributed solar power generation farms increasingly enter the energy mainstream, managers face growing difficulties in monitoring generators and other equipment. Intelligent management practices play a crucial role in the overall performance of energy monitoring systems. In this case, successful cooperation between GES and Advantech can now be applied to other solar power projects and cases, both in China and abroad. Harnessing the power of IoT technology for remote monitoring and control, GES and Advantech helps managers improve decision making and operational efficiency.