Adaptec Smart Storage Solutions Deliver High Performance, Low Power and Reliability for SDS, Cold Storage and Enterprise Applications
5/1/2022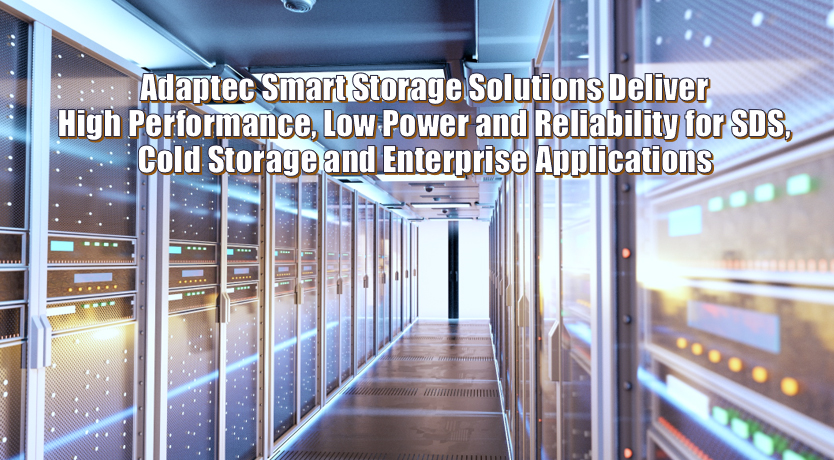 Advantech recently announced to implement Microchip Adaptec SmartRAID 3100 series with high performance, low power, reliability and feature-rich solutions tailored to a variety of server storage applications, including software-defined storage (SDS), cold storage and enterprise applications.
The SmartRAID 3100 offers maximum functionality, acceleration through caching and the highest data availability for the most demanding enterprise storage applications. Each of the three solutions offers port densities up to 24 ports in half-length, half-height form factors, and come in a variety of port configurations.
The SmartRAID 3100 is optimized for enterprise storage applications which require the highest level of data availability and data center applications which benefit from caching. It also features:
Adapters with up to 24 ports using 28nm SAS/SATA-optimized silicon, offering an optimal power profile for the target applications
Zero Maintenance Cache Protection (ZMCP) with a cache size of up to 4GB and integrated cache backup circuitry for optimal cost, thermal performance and operating efficiency
Board options without cache backup
maxCache 4.0 included on all adapters with up to ~2TB SSD cache
maxCrypto controller-based encryption. Microchip's SmartRAID 3162-8i/e with maxCrypto CBE allows data centers to select 256-bit XTS – Advanced Encryption Standard (AES) encryption for any logical volume managed by the SmartRAID 3162-8i/e, and at full line rate performance
Adaptec SmartRAID 3100E Entry-level RAID adapters which are designed to provide reliable hardware RAID protection for customer data in cost-sensitive end applications.
over 60% performance acceleration and 40% power savings over Series 8E products
ideal for systems desiring application acceleration from caching support and entry-level enterprise RAID data protection without the cost of cache protection or advanced RAID levels of full-featured RAID adapters
well suited for applications such as computing and graphical applications, edge compute and storage nodes, and industrial and manufacturing servers
Recommended Product Offerings
96RC-SAS-4P-PE-AD6 / ADAPTEC 3101E-4i 4 pt. 12 Gb/s SAS PCIe 3.0 x8 1GB
96RC-SAS-4P-PE-AD7 / ADAPTEC 3101-4i 4 pt. 12 Gb/s SAS PCIe 3.0 x8 1GB
96RC-SAS-8P-PE-AD8 / ADAPTEC 3102-8i 8 pt. 12 Gb/s SAS PCIe 3.0 x8 2GB
96RC-SAS-16-PE-AD7 / ADAPTEC 3154-8i8e 16 pt. 12 Gb/s SAS PCIe 3.0 x8 4GB
96RC-SAS-16-PE-AD8 / ADAPTEC 3154-16i 16 pt. 12 Gb/s SAS PCIe 3.0 x8 4GB