Advantech's Industrial-Grade Servers - Powered by NVIDIA GPUs and Designed for IoT and AI Applications
9/22/2022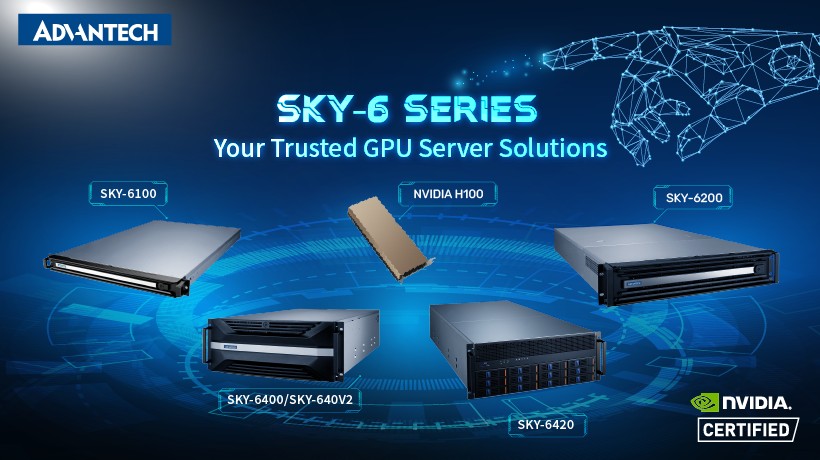 Taipei, Taiwan, Sep 22, 2022 - Advantech, a leader in IoT, edge, and AI computing solutions, is demonstrating its GPU servers for AI and IoT applications at NVIDIA GTC. With the complexity of AI, high-performance computing (HPC) and data analytics increasing exponentially, over the next decade scientists will require advanced computing platforms that are several magnitudes of performance better than today's to overcome these extraordinary challenges.
To respond to the growing demands of AI deep learning, Advantech provides SKY-6 Series NVIDIA GPU-powered servers with 2U to 4U configurations that feature single or dual Intel® Xeon® Scalable processors that support the NVIDIA H100 Tensor Core GPU for AI and HPC. The NVIDIA H100 delivers unprecedented performance, scalability, and security to data centers and includes the NVIDIA AI Enterprise software suite for streamlined AI development and deployment. SKY-6000 series provides up to 11 expansion slots, including multiple PCIe for flexible GPU, SmartNIC, and motion-control card integration. SKY-6000 series offers industrial-grade design for environments with mission-critical applications.
Advantech SKY-6000 GPU servers aim to transform enterprises and empower them with intelligent connectivity from IoT devices to cloud-based services. The SKY-6000 series is able to scale out from a single-GPU node to multi-GPU nodes when needed in industrial applications, especially in the areas of healthcare and video streaming. With NVIDIA EGX platform support, Advantech SKY-6000 GPU servers offer a wide selection of optimized and efficient solutions for intelligent edge applications. They provide seamless integration from the network edge to the public/private cloud, and support evolving applications that enable an intelligent planet.
As a well-established manufacturer in the embedded industry, Advantech's servers and server-grade motherboards are built with longevity and strict revision control. Advantech has a long history and experience in customization and configure-to-order services to meet flexible customer requirements. To learn more about Advantech's industrial-grade servers, server boards, and chassis, please visit Advantech Webpage - Industrial and Telecom Servers.
Advantech's corporate vision is to enable an intelligent planet. The company is a global leader in the fields of IoT intelligent systems, AI, automation, and embedded platforms. To embrace the trends of IoT, big data, and artificial intelligence, Advantech promotes IoT hardware and software solutions with WISE-PaaS Edge Intelligence at the core to assist business partners and clients in connecting their industrial chains. Advantech is also working with business partners to co-create business ecosystems that accelerate the goal of industrial intelligence. (www.advantech.com)
Casper.Sun, Advantech SKY Series Product Marketing
Tel: +886-2-2792-7818, Ext. 1331