Advantech Upgrades Industrial Motherboards with 12th Gen. Intel® Core™ Processors
10/31/2022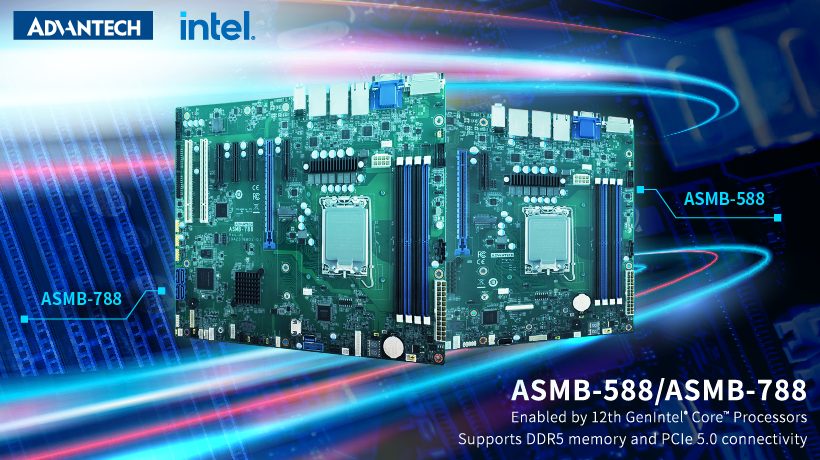 September 2022, Taipei, Taiwan - Advantech, a leading industrial edge AI solution provider, has announced the release of its ASMB-588/ASMB-788/ASMB-610V3 server boards with 12th Gen. Intel® Core™ Processors. According to a well-known CPU benchmark, this series of server boards significantly boosts computing performance by up to 89%. These systems are ideal upgrades for machine automation, machine vision, and edge AI applications.
The largest leap in Intel® Core™ Processor architecture and performance
12th Gen. Intel® Core™ processors are the first Intel® Core™ processors to feature performance hybrid architecture, integrating up to eight performance cores (P-cores) which enhance workload consolidation, and up to eight efficient cores (E-cores) which enhance background task management and multitasking. This boosts processing speed up to 1.36x times in single-thread performance and up to 1.35x times in multi-thread performance compared to 10th Gen Intel® Core™ processors. Moreover, 12th Gen. Intel® Core™ processors are also the first Intel® Core™ processors to support DDR5-4800 memory modules (or DDR4-3200), offering 50% bandwidth enhancement. In addition, the upgrade to PCIe 5.0/4.0, with added lanes, increases the platform expansion options to support a high number of applications running simultaneously.
This upgrade from 10th to 12th generation processors is featured on the ASMB-588 and ASMB-788 MicroATX/ATX server boards. ASMB-588 supports DDR5 ECC / non-ECC memory and PCIe 5.0 connectivity and can connect to frame grabber cards, motion control cards, and accelerators for top-tier I/O bandwidth and massive compute performance. This is an unrivaled combination of flexibility and performance. ASMB-788 is an industrial ATX motherboard designed specifically for industrial conditions. It supports greater platform consolidation via multiple PCIe add-in cards per socket, which not only maximizes compute performance but also provides a flexible solution for different industries. Some examples are high-end MA/FA, AOI (image capture & processing) and IEM controllers.
ASMB-610V3 boards are equipped with 12th Gen Intel® Core™ processors for better performance, connectivity, and AI acceleration. They are bundled for sale with HPC-6120 to become 1U edge accelerator servers. There is plenty of connectivity, with four DIMM sockets for up to 128GB ECC/Non-ECC DDR5 4800, 4x PCIe slots (1 x PCIe x16 (Gen5) or 2 x PCIe x8 (Gen5), 1 x PCIe x4 (Gen4), 1 x PCIe x4 (Gen4) with internal slot), 4x SATA, 4 GbE and 1 x dedicated IPMI NIC.. They can be deployed for various purposes and are widely used in industries such as IEM, Machine Vision, and new AI. Moreover, because of its wide operating temperature range and compact size, it's a perfect fit for the factory, or in harsher environments, as FA equipment, or for AI edge computing.
ASMB-588/ASMB-788 are now available for order. ASMB-610V3 is expected to be released in end of 2022. For more information about these or other Advantech products and services, please contact your local sales support team or visit the Advantech website at www.advantech.com. For more information about server boards and server chassis, please visit the Advantech Telecom and Server website.
Industrial Server Marketing- Casper Sun
Tel:+886-2-2792-7818 Ext.1331
About Advantech ICVG (Industrial Cloud & Video Group)
Advantech ICVG (Industrial Cloud & Video Group) helps service providers, solution providers, and other enterprises extend the cloud to the IoT edge by providing scalable platforms that reliably execute business and mission-critical services anywhere in the network. Our innovative servers and appliances enable a seamless transformation toward cloud-native operations. They are supported by a vibrant software ecosystem and supply chain, offering key foundational building blocks that accelerate digital transformation. From SD-WAN, SASE and Private Wireless to Open RAN, Edge and Hybrid Cloud, Advantech Industrial Cloud & Video Group is enabling the co-creation of products and services that will form the backbone of the new 5G & AIoT economy.