Insight of WISE-IoT
WISE PaaS/DeviceOn Optimizes Device Management
As IoT applications continue to expand, device management has become a serious issue. Advantech's DeviceOn software provides an intelligent networking and AI-based detection solution for device monitoring and predictive maintenance to ensure stable operation and convenient management of IoT devices.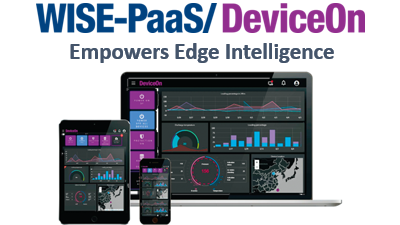 News
7/27/2018

Advantech is collaborates with Tokyo Electron Device Ltd. together, striving to transform conventional business in single-unit embedded hardware into AIoT solution business. Advantech and TED are developing IoT edge computing solutions synced with Microsoft Azure and are are promoting the sales of these solutions.

7/18/2018

Collaboration Aims to Deliver Groundbreaking New Wireless Communication Solutions for Industrial and Commercial IoT Markets

2/27/2018

Advantech today announces its Internet of Things (IoT) solution on Amazon Web Services (AWS) at Embedded World 2018 in Nuremberg, Germany. As an AWS APN Standard Technology Partner, Advantech provides a comprehensive range of wireless sensors and edge intelligence computers with complete IoT software solutions on AWS.