The Next Generation of Wireless Data Acquisition
The most important element in IoT solutions is data acquisition. To help System Integrators (SI) easily and quickly build wireless IoT environments, Advantech provides scalable sensor node solutions for data acquisition. Designed with a wide range of integrated wireless network management and cloud connectivity platforms, combined with our WISE-PaaS IoT software, Advantech products provide everything from sensors to cloud-based wireless IoT solutions.
Advantech Industrial IoT Sensor Node Features
Extreme Low Power: Industrial-leading low power consumption.
Multiple Sensor Combination: Temperature, humidity, water, gas, structural integrity, etc.
Wide-temp Design: Indoor, outdoor and rugged design for different environmental needs.
Complete Software Support: SDK includes WSN API, device management API, data management API.



LAN: WiFi, Bluetooth low energy, SmartMesh
LPWAN: LoRa, SigFox, LTE-M,
NB-IoT




WISE-1500 series module
Development & debug boards
Software development Kit
Node to cloud integration
WISE-PaaS trial services




LAN: WiFi, SmartMesh
LPWAN: LoRa, SigFox
Multi-connectivity
Network management and security



Value-added benefits that Advantech IoT Sensor Node Module WISE-1500 series will bring
Advantech WISE-1500 series support all the necessary software stacks to build up IoT sensor devices. The ARM mbed or RTOS forms the foundation of the embedded microprocessor operating system, with supporting multiple IoT communication protocols including LWM2M, OSGI, AllJoyn and MQTT. Data can be quickly and easily acquired and transformed into different formats to communicate with WISE-PaaS or other cloud services.
Certified Wireless Solutions

Proven modules with RF certification




Built-in IoT Agent

Compact IoT agent for cloud communication protocols




Sensor Starter Kit

Comprehensive SDK and tools




Device Cloud Ready

Cloud services for device management and data analysis



Wireless Design-in Services
Advantech Wireless design-in service provides design and integration assistance from concept to final production, helping customers achieve faster time to market with lower development complexity and minimal integration cost.
1.Concept : Advantech offers a wide range of wireless services to help customers' vertical markets applications. With starter kit and SDK, customers can quickly build proof of concept products to verify their application.
2.Design : After the validation of PoC products, Advantech provides customers with design guidelines and antenna selections. Once the design is completed, Advantech offers technical reviews to improve the schematics and RF design so customers benefit from the reduced risk of new product launches.
3.Integration : Advantech also offers customization services based on your specific application requirements.
4.Production : Advantech offers worldwide delivery and after sales service.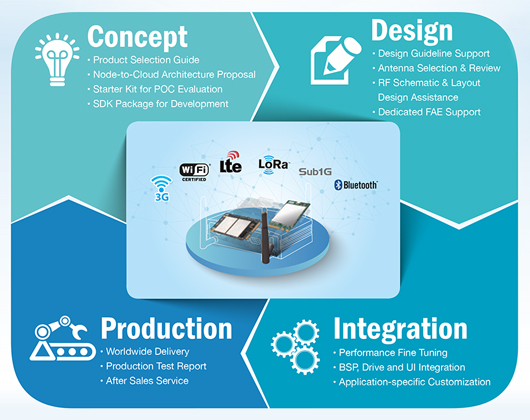 Product Highlights
IoT Sensor Node Modules
Flexible to support LoRaWAN and private LoRa network
Band support for EU, NA, JP, China (Q2) and Korea (Q3)
Supports 1 UART, 1 I2C , 1 SPI, 8 GPIO, 1 PWM, 4 ADC, 1 USB I/O

WISE-1511

( Coming Soon )

Sigfox certification ready
RCZ1 (EU)/ RCZ2 (US)/ RCZ3 (Q4) region support
Supports 1 UART, 1 I2C, 1 SPI, 8 GPIO, 1 PWM, 4 ADC, 1 USB I/O

Built-in low-power Wi-Fi 802.11 b/g/n with AES 128 encryption
TI RTOS support
Supports 1 UART, 1 I2C, 1 SPI, 2 GPIO, 2 PWM, 2 ADC

WISE-1530

( 2017 Q3 )

RAM 256 KB memory/ 1MB Flash
Integrated with 802.11 b/g/n and Bluetooth 4.1
Supports 1 UART, 1 I2C, 1 SPI, 3 GPIO, 1 I2S, 4 ADC I/O

WISE-1540

( 2017 Q3 )

IEEE 802.15.4e standard with self-healing mesh network
99.999% data reliability and power optimization
Supports 1 UART, 1 I2C, 1 SPI, 8 GPIO, 1 PWM, 4 ADC, 1 USB I/O

WISE-1570

( 2018 )

Compliant with 3GPP R13 NB-IOT standard
Supports Multiple RF Bands
Rich interface for sensor and I/O control
IoT Sensor Node Starter Kits
Development kit for WISE-1510
RAM 64 KB memory / 256 KB serial Flash
Supports 1 UART, 1 I2C , 1 SPI, 8 GPIO, 1 PWM, 4 ADC

WISE-DK1511

( Coming Soon )

Development kit for WISE-1511
RAM 64 KB memory / 256 KB serial flash
Supports 1 UART, 1 I2C , 1 SPI, 8 GPIO, 1 PWM, 4 ADC

Development kit for WISE-1520
RAM 256 KB memory / 1MB serial flash
Supports 1 UART, 1 I2C, 1 SPI, 2 GPIO, 2 PWM, 2 ADC
| | |
| --- | --- |
| | Build-in temperature and humidity sensor |
Wireless IoT Gateway
AC1200 dual-band Wi-Fi
WISE-Link LoRa private support up to 500 nodes
Optional mini-PCIe module for 3G/ LTE card

WISE-3620

( 2017 Q3 )

AC1200 dual-band Wi-Fi
MU-MIMO supports modularization
Optional mini-PCIe module for 3G/ LTE card

WSN mesh self-forming
Reliability WSN MESH network
Supports MESH network up to 200 nodes