WISE-PaaS IoT Software Platform Services
WISE-PaaS (Platform as a Service) stands between the domain-specific cloud and IoT devices, providing a modular operating environment for system integrators. Not only does it provide seamless sensor information transmission and remote management control, its open RESTful API/SDK protocols establish standard connection and communication between all the sub-systems. The Integrated IoT software and cloud platform plays a key role in the development of IoT applications, analysis of IoT big data, the continued optimization of work flow and future expandability of the system.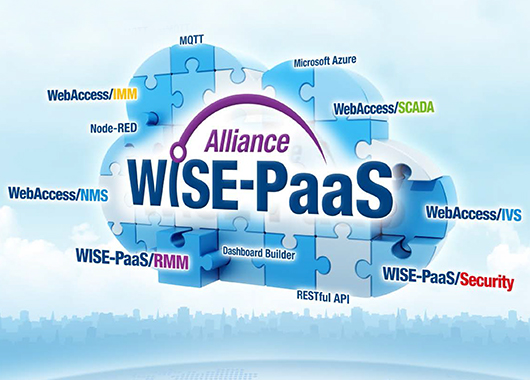 Win-Win IoT Partnership Alliance
WISE-PaaS Alliance is the IoT partner program launched by Advantech that helps partners solve IoT application challenges and take those applications to market. There are four major offerings in this program: "Diverse Software Solution", "Eco-System Partner Collaboration", "Marketing & Business Engagement" and "Comprehensive Developer Services". With six Diversify Software Solutions, partners can unify different protocol standards, thus enabling data, image, device and network management, and ensuring that IoT device and data infrastructure is reliable and scalable. Another key objective is to expedite IoT application development. Alliance programs provide comprehensive development service, including development tools, professional consultant and technical support service and VIP IoT Developer Forum. Program members leverage the Advantech marketing platform to generate product awareness, and also engage with local salespeople for sales leads and opportunities.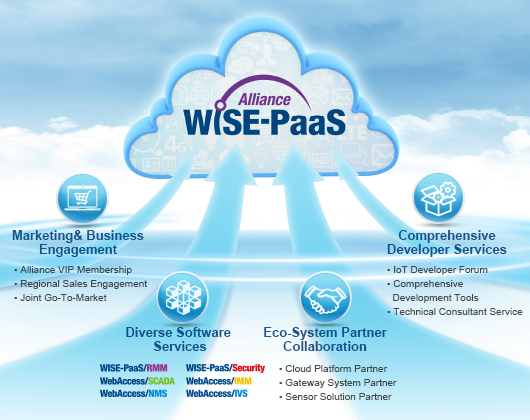 WISE-PaaS Alliance VIP Service Network
The VIP Service Network supports Alliance members in achieving their application development and business transformations; we integrate our resources and knowledge to help Alliance members cross the hurdles of IoT data management. In terms of software offerings, Alliance members enjoy shopping all Advantech IoT software in an online store with 24-hour service. This online software store simplifies the procurement process and gives Alliance members the best discounted prices. Training and consulting services are also provided that can help VIP members pick up IoT technologies easily. For a quick jump into the core discussion with professional consultants, IoT Developer Forum consolidates all the latest development tools, technical white papers, and news regarding industrial trends. This can shorten the design phase, and gets your IoT solution to a solider, higher quality, and faster launch.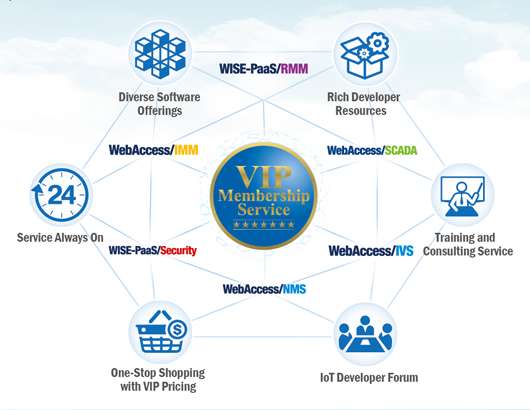 WISE-PaaS Software Solutions
Remote Monitoring and Management

Centralized Management
High Availability
Sensor/Device Connectivity




Security Management

Vulnerability Manager
ePolicy Orchestrator
Global Threat Intelligence
GPS receiver built-in, for easy traffic route management




Smart HMI/SCADA

100% Web-based
Easily Connect to IoT Devices
Cross Browser HTML5 Dashboard




Interactive Multimedia

Server-Client Architecture
Multi-screen Display
Edit and Dispatch Programs




Intelligent Video

Intelligent Video Platform
Intelligent Video Analytics
Modularized SDK Ready




Network Management

100% HTML5 web-based
Device Connectivity Mgmt
Integration of Network Topology