Jumpstart IoT Innovation
Many industry leaders are already investing in IoT deployment, beginning to realize the necessity of speeding up returns on their investments. How can you successfully navigate this transformation in a simply and efficient way? Advantech collaborates with Intel and Microsoft to provide an IoT gateway starter kit that integrates hardware, software, and services to help customers not only create mutually beneficial capabilities to enable application innovation but also to simplify IoT deployment.
For Industrial Equipment Manufacturers

Connect your things to enable data acquisition, device management, and analytic intelligence that create new business value.

For System Integrators

Enable your projects to integrate all devices and systems quickly and efficiently to work together in a reliable platform.

For IoT Developers

Empower your applications to create innovations and practices that discover more business opportunities.
For IoT Developers
Unified IoT Protocols

Provides comprehensive software solution building blocks and SDK to connect various wireless/wired things (Modbus/TCP, Serial, 6LowPan, Wi-Fi), and unifies different protocols to the MQTT IoT standard, then empowers IoT application development for data streaming and device management.




Cross-system Integration

Built-in WISE-PaaS IoT software platform services integrate multiple systems and provide dashboard builder and RESTful APIs that help design user interfaces and create various web services with new data, and functions, and other applications.




Enable Data Analytics Services

With Microsoft Azure service certification and integration, users can easily push their data and analyze it in Azure with Machine Learning Services. This saves time and effort on project specs and creates business intelligence to improve business strategies and practices.



IoT Gateway Starter Kit Offerings
The whole package includes a ready-to-run system (Intel® Celeron® processor J1900-based platform & Windows 7 Embedded), IoT software platform service (WISE-PaaS), software development kit and technical support service, and Microsoft Azure service certification and integration. It not only simplifies IoT deployment, but also creates mutually beneficial capabilities to enable application innovation.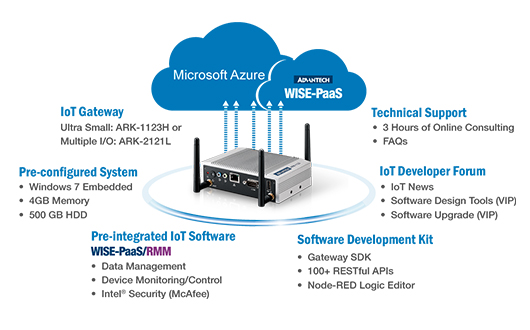 More
Product Highlights