Advantech's Edge Solutions Enable Real-Time Oil Tanker Monitoring
11/10/2019
Unloading an oil tanker is a job that must be handled in a meticulous, step-by-step fashion. Missteps can lead to casualties and/or severely pollute local waters. Even if the unloading process avoids an accident, any error in the calculation of the quantity of oil unloaded can trigger costly, time-consuming disputes. To minimize these risks, many governments have introduced a SCADA graphics control system into their IoT infrastructure to monitor oil pipelines in real time and ensure an accurate calculation of the quantities unloaded.
The SCADA graphics control system performs monitoring and calculation by collecting a diversity of data, without which the system cannot function as intended. Once collected, data is presented in real time on the control room display and processed through edge computing. Without this, applications at the top layer of the IoT framework can become overloaded when coping with massive streams of data.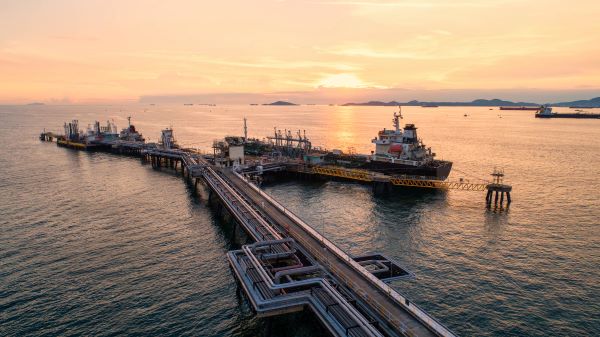 ESRP-PCS-ADAM3600, an edge data acquisition (DAQ) platform developed by Advantech, is designed to serve the SCADA graphics control system by collecting data from the lower layers of the IoT framework, performing edge computing, and connecting to upper-level applications. The edge DAQ platform uses a flexible and modularly designed input/output (I/O) interface layout to fetch different kinds of data, preprocess raw data into meaningful information, and upload it. It connects seamlessly with upper-level applications through various communications protocols. Moreover, this platform aids SCADA developers in bringing their projects to fruition—and thus can be harnessed to reduce accident risks and human error during the oil unloading process.
Thailand, ringed by thousands of kilometers of coastlines, is home to hundreds of ports. In a country heavily dependent on imported oil, Thai ports bustle with tankers docking and being unloading supplies. Although the Thai government hires numerous workers to monitor and calculate the quantities of oil being unloaded, both processes are prone to human error. However, the Royal Thai government has recently decided to adopt new technologies to better ensure the real-time monitoring of oil unloading and make more accurate calculations.
The system integrator contracted to undertake this project is a world-renowned SCADA systems provider. For this project, the company designed a SCADA program and integrated it with Advantech's edge solutions to visualize collected data, calculate oil quantities accurately when they're delivered onshore, monitor oil unloading remotely, and switch oil pipelines on or off whenever necessary.
The edge solution had the following features:
Included DAQ platforms for outdoor use that were capable of withstanding the harsh environmental conditions at the ports;
Have enough I/O interfaces to connect to different devices;
Support DNP3 to convert data to a proper format for use by SCADA;
Contain an industrial computer designed to process massive data volumes

Advantech provided two edge solutions for the project's development. One was the ESRP-PCS-ADAM3600—an edge DAQ platform that collects data and oversees devices on-site. The other was ACP-4000, a high-performance industrial computer that runs the SCADA program designed by the contractor.
Dozens of ESRP-PCS-ADAM3600 units—which are installed respectively on the front, middle, and rear parts of the many pipelines that lie on the left and right sides of piers connecting tankers to shores—use their I/O interfaces to gather data on temperatures, water flow, and weather conditions. They then preprocess this data, convert it through communication protocols, and upload it over a 4G wireless network to the ACP-4000 in the control room for visualization and other computation processes.
Through the ACP-4000 in the control room, personnel can keep an eye on oil unloading, find out what the weather looks like on the ground, issue commands over wireless connections for the edge DAP platforms to open/close the valves or pumps of the pipelines, and better understand exactly how much oil has been moved off a tanker.
The ESRP-PCS-ADAM3600, which comprises ADAM-3600 (a remote terminal unit) and WISE-PaaS/EdgeLink (a protocol conversion program), is an edge solution ready package that readily gathers data from devices on the ground without requiring complex programming or setup. This edge DAQ platform functions at a temperature between -40 °C and 70 °C and provides multiple analog and digital I/O interfaces.
Moreover, with four slots for I/O expansion, the platform can accommodate plenty of devices that are being monitored on-site.
The edge DAQ platform supports wired and wireless networks—for this project, it sends data over a 4G wireless network because it is not easy to deploy network cables around ports. The SD memory card of this terminal unit, coupled with WISE-PaaS/EdgeLink (which creates timestamps and sends data even after a disconnection), ensures data integrity. This helps to free oil estimations from any inaccuracy even when the wireless network is down.
The edge DAQ platform has a handy preprocessing feature that allows users to convert raw data into meaningful information without having to write a program. For example, you can use the built-in formulas to convert 10 mA to 100 °C or draw on temperature and pressure data to estimate water flows. Moreover, the platform's compatibility with Modbus, DNP3, and IEC-60870-5-104 protocols equips it to convert its data to a proper format and upload to SCADA, thus speeding up a project's development timeline.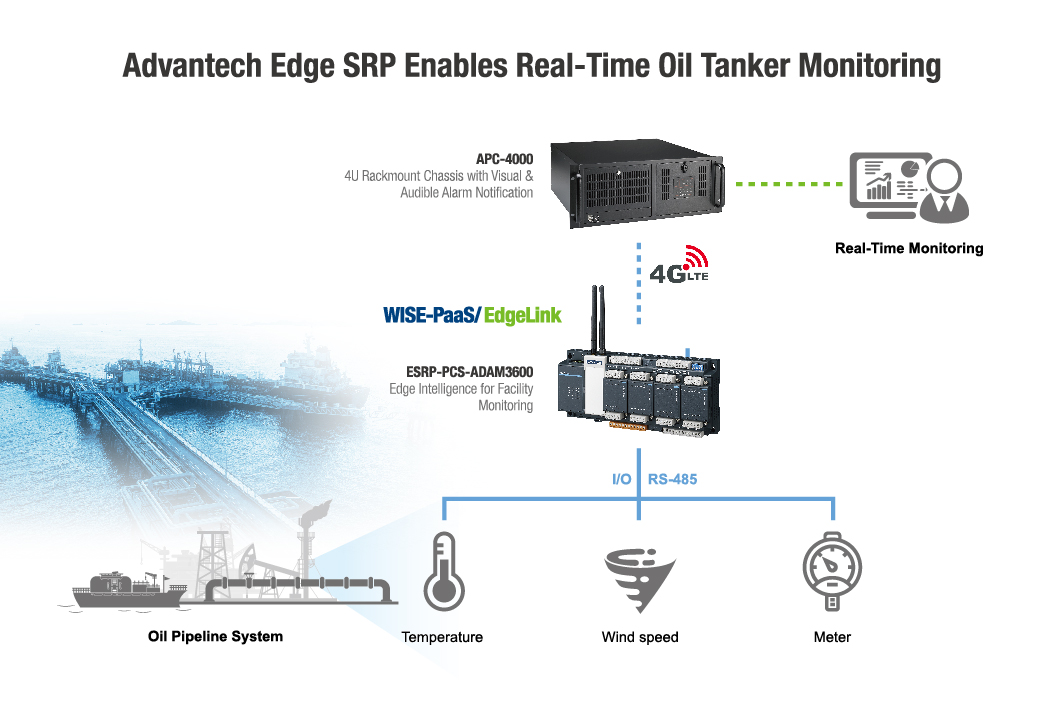 It is critical for oil importers, port workers, and tanker operators to unload oil safely while obtaining accurate data regarding the quantities of oil unloaded. In this arena, IoT is conducive to creating a synergy of human intelligence and technology. This synergy is materialized through projects like this one in Thailand.
The project was completed in just a few months, thanks in no small part to Advantech's edge solutions. Without the edge DAQ platform—which features modular I/O design, broad operating temperature, compatibility with multiple communication protocols, and connection with wired and wireless networks—and Advantech's technical support, it would have taken the SCADA developer substantially more effort and time to achieve real-time monitoring for both unloading and accurate oil volume calculations. Going forward, Advantech will continue working closely to co-create IoT solutions for customers in the energy sector.