Advantech Wireless Vibration Monitoring Solution for Paper Mills
7/7/2021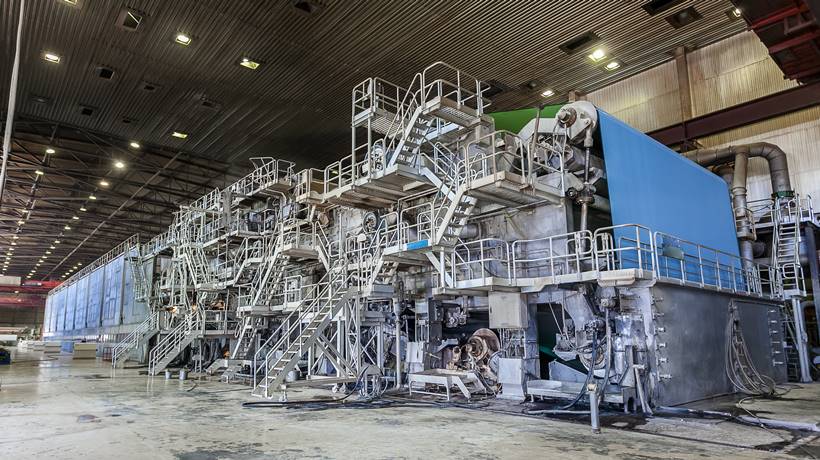 Paper products are indispensable items used in all kinds of domestic and industrial environments. As a supplier of these daily necessities, paper mills face tight manufacturing deadlines so reliable problem-free production requires vigilant attention.
Papermaking is complex production process using large pieces of equipment with many fast moving parts. A large number of motors are used to drive conveyor belts on the production line and the loss of any single motor will lead to a shut down and loss of capacity.
Up till now, the paper mill used hand-held devices to monitor the status of the motors with regular inspections carried out to check everything works as it should. However, manual inspections are time-consuming and dangerous and issues are often difficult to diagnose. What the paper mill needed was an online monitoring system to perform on-site inspections, which would also reduce labor costs and risks to staff. Advantech provided a total solution that helped them maintain all their tight manufacturing deadlines.
A magnetic base was used to attach Advantech's WISE-2410 vibration sensors to the bearing housings of the motors, and pulleys connected them to the paper machines. These would transmit the rotational speeds and acceleration eigen values through the LoRaWAN wireless network tothe WISE-6610 gateway and into the customer's SCADA system. Once acquired, operators can monitor all data, set event triggers, and analyze statistics to confirm whether motors are working normally. They can also produce reports for comparing frequency spectrum status values from data recorded at different times.
The WISE-2410 LoRaWAN wireless vibration sensor is a smart device witha built-in ARM Cortex-M4 processor, 3-axis accelerometer, and temperature sensor. Its built-in computing functions run various complex eigenvalue computations (including acceleration spectrum, VRMS, ARMS, peak,displacement, kurtosis, crest factor, skewness and standard deviation).
The LoRa network transceiver offers multiple features like low frequency,long range, low power consumption, and high penetrance. WISE-2410 provides wide temperature range (-20°C – 85°C) support and IP66-certified waterproof and dust proof enclosure certification.
The WISE-6610 is a high-performance LoRaWAN gateway with several connectivity options for industrial environments and LoRaWAN protocol support for building LoRaWAN private and public networks. It also supports other protocols, including MQTT, and its hardware and software flexibility provides rich features to edge intelligence systems. The WISE-6610 allows for VPN tunnel creation with various protocols that ensure safe communication. It also provides a network server that can encrypt and convert LoRaWAN data in the device, and its redundancy-enhanced functions are specifically designed to prevent connection loss.
WISE-2410: LoRaWAN Wireless Vibration Sensor
WISE-6610: LoRaWAN Gateway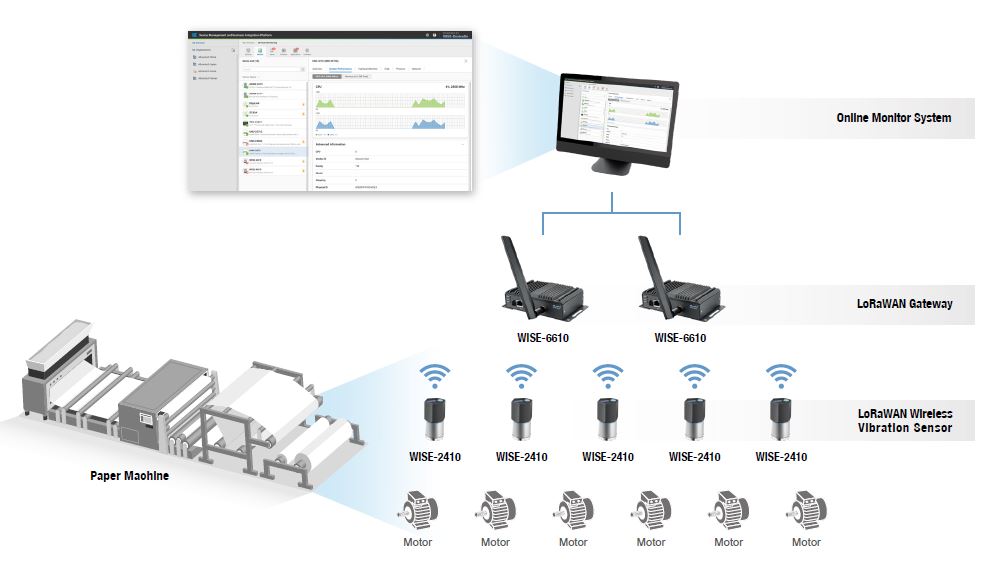 The paper mill machines are large and complex, and the human inspection, which it once relied on, exposed personnel to potential occupational hazards. Now, with the new automated monitoring solution, system monitoring can be done remotely without manual checking, which is a great boost to both environmental protection and personnel safety.
Advantech has continued to deepen and explore applications for the integration of IoT products, such as in smart factories and cities, and become a driving force an intelligent planet. WISE-2410 and WISE-6610 are Advantech product solutions based on theLoRaWAN long-distance, high-penetration, and low-power consumption wireless technologies that are highly integrated with industrial control applications.This solution achieves remote device monitoring and preventive diagnosis through the acquisition of equipment vibration data. The solution greatly reduces equipment downtimes that cause production losses and industrial accidents.