Aerospace Manufacturing Equipment Risk Mitigation Utilizing Upgraded Machine Communications and Management
4/5/2020
An aerospace manufacturer recently experienced the failure of a critical machine. Because there was no back-up system in place, all of the machine settings were lost, costing them a considerable amount of time and money in both system recovery and lost productivity. They had a mix of equipment of different vintage and manufacture, making it difficult to use a single manufacturer's software. The machines were not networked or accessible from the outside.
After experiencing the machine failure, the customer wanted a solution to prevent this from reoccurring. They wanted to be able to monitor critical machines, as well as back up all necessary configurations and files. The company did have an existing network for IT, but for security reasons it could not be used for machine connectivity and communications.
The goals of the updated machinery risk mitigation solution were the following:
The ability to securely store and restore files to manufacturing equipment to reduce downtime and manufacturing/quality risk in case of failures.
The ability to monitor the status and utilization of manufacturing equipment in order to improve utilization, monitor, and reduce unplanned downtime.
The ability to securely remote access sites with limited internet access in order to view machine status in remote sites.
The Advantech EKI-6559TMI is an 8+2-port, industrial managed Ethernet switch featuring a Gigabit fiber ring with X-Ring high-speed recovery and 8 M12. The fiber ring connects the switches, providing fast fail-over if there is a break in the fiber connection.
To accelerate the implementation of smart machine monitoring and management in Industry 4.0 applications, Advantech's M2I/CNC solutions play a critical role in IoT integration from edge computing to cloud-based services. The Intelligent CNC Management solution has been developed to bridge the gap from traditional machine management to optimization by facilitating cross-factory machine management in order to improve processing efficiency. It also provides an overview of work order progress, production line availability, and other management services.
The Advantech CNC Management package provides real-time dashboards for machine monitoring and efficiency analysis, as well as alarm reporting for accelerated troubleshooting and failure review. CNC management enables operations to maximize the utilization and uptime of production equipment.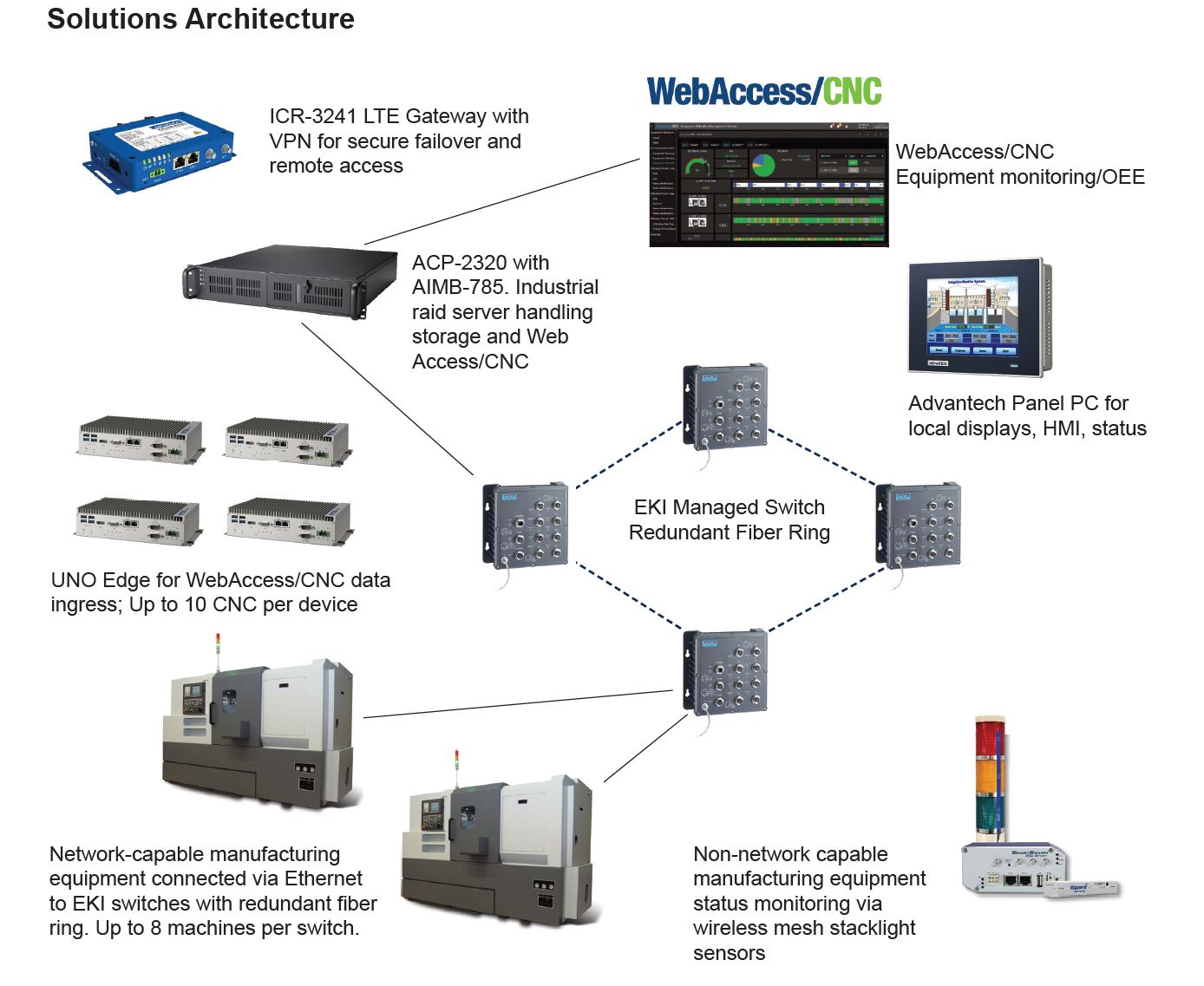 Featured Product Solutions
Real-time dashboards for machine monitoring / efficiency analysis

Alarm reporting for faster troubleshooting and failure review

Cloud-based solution for easy cross-factory CNC management
EKI-6559TMI - EN50155 and IP67-certified 8 M12+2 fiber managed switch
M12 connectors secure highly reliable connectivity for industrial communication applications. The switch also provides two additional fiber optic ports to extend communication range.

EKI-6559TMI offers Advantech's X-Ring Pro protocol, which enables users to establish a redundant Ethernet network with ultra-high-speed recovery (less than 20 ms). It also supports advanced network standards to optimize network performance, reduce maintenance cost, and secure network safety.
ICR-3241 - Industrial IoT 4G LTE router & gateway
The ICR-3200 LTE gateway is the perfect way to connect IP or serial devices to a cellular network. With LTE Cat.4 upload speeds of up to 50 Mbps and download speeds of up to 150 Mbps, the router provides ample bandwidth for high data demand applications such as CCTV or public Wi-Fi hotspots.

In addition to its two independent or switched Ethernet ports, serial ports RS232 and RS485, ICR-3200 has built-in digital I/O connectivity, backup real-time clock and sleep mode support. The device has two SIM readers protected by metallic cover for carrier failover redundancy.
ACP-2320 - 2U Rackmount Chassis for ATX/ MicroATX Motherboard
LED indicators and audible alarm notifi cation for system fault detection

ACP-2320: One Slim optical disk drive, two internal 3.5" drives and dual howswap SATA HDD trays

Various riser card options to support three full-size PCI or PCIe cards for expansion
Built-in Intelligent System Module enabling whole system fan control and remote manageability

This fanless embedded computer is a box PC for automation control, served as a PC controller that has a wide range of CPU selection and multiple mounting methods. The UNO-2000 series has a modular design concept, which provides flexible and time-to-market support in variety of applications, such as Edge computing.
Advantech's industrial Panel PC product portfolio includes customizable and all-in-one touchscreen PC series with multiple industrial touch-panel sizes and a rich I/O expansion to meet industrial standards.