Advantech's Industrial Motherboards Deliver Biometric Facial Recognition to Boarding Gates
9/29/2020
The number of foreign visitors arriving at Japanese international airports is expected to increase from 40 million a year in 2020 to 60 million a year by 2030. Transportation solutions need to facilitate quick and safe travel between destinations regardless of this increase. To this end, the Japanese Ministry of Finance Customs is trying to reduce airport congestion and improve traveler experiences inside the terminal. Likewise, boarding gates with biometric facial recognition solutions are an essential strategy for improving traveler safety and airport efficiency. These solutions help airport travelers navigate through various airport checkpoints.
Our customer, a Japan-based equipment manufacturer, was seeking a highly reliable industrial motherboard capable of delivering accurate real-time passenger facial matching capabilities. This system needed to function when passengers were walking to ease navigation through various airport checkpoints at any time of day. Conversely, the boards' form factor needed to be thin enough to fit into stylish compact kiosks.
Remote management and maintenance capabilities were essential considerations in maintaining stable day-to-day operation. This is because facial recognition checkpoints are deployed everywhere in airports — including self-check counters, boarding gates, and customs inspection areas. Additionally, comprehensive customer service with experienced design-in services and prompt support were required to reduce time-to-market.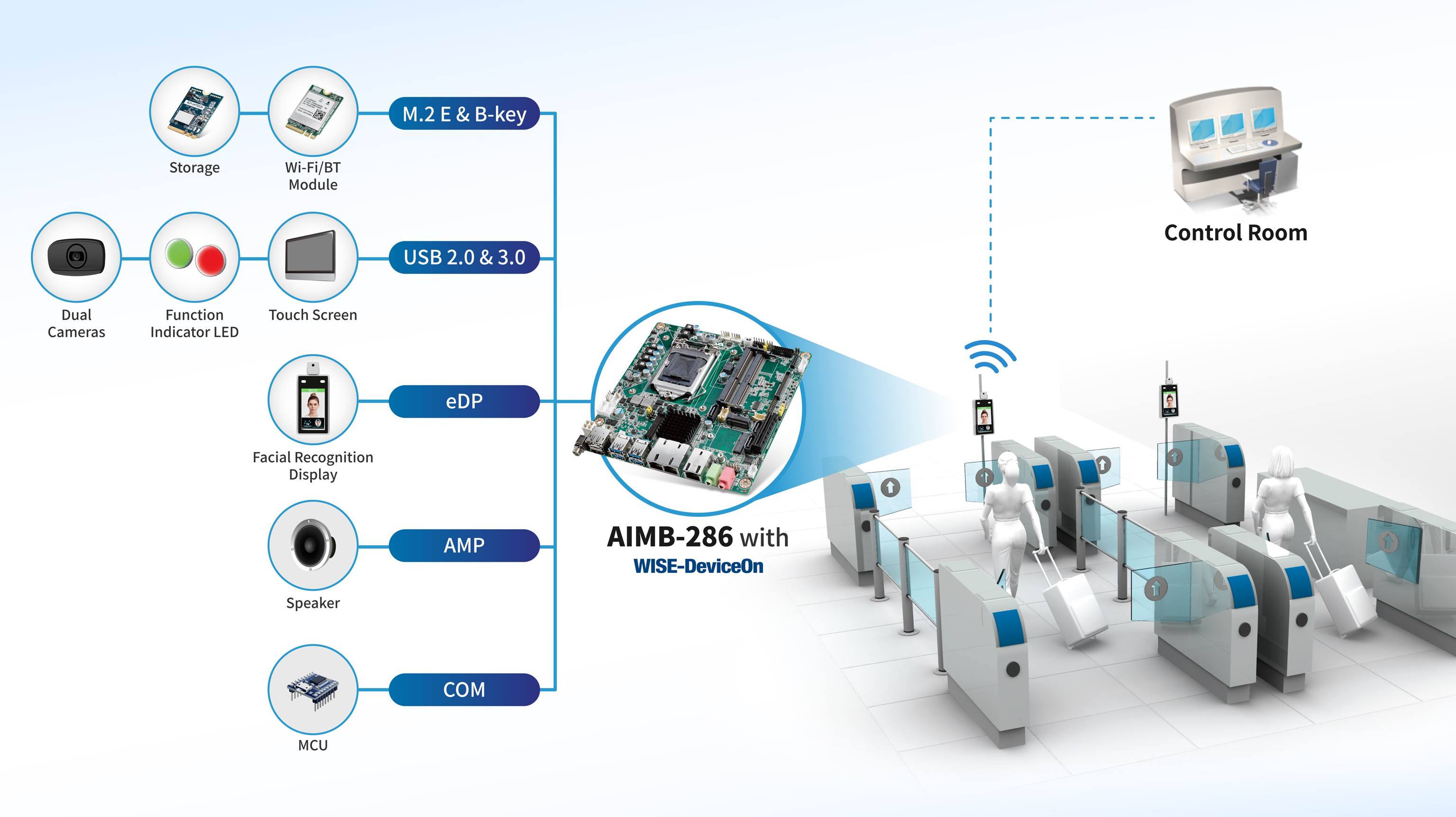 Advantech, a global embedded market leader, provides comprehensive off-the-shelf solutions with remote management software, allowing customers to quickly select solutions from an array of platforms and standard form factors. Customers can simultaneously configure their domain-focused requirements using Advantech's one-stop services for embedded software and peripherals. This greatly shortens their development schedule and speed time to market.
Powerful Capabilities in Compact Spaces
Advantech's AIMB-286 is an industrial grade "THIN" motherboard powered by 9th Gen. Intel® core™ i7 processors. It delivers excellent computing performance and numerous I/O to ensure smooth stable real-time facial recognition operation while performing gate control, check-in, and other tasks.
With an overall height of just 25 mm (.08 in), AIMB-286 is an excellent choice for installation in slim boarding gate kiosks. It features diverse I/O, including USB 3.2 Gen 1 for cameras, sensors, led indicators, touchscreens, and other peripheral devices used in facial recognition. Advantech's solution supports M.2 B and E keys designed for storage and wireless module installation to enable smooth remote operation. This solution features an onboard dual channel 3.2W amplifier for broadcast, which reduces costs and saves system space.
Self Service Oriented Management Software
In order to efficiently monitor and manage boarding gates in real time, Advantech AIMB-286 is bundled with DeviceOn, an IoT device operation and management software. This software ensures stable operation and improves customer experiences. Using this solution, manpower allocation and maintenance resources used in on-site troubleshooting can be reduced.Advantech's DeviceOn enables site managers to remotely monitor and manage equipment. They can receive early notifications regarding potential equipment risks, software updates, or recover BIOS in the event of BIOS update interruptions. These functions minimize maintenance expenditures and enhance system reliability without additional labor costs.
Prompt Comprehensive Customer Services
Using Advantech's one stop shop services, this customer developed a solution based on their domain-focused requirements and adjusted their cables and packing design. This customer relied on Advantech's experienced BIOS and AE team to customize their BIOS to enable CPU temperature warnings and system fan settings. Because of this, they met requirements for application real-time monitoring and reliable operation. All customization is certified through Advantech's strict verification processes to ensure production quality. This qualification method included vendor sourcing, compatibility testing, drop tests, and mass production quality control.
Finally, Advantech implemented "One Advantech Service" delivering efficient service to our customer. Through close cooperation between the headquarters product team and regional FAE/RMA teams, we deliver instant technical support within 24 hours. We also provide prompt repair services to reduce logistic efforts and accelerate turnaround.
Advantech AIMB-286 high-end and "THIN" Mini-ITX industrial motherboard features integrated remote management software to improve self-service kiosk solutions. Advantech's solutions enhance traveler experiences while reducing maintenance costs. This solution demonstrates Advantech's commitment to helping customers achieve efficient field-side control while creating a return on investment by optimizing service experiences.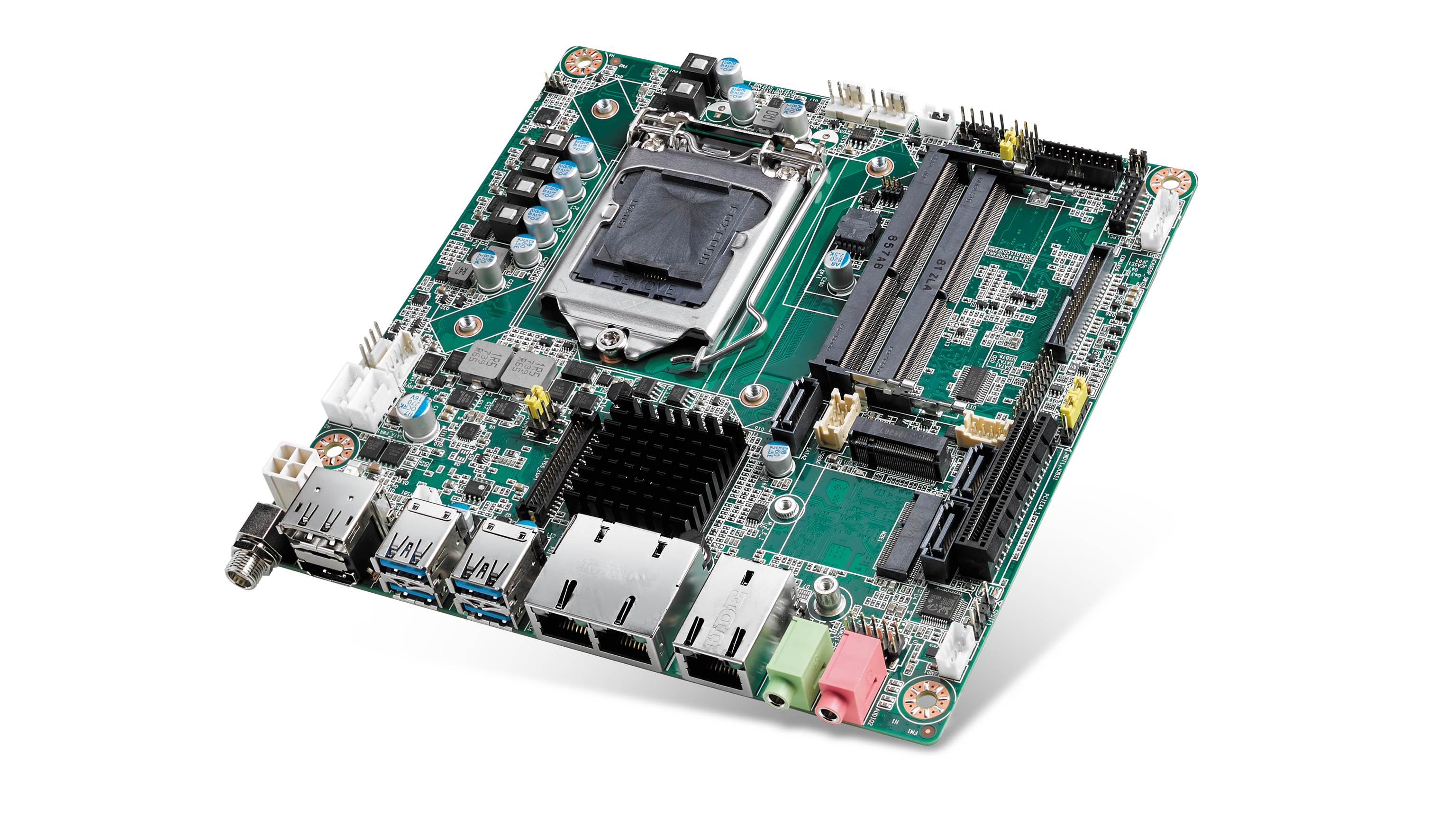 AIMB-286 Key Features
8th generation Intel® Core™ i / Pentium/ Celeron processors

Dual channel DDR4-2666 260-pin SODIMM sockets up to 32 GB
Intel® Gfx support DX11.1, OpenCL 2.1, OpenGL 5.0

HDMI1.4, DisplayPort1.2, LVDS or eDP*

4x USB 3.0, 4x USB 2.0, 3x SATAIII, 6x COM ports (4x RS-232, 2x RS-232/422*/485*) and 16-bit GPIO

1x PCIe x4, 1x M.2 B key (2242/3042 supported) and 1x M.2 E key (2230 supported)