Litter in, Voucher out: Advantech Participants in the Deposit Return Scheme by Leveraging LoRaWAN Technology
4/14/2020
What's happening every 60 seconds in the world?
Answer: 1,000,000 environment-killing new plastic bottles are bought
"A million plastic bottles are bought around the world every minute and the number will jump another 20% by 2021, creating an environmental crisis some campaigners predict will be as serious as climate change," quoted from a news report from The Guardian. Due to the rising awareness of environmental sustainability, governments around the world are actively promoting the 3R- Reduce, Reuse, Recycle using fun and creatively technology.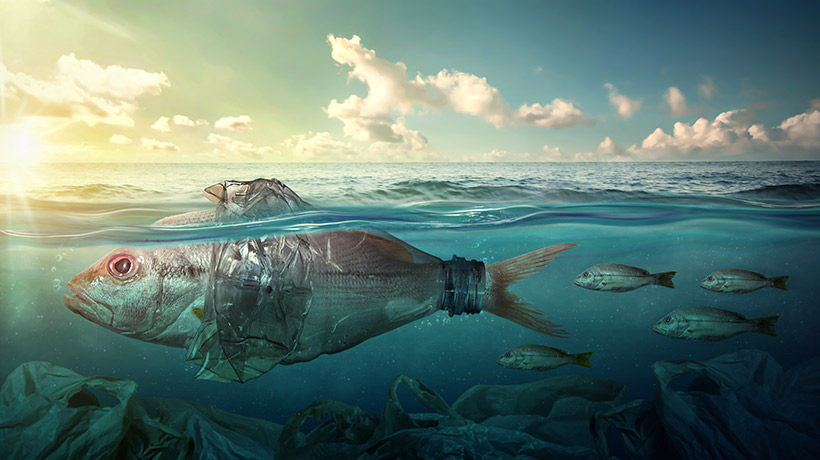 Germany government introduced Deposit Return Scheme:
A worldwide movement for environmental protection, followed by other 38 countries.
Enjoying the reputation as "the global leader of recycling", Germany first introduced "Deposit Return Schemes (DRS)" in 2003. This project turned out to be a huge success as 99% of plastic bottles are recycled. Perhaps inspired by Germany, the UK also initiated DRS and 43% of the plastic bottles purchased annually are recycled. Similar schemes have operated in other 38 countries, including Bottle Bank Arcades in Sweden, "Pugedons" that turn waste into food for stray animals in Turkey, vending machines that dispense vouchers rather than drinks in Singapore, and vending machines that award users 20-cent credits via Octopus Cards in Hong Kong.
Dilemma behind the recycle machine:
However intensive the fixed-interval inspection is, it couldn't compensate the inefficiency due to unknown machine status.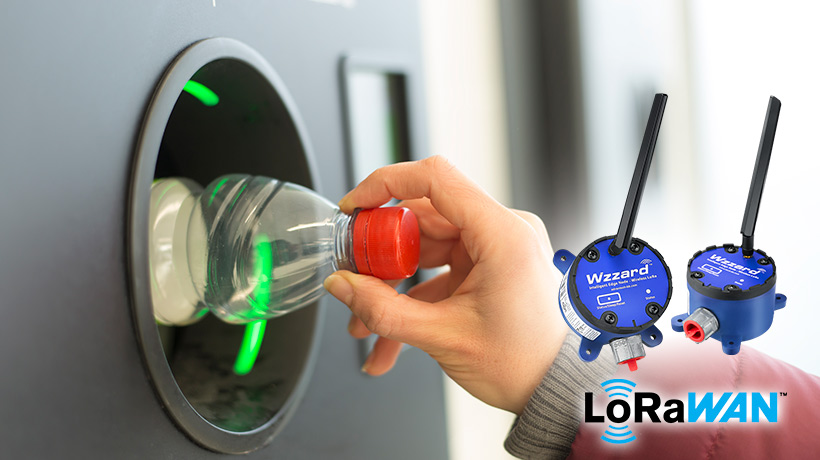 However, what happens after the plastic bottles were accepted into these "reverse vending machines"? How do operators know when the machines are full? These are the problems that governments and machine producers have to tackle with. Some machine companies send operators to gather those crashed plastic bottles at fixed intervals, yet when less plastic bottles were accepted that expected, additional time, effort and money for human capital are wasted. On the other hand, when occasions like holidays, parades, or unexpected shopping sprees happen, machines get full quicker, which might cause a mess or unpleasant smell around them. Either way, not being able to predict the fullness of the machines creates troubles for the user, the operator, and the eco-conscious initiative itself.
All you need is an intelligent real-time auto detect and report system to nail it.
This is when Advantech involves and helps. After the reverse vending machine recognizes, transports and sorts a container, a built-in compactor compacts and drops the container into a bin. Inside each bin installed an infrared curtain and Advantech's Wzzard LRPv2 LoRaWAN nodes.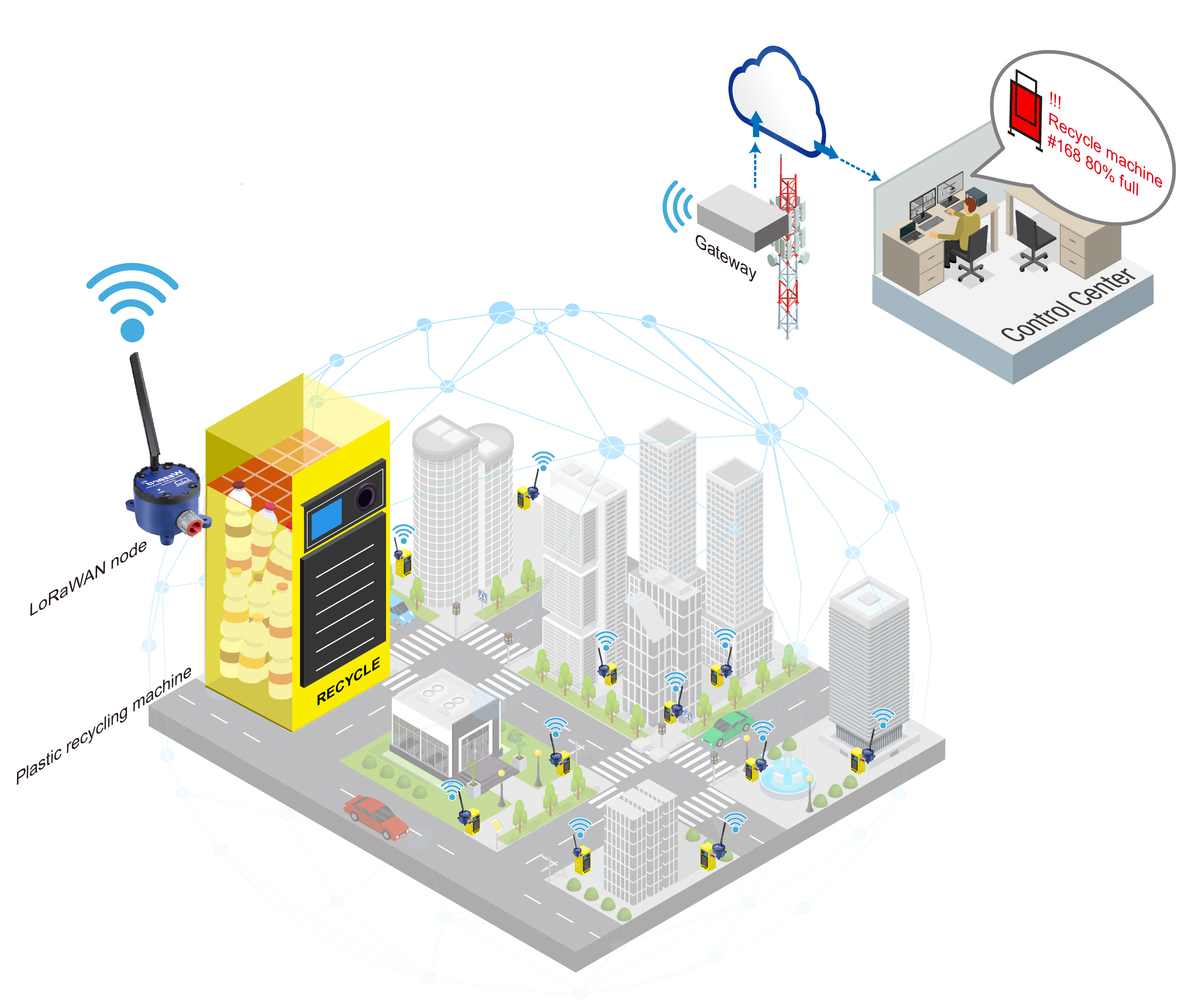 Infrared light curtain: the auto detector
Whenever the capacity of the bin is full, an overload of compacted bottles interrupts the infrared light beams in the sensing field of the light curtains.
LoRaWAN node: the real-time, wireless auto reporter
Simultaneously, Advantech LoRaWAN sensing nodes send signals to back to the LoRaWAN network. When the gateway receives signals from a certain bin, it transmits the signal onto the cloud service which is connected to the machine operator's monitoring system. This way, by checking the collected data on the monitoring system, machine companies can manage and monitor every single bin in the city in real-time remotely.
Advantech invites everyone to response to the call of environmental protection, benefiting both mother earth and human beings.
"According to ClimateAction, in just over one year, Iceland's reverse vending machines have recycled over one million plastic bottles. Advantech makes full use of LoRaWAN technology to improve the effectiveness of recycle business. For machine companies, the time and effort of unnecessary cleanups is reduced, maximizing the efficiency in each cleaning operation; for machine users, the reverse vending machine is never too full to deposit drinking containers, and the machines they use always remain clean and tidy; as for the government, by offering the general public a convenient and rewarding way of recycling plastic bottles, healthy green habits are cultivated to citizens over time, and the cost of landfills and incinerators can be diminished, which transforms to the revenue of recycling companies.
Your every action makes a huge difference.
The kind fragments together become a greener and more intelligent planet.
In recent years, people have been more conscious of the last "R" in "Reduce, Reuse, Recycle" around the world. Recycling is no longer an annoying procedure but a fun and rewarding habit. Advantech, as one of the leading company in Industrial IoT innovation, has the mission of enabling an intelligent planet.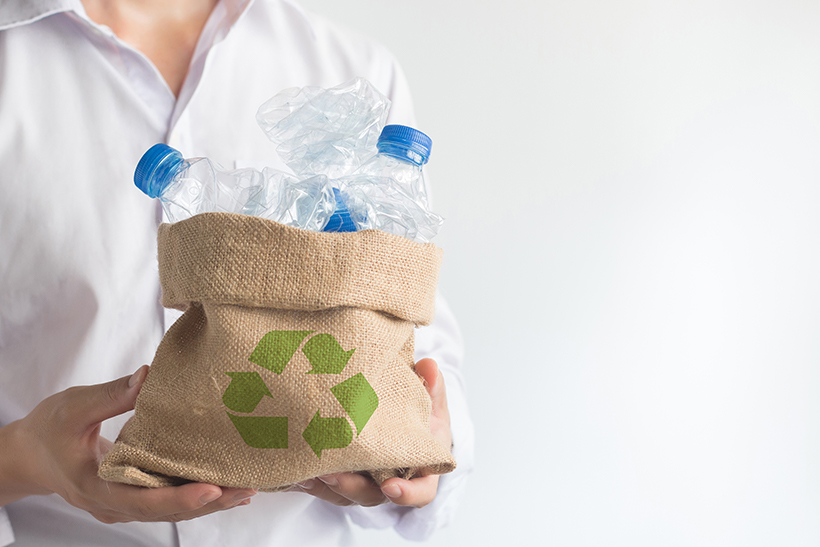 For more product inquiry, please contact iiot.tech@advantech.com
Advantech experts will be providing you with dedicated support soon!