Advantech's Linkou Intelligent Campus Exhibits Environmental Sustainability
8/23/2022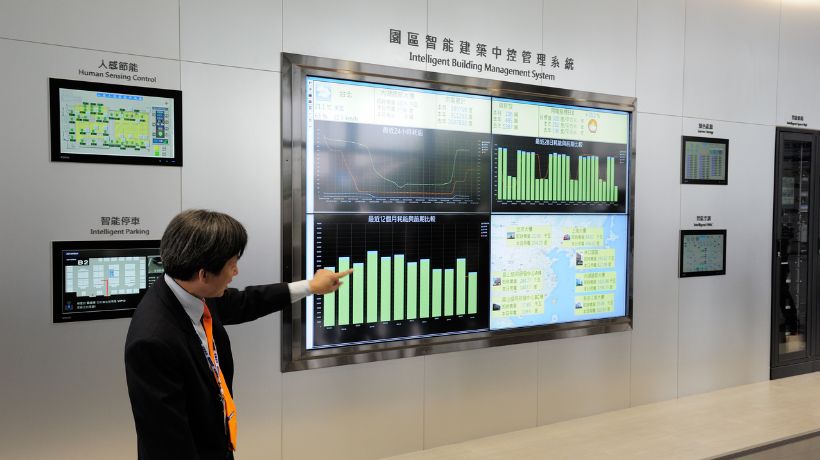 Advantech's Linkou Intelligent Campus is a green building structure featuring an intelligent energy management system (iEMS) for energy conservation, which significantly reduces energy consumption and carbon emissions. The site has also helped Advantech become a leading enterprise in environmental, social, and governance (ESG) criteria.
Interview with L H Chou, Senior Manager of Advantech; Richard Liu, Senior Engineer of Advantech; Jeter Fu, Senior Specialist of Advantech
iEMS plays a vital role in campus energy conservation
The construction of Advantech's Linkou Intelligent Campus consisted of three phases. Leveraging various intelligent energy-conservation solutions developed by Advantech, the site has become a benchmark in the field of intelligent green buildings, winning a Platinum Award in the Asia Pacific Intelligent Green Building Alliance (APIGBA) Awards Competition. Its comprehensive, intelligent energy-conservation systems and applications have attracted a stream of visitors who want to learn more about Advantech's philosophy and approach to environmental sustainability.
L. H. Chou, Senior Manager at Advantech, pointed out that Advantech utilized iEMS and intelligent space management as the two central cores to develop seven smart applications, including energy management, human sensing energy conservation, iReception, iMeeting, iSurveillance, Smart Card, and iParking. Furthermore, to achieve unified management covering a wide range of smart applications, Advantech leveraged the industrial IoT application software platform WebAccess to connect multilevel management of facilities distributed in various nodes and originally independent subsystems, thereby realizing efficient and comprehensive energy management.
Mr. Zhou further explained that there are numerous facilities that consume electricity among the large-scale buildings on the Linkou campus, so before implementing the systems, the energy consumption status of all facilities had to be analyzed. Energy consumption benchmarks and energy-conservation performance indicators were set, accomplishing the goal of energy conservation and carbon emission reductions—and iEMS played a crucial role in this process.

Three key solutions in realizing smart management
Advantech's iEMS includes three critical solutions: Energy Management Solution (EMS), Energy KPI, and Energy Predict. Together, these carry out the intelligent management of the air conditioning, lighting, power, production machines, green energy, and other equipment on campus. EMS solution monitors the entire campus' operation status of the environment and equipment and presents the overall energy usage on campus through a visualized dashboard interface. This allows administrators to check the energy consumption data of various campus facilities, offering an energy consumption overview, consumption trends, and energy performance statistics.
The EMS solution helps operators discover possible energy wastage from the data and deploy maintenance strategies. Energy KPI solution follows the guidelines of the energy performance management indicator ISO 50006 standard to establish energy baselines, energy conservation goals, and energy conservation performance. At the same time, it can detect equipment with abnormal energy consumption in real-time, notify relevant personnel to rectify issues, and establish an effective method of optimizing energy processes.
Energy Predict solution can further carry out energy prediction, referring to external factors such as weather, organizational changes, and production schedules, adjusting the energy baseline in more detail, and giving early warnings to predict excessive energy consumption. For example, sewage sensors on campus failed once, causing the motor of the sewage tank to run continuously; the system detected the abnormal power consumption of the motor and immediately notified relevant personnel to deal with the problem.
Another example involved a night-shift worker of a factory on campus who failed to turn off the air handling unit before he got off work; the system detected that the power consumption of air conditioners was too high in the middle of the night, and it immediately notified relevant staff via messaging software. In addition to the intelligent control of individual power consumption facilities, the system intelligently identifies and distributes electricity with the help of iEMS, to manage energy consumption more efficiently. For example, the campus can adopt peak shaving and load shifting strategies to optimize energy usage by better understanding peak and off-peak energy consumption and tariffs.
The iEMS delivers significant energy conservation benefits
The complete implementation of iEMS delivered huge benefits for the energy conservation of the office buildings and factories on campus. Richard Liu, Senior Engineer at Advantech, pointed out that in terms of energy conservation in the office buildings, the system comprehensively and intelligently managed all electrical facilities, including water coolers, split-type air conditioners, air handling units, fan coil units, cooling towers, air compressors, and lighting.
Including the Linkou Campus and Advantech's other branches in Taiwan, Advantech's office electricity consumption decreased by 598,868 kWh in 2021, down 6.6 percent compared to 2020. Regarding energy conservation in factories, Jeter Fu, Senior Specialist at Advantech, pointed out that the iEMS has played a significant role in the energy conservation of individual facilities. For instance, through the intelligent management of the electronics warehouse of the B1 factory on campus, the temperature of the warehouse can be adjusted automatically according to the season and environmental factors, which saves about 14,000 kWh of electricity annually.
Since the implementation of this application, about 52,000 kWh of electricity has been saved, while carbon emissions have been reduced by 27,000 kg. In addition, it has saved nearly 20,000 kWh of electricity annually and reduced carbon emissions by 10,400 kg by leveraging the EMS solution for data monitoring to activate and deactivate the make-up air unit on the fifth floor of the factory. Adding up these figures, a total of about 60,000 kWh of electricity has been saved, while carbon emissions have been reduced by approximately 31,200 kg. Energy conservation is an endeavor that needs constant attention and improvement.
To achieve more comprehensive energy conservation, Advantech has used the iEMS on its campus to connect electricity facilities of other branches in Taiwan, such as the Neihu headquarters, building a comprehensive energy management system and realizing Advantech's philosophy in ESG corporate sustainability.
The WISE-PaaS data application platform end-to-cloud architecture provides a comprehensive development environment for data collection, analysis, management, and applications, while promoting interoperability between I.Apps via the WISE-Marketplace and accelerating the development of industrial solutions.
Advantech's
iEMS Solution
is an energy management platform powered by WISE-PaaS that emphasizes practicality, ease of use, expandability, and scalability. It was designed to help organizations deploy smart energy management systems rapidly and at minimal cost, while also accommodating future growth.