Entry Level Managed Ethernet Switches Advantech's EKI-5500/5600 Series
2/4/2021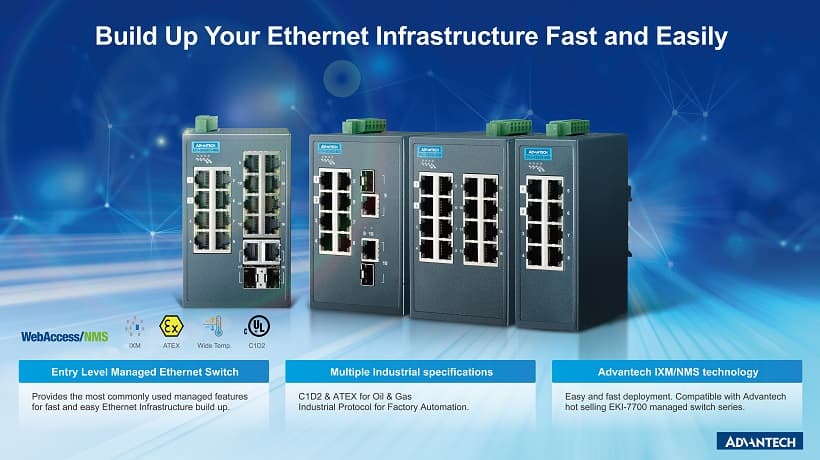 January 31, 2021, Taipei, Taiwan - Advantech, a leading supplier of industrial communication solutions, repositions its line of EKI-5500/56000 series as entry level managed Ethernet switches. The EKI-5500/5600 series supports most widely adopted management features that allow users to remotely control and manage them via a web browser. Meanwhile the EKI-5500/5600 series remains affordable for managers who are searching for economical entry-level Ethernet switches to quickly build up a reliable network environment.
Affordable Entry Level Managed Ethernet Switch
Advantech's EKI-5500/5600 entry-level managed Ethernet switch supports diverse management functions including IEEE 802.1Q VLAN, port mirroring, redundancy, storm control, and IP multicast. Also, this solution provides SNMP v1/v2c/v3, WEB GUI, standard MIB, and private MIB. The affordable EKI-5500/5600 series eases the development of Ethernet infrastructure across many different applications.
Designed for Operation in Harsh Industrial Environments
Advantech EKI-5500/5600 series is ATEX/C1D2 certified and supports operation in broad temperature ranges (-40 ~ 75 °C/-40 ~ 167 °F). In addition, the rugged industrial-grade hardware design assures reliability and stability. It supports popular automation protocols, including PROFINET, Modbus/TCP, and Ethernet/IP, delivering high interconnectivity, interoperability, and reliability for industrial IoT applications.
Advantech IXM Technology Accelerates Deployment
EKI-5500/5600 series compatible with EKI-7700 managed switch series and supports Advantech IXM technology to hasten and ease deployment. IXM technology focuses on synchronization and supervision, and eases device deployment at different development phases. It saves time, increases flexibility during application, and allows users to expand their industrial network structure quickly and efficiently.
In sum, Advantech's EKI-5500/5600 series entry-level managed switches are excellent Ethernet connection solutions that allow users to expand their industrial network quickly and efficiently.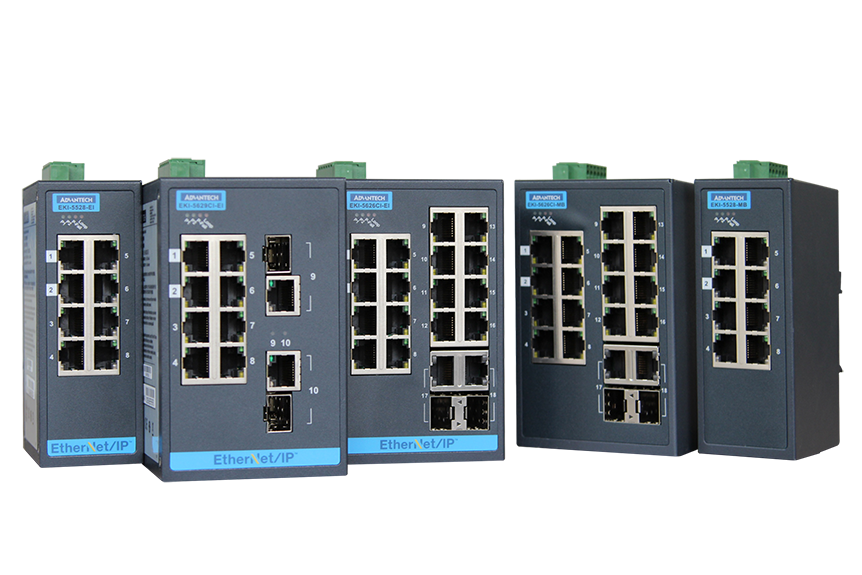 EKI-5500/5600 series
Entry-Level Managed Switch
IXM function enables fast deployment

Provides GSDML files

Management: SNMP v1/v2c/v3, WEB, Standard MIB, Private MIB

Supports Media Redundancy Protocol (MRP slaves)
For more product inquiry, please contact iiot.tech@advantech.com
Advantech experts will be providing you with dedicated support soon!