Advantech Releases MIO-5376 3.5" SBC for Accelerating EV Charging Stations Deployment
5/23/2023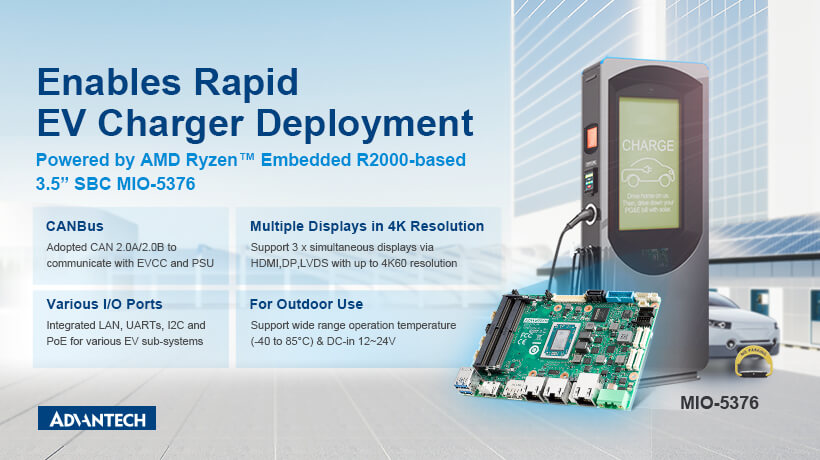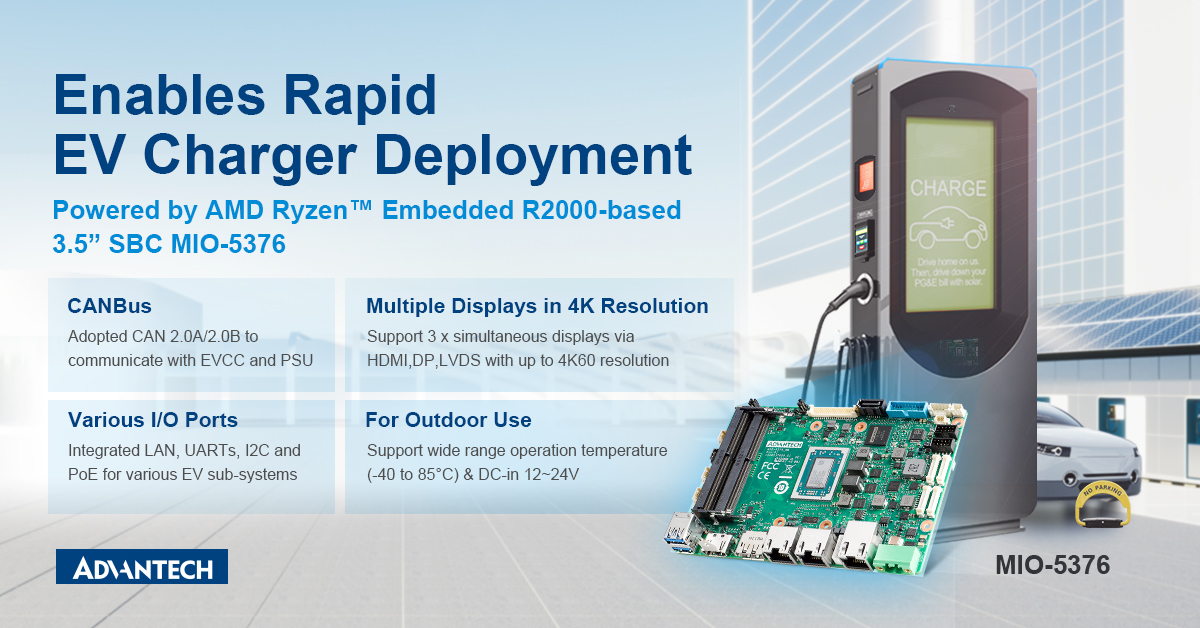 Taipei, Taiwan, May 2023 — Advantech, a leading provider of industrial computers, is pleased to announce the release of MIO-5376, an SBC designed for EV Chargers. Electric Vehicles (EV) proliferated in 2022 despite lacking the support of corresponding infrastructure. Indeed, more and more EV chargers are needed to support the millions of EVs appearing on the roads each year. This infrastructure necessitates quick, easy, and reliable chargers that meet market demand. To this end, most EV chargers integrate multiple sub-systems — including power meters, payment systems, HMI displays, and security camera systems — with different control buses that accommodate domain preferences. Advantech's MIO-5376 is an industrial 3.5-inch SBC powered by AMD Ryzen™ Embedded R2000 Processors that combines diverse I/O to ease system integration and design. MIO-5376 incorporates 3 x high-speed 2.5GbE LAN ports (2 x with Power over Ethernet (PoE)) to meet demands for connectivity in the EV industry. This combination of features and attributes makes MIO-5376 an excellent choice for diverse EV charging solutions.
Excellent Computing With Image Capabilities Tailored for EV Charger Deployment
A fast EV charger requires a high-quality display and enough computing performance to support a user interface (UI), and basic vision & recognition functionality. The MIO-5376 leverages AMD Ryzen™ Embedded R2000 Processors to optimize performance while balancing image processing and computing capabilities. In addition, it supports up to 3 x simultaneous displays via HDMI, DP, and LVDS in both HMI and information conveyance ( such as advertisements, and diverse content) in 4K resolution.

Diverse I/O Empower EV Charger Solutions

MIO-5376 has multiple serial ports for integrating additional devices. This includes a CANBus for charging, an M.2 B-Key 3042/3052 for OTA 5G and Wi-Fi, an M.2 2230/2280 for SATA and PCIe storage, 4 x RS-232, and 2 x RS-485. In addition, MIO-5376 leverages PoE via one small MIOe-PSE module in order to ensure security. Its existing Ethernet ports can support up to 2 x 15.4W connections for each port. This can deliver power and data for PoE devices, such as IP cameras in EV charging systems. This feature simplifies deployment, saves cabling space, and reduces installation costs by using just one cable. In addition, MIO-5376 eases the deployment of subsystems on EV charging systems by supporting installation maintenance and future upgrades.

Wide Operating Temperature and Power Input for Rugged Environments

Most EV chargers are located outside and are sometimes deployed in regions with harsh weather. This is why the MIO-5376 fanless embedded SBC supports -40-85 °C operating temperatures and wide-range power input of 12-24V. In addition, Advantech provides full-coverage peripherals that expedite system integration. These include a high-brightness panel with -20-60 °C capabilities for outdoor use, an interface converter & isolator, and/or an Ethernet switch.

Key Features:

AMD Ryzen™ Embedded R2000 Processors with configurable TDP 15W/25W

3 x High-speed 2.5GbE included with 2 x optional PoE ports for IP Cams

3 x Simultaneous displays via LVDS/HDMI/DP

Multi-M.2 expansion design E-key 2230, B-key 3042/3052, M-key 2280 PCIe Gen3

4 x USB 3.2, CANBus, UARTs, and DC-in 12-24V

Fanless heatsink design supports wide operating temperatures of -40–85 °C