Advantech Builds an Ecosystem to Accelerate the Development of Telemedicine Worldwide
2/26/2021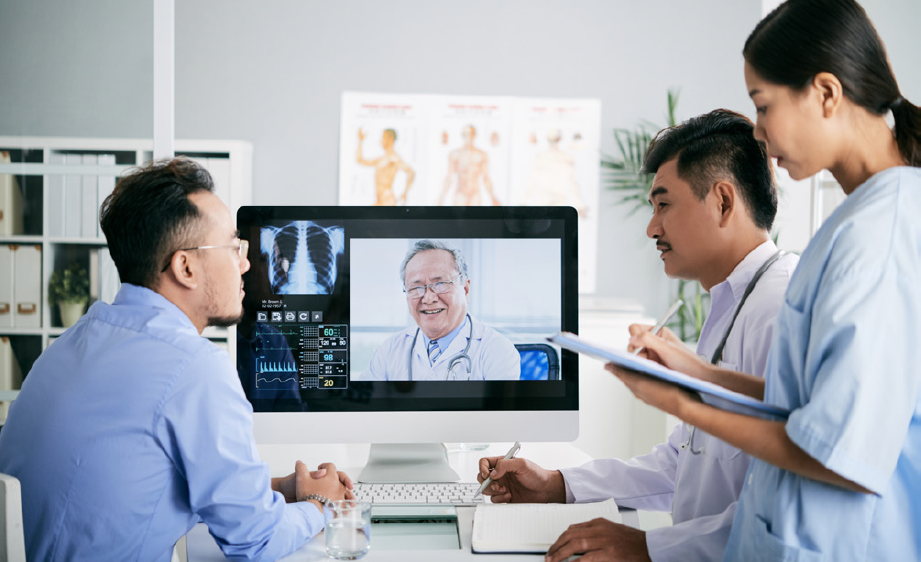 Photos provided by Shutterstock
Interview with David Lin, Director of Intelligent Healthcare division, Advantech
With advancements in ICT, telemedicine started becoming commonplace approximately 10 years ago. However, due to bottlenecks in establishing standardized regulations and user acceptance of the technology, as well as a lack of feasible business models, the promotion of telemedicine has been relatively slow. But with the American Medical Association recently including telemedicine services into its Current Procedural Terminology (CPT) codes, allowing patients insurance coverage for these services, the development of telemedicine has accelerated significantly in the U.S. Additionally, in its efforts to tackle the COVID-19 pandemic, the U.S. government announced its intention to expand telemedicine services. Moreover, with countries worldwide also discussing the possibility of loosening relevant regulations, the telemedicine market is expected to undergo exponential growth in the near future. According to Global Market Insights, the compound annual growth rate from 2019 to 2025 is expected to reach approximately 19%.
Advantech's software and hardware makes it ideal for telemedicine
David Lin, director of Advantech's Intelligent Healthcare division, pointed out that Advantech has actively contributed to the digital transformation and smart development of the healthcare industry in recent decades. With significant experience of developing software and hardware technologies for healthcare and its WISE-PaaS cloud platform, Advantech is more than adequately prepared to meet future telemedicine trends. The company's experience goes beyond facilitating the delivery of traditional healthcare services and has already moved toward "beyond-hospital" services.
To realize beyond-hospital services, Advantech actively utilizes comprehensive software, hardware, and cloud platforms with global partners to collaboratively build a telemedicine ecosystem. With this collaboration, Advantech can promote the co-creation of healthcare services and accelerate the implementation of telemedicine around the world.
According to Mr. Lin, in the past, many technology companies invested in the telemedicine sector and collaborated with hospitals to establish telemedicine services. They used a hospital-to-consumer business model, which allowed doctors to offer healthcare services to remote areas. However, some issues were encountered with this model, which hindered the promotion of such services.
First, relevant regulations specify that doctors must provide in-person diagnoses and consultations. Second, patients are often unwilling to pay for healthcare services if doctors do not diagnose them in person. To overcome this, Advantech utilized a hospital-to-business-to-consumer model to promote telemedicine and break through the bottlenecks presented by the healthcare-to-customer model. In other words, Advantech was able to use technology to connect hospitals, clinics, and other care facilities and related medical businesses to provide healthcare services to patients. Thus, patients can attend any local clinic or medical center to obtain healthcare services typically provided by hospitals. This not only overcomes the restrictions of relevant regulations, but offers services that increase patient trust.
Advantech enables comprehensive medical services worldwide
To develop innovative application, Advantech is actively collaborating with global partners to develop a telemedicine ecosystem. In Taiwan, Advantech is currently working with the International Integrated Systems Inc. software company, Chunghwa Telecom telecommunications operator, and Medimaging Integrated Solutions Inc. medical equipment vendor to begin telemedicine service verifications at various healthcare institutions. For example, Advantech and its partners have helped establish a telemedicine consultation system at the Show Chwan Memorial Hospital in Chunghua and Pu Ren Clinic in Nantou, as well as a system to connect the Shimen and Sanzhi Public Health Centers to MacKay Memorial Hospital. This allows patients in Shimen, Sanzhi, and Nantou to access the many healthcare services and resources provided at large hospitals via telemedical consultations.
In the U.S., Advantech has collaborated with software partners, such as the telemedicine solution provider Vsee and the turnkey virtual care company VeeMed, to promote smart healthcare and services. In regards to telemedicine, Advantech has initiated a three-year plan in the U.S. and expects to connect with at least three software companies or domain-focused solution integrators to co-create innovative telemedicine services. Additionally, Advantech is seeking partners to promote co-creation in the Middle East as well as Southeast Asian countries, including various outlying islands, in order to accelerate the promotion of telemedicine services in additional regions.
Mr. Lin has worked at Advantech for more than 20 years, during which time he has witnessed the healthcare industry shift from manual paper-based processes to digitalized smart operations, and the doctor-patient relationship shift from being doctor-centric to a more patient-centric approach.
Mr. Lin believes that in the future, as telemedicine services become ubiquitous for hospitals, shared decision-making strategies will mature and patients will receive improved diagnoses and treatment. From a patient perspective, improved healthcare services that allow greater autonomy will be more convenient. Considering these benefits, it is easy to believe telemedicine will provide unlimited possibilities for improving human health and wellbeing in the future.