Advantech's Digitizer Provides an Effective Solution for PCB Laser Drill Pulse Signal Measurement
13-08-2018
Introduction
As electronic products require larger numbers and more intricate arrangement of electronic components on printed circuit boards (PCBs), the PCB development trend of high density wiring has brought about innovations and advances in drilling technology. Of these innovations, the non-contact laser process, requiring no blades, has become an important process instrument for high density PCB manufacturing. Besides precluding problems such as blade blunting and chipping, its pros include better performance on hole diameter accuracy, process speed, and quality consistency.
For PCB laser drills that are required to shoot many laser pulses per minute as "drill bits," the laser pulses must maintain a consistent waveform for the laser beam to make neat holes of the same shape and size. Therefore, to clearly acknowledge any variations in the waveform of this highly repetitive laser pulse application, IPC controlled devices are usually paired with a monitored laser pulse waveform measurement system to ensure drilling quality.
System Requirements
A Shenzhen high-tech company specializing in the development of laser equipment especially for the PCB industry offers equipment for PCB precise drilling and milling. The equipment manufacturer has always set high standards for their product quality, although they have been providing laser pulse monitoring features with their equipment long ago, the company would like to offer PCB laser equipment with higher efficiency, high precision, high stability, and low operation costs to take their products to the next level.
So they decided to replace the existing digitizers, which are only 14-bit resolution, costly, and non customizable, and first use CO2 laser drills as demonstration units, introducing the measurement system to other laser equipment later, while at the same time preparing for future offers of preventative maintenance services through relative collected information.
The new digitizer must be a product of high price-performance ratio, and be able to collect pulse signals with high speed as well as perform specialized computing (e.g., data accumulation, comparison with preset values, etc.) Therefore, besides the product itself providing at least 16-bit resolution and 100MS/s sampling rate, customized services should be available as per the company's requirements to help them undergo redevelopment more easily to complete new features faster and introduce the laser drill to the market as soon as possible.
System Description
Advantech's laser pulse signal measurement solution includes a PCIE-1840 high speed digitizer for precise laser pulse signal collection, a customized FPGA for performing specialized computing, and a customized Windows driver for simple redevelopment.
The complete operation process for this solution is: First, set the laser pulse signal acquisition start point, acquisition stop point,and standard and error values via the customized Windows driver. Following set up, the PCIE-1840 installed in the IPC can automatically capture pulse signals. The collected data is accumulated on the FPGA embedded in the PCIE-1840 (similar to integration), and then the sum is compared with the preset standard and error values. Finally the analysis results are transmitted to the IPC. If the results are within the preset values, the data will be stored in the IPC hard disk for future tracking and searching. If the results are out of the preset range, a variation in the laser pulse is implied,and based on this data the IPC can send out a warning or perform emergency processes such as shutdown.
In contrast to the digitizers used by the laser equipment manufacturer before, the 4-channel PCIE-1840 increases the precision of laser drills fourfold with its 16-bit high resolution, and the 125 MS/s simultaneous sampling enables high speed continuous data acquisition. So for lase rpulse signal measurement applications requiring high performance digitizers, the PCIE-1840 is a quality product with super high performance and a comparably reasonable cost.
Project Implementation
IPC-7120

: Desktop/Wall Mount Chassis with Front I/O Interfaces for ATX/mATX Motherboards

AIMB-784

: LGA1150 4th Generation Intel®Core™ i7/i5/i3/ Pentium ATX with DVI/VGA, DDR3, and SATA III
PCIE-1840: 16-Bit, 4-Ch, High-Speed (up to 125/80 MSPS) DSA Card
System Diagram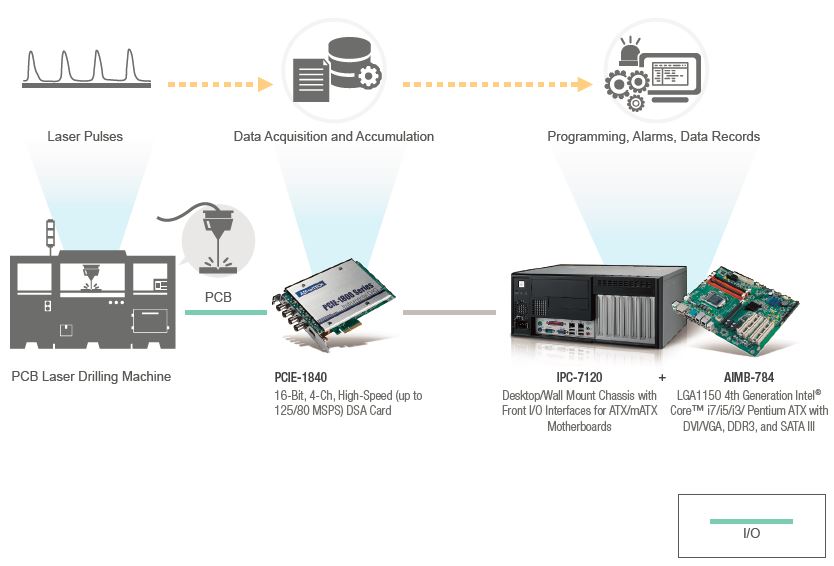 The digitizer is an indispensable pulse signal acquisition tool for laser drill pulse measurement system development. The digitizer's resolution and sampling rate determines whether the high speed and precise data acquisition requirements of the equipment are satisfied. Advantech's PCIE-1840 is the world's first PCIEx4, 125MSPS, 16-bit,4-channel digitizer, extremely suitable for applications requiring high speed pulse signal collection, including laser drills.
At the same time, Advantech's highly experienced professional technological team is happy to develop innovative features together with clients. For this project, the customized FPGA and driver required were both able to quickly address the various problems met by the laser equipment manufacturer through prompt responses and fluid communications with Advantech.
Thanks to Advantech's high performance and economical PCIE-1840, the company's CO2 laser drill has effectively increased production yield and reduced scrapping rate, and the same laser pulse measurement solution will be gradually introduced to other models in the future.