Advantech Launches UBX-110 8K UHD Fanless Mini Box Computer for Visually Stunning Signage Player Applications
1/18/2023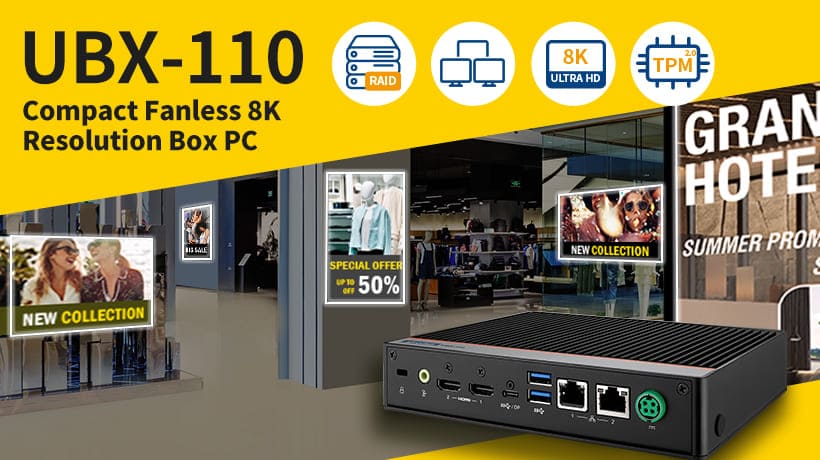 Taipei, Taiwan, January 2023 — Advantech, a leading service automation solutions provider, is pleased to launch its UBX-110 8K UHD fanless mini box computer aimed at the retail and hospitality signage player markets. The UBX-110 is equipped with 11th generation embedded Intel® Celeron® or Intel® Core™ i3/i5/i7 processors and features three video outputs. One of the video outputs is a USB-C interface that supports DisplayPort with up to 8K UHD video resolution. The other two video outputs use HDMI interface and support up to 4K video resolution. Supporting multiple displays and superior video resolution, UBX-110 is capable of delivering a stunning visual experience and fulfills a range of signage player market demands.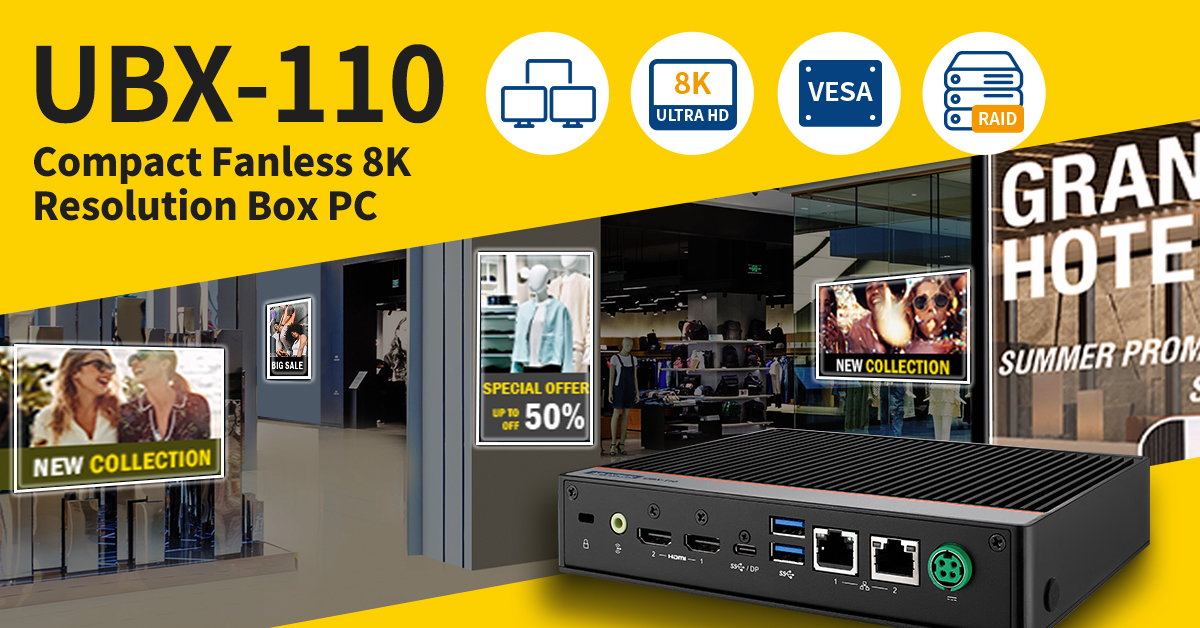 In order to provide an ideal optimized solution, UBX-110 is designed to be compact and slim enough to be easily mounted behind any display. Moreover, UBX-110 can be integrated with Advantech's WISE-PaaS/SignageCMS digital signage software, which supports remote management for convenient real-time control, making it an ideal multi-functional signage player for a wide-range of digital signage applications.
Superior 8K UHD Video Resolution and Triple Displays for More Detail
Advantech's UBX-110 mini box computer is powered by an 11th generation Intel® Core™ i5-1145G7E, Core™ i3-1115G4E, Core™ i7-1185G7E or Celeron® 6305E processor that supports Windows 10 and Windows 11 operating systems. The UBX-110 supports triple displays via one USB-C interface and two HDMI outputs. The USB-C output supports up to 8K UHD video resolution for clear immersive video image quality and the other two HDMI outputs support up to 4K UHD video resolution for additional display options. What's more, UBX-110 can be integrated with Advantech's SignageCMS software, which can merge triple displays into one single display. SignageCMS software is able fulfill a diverse range of digital signage applications including video walls.
Fanless and Slim Body Design
In order to provide a convenient setup process and enhance the user experience, UBX-110 is designed with fanless and slim profile features. Having a fanless design, UBX-110 reduces noise and dust accumulation. The slim body of UBX-110 offers convenience for easy installation behind many display types. Furthermore, UBX-110 provides optional accessories such as VESA and wall mount kits for flexible installation options. Other optional accessories let UBX-110 devices be placed on a table as a thin client. The VESA mount kit also can also be used as a thermal isolation solution for UBX-110.
Key Features
Supports triple displays to extend video display options.
Superior video and vivid image quality: 8K video resolution via one USB-C DisplayPort, two HDMI outputs at 4K video resolution.
Supports up to 64GB memory (1 x DDR4 3200Hz SO-DIMM, non-ECC)

Two M.2 2280 SSD slots to support RAID 0/1 for a complete data backup solution.

Various mounting options: desktop, VESA, and wall mounting.

Can be integrated with optional WiFi and Bluetooth combo module, and 4G LTE module.*

Supports Windows 10 IoT LTSC 2021, Windows 11 IoT, or Linux OS.

Advantech's UBX-110 8K UHD fanless mini box computer is available for order now. To obtain more information regarding UBX-110 or other Advantech products and services, contact your local sales support team or visit the Advantech website at www.advantech.com.
About Advantech
Founded in 1983, Advantech is a leading provider of trusted, innovative products, services, and solutions. Advantech offers comprehensive system integration, hardware, software, customer-centric design services, embedded systems, automation products, and global logistics support. We cooperate closely with our partners to provide complete solutions for a wide range of applications in diverse industries. Our mission is to enable an intelligent planet by developing automated and embedded computing products and solutions that facilitate smarter working and living. With Advantech products, the application and innovation potential becomes unlimited. (Corporate website: www.advantech.com)
Primary Media Contact
Advantech Corporation
Mercy Weng
Tel: 886-2-27927818 ext. 9685

Email: mercy.weng@advantech.com.tw
Secondary Media Contact
Advantech Corporation
Yui Yu
Tel: 886-2-27927818 ext. 9656

Email: Yui.Yu@advantech.com.tw