Advantech Expands MIC-7 Fanless Modular Embedded System Series with MIC-770 V3 to Transform AIoT Applications
31/10/2566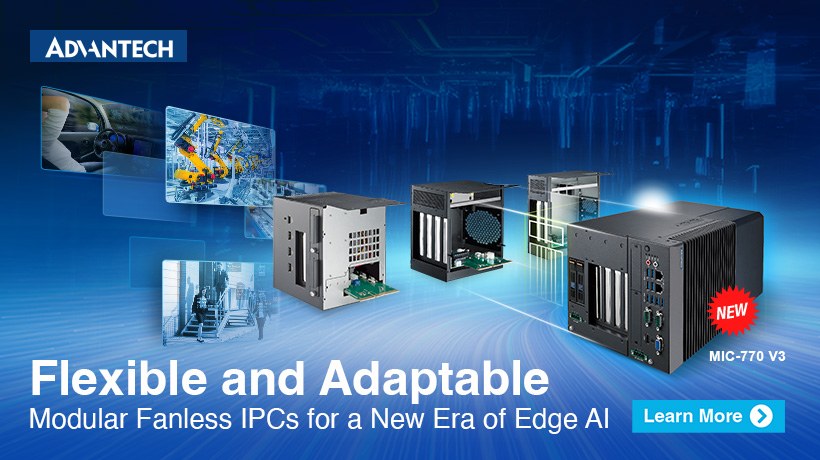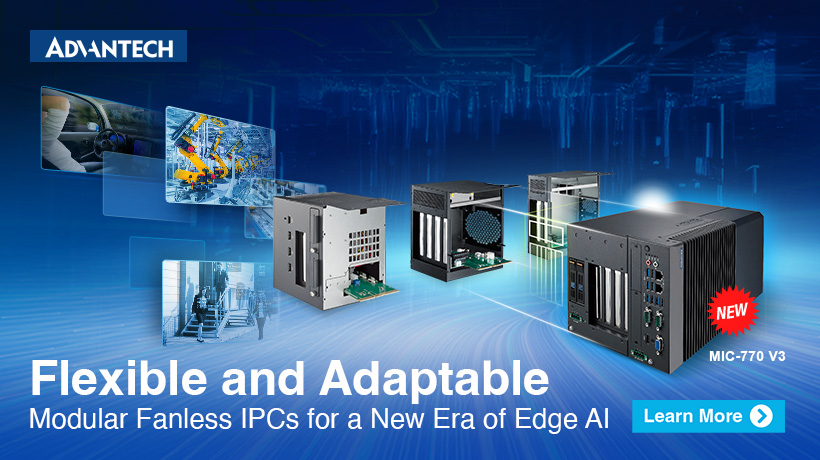 Taipei, Taiwan, October 2023 - Advantech, a leading global provider of intelligent systems, is excited to announce the release of MIC-770 V3, the next generation of its highly acclaimed MIC-7 series compact fanless system. Powered by a cutting-edge 12th/ 13th generation Intel® Core™ i socket-type (LGA1700) processor coupled with Intel® R680E/ H610E chipset, MIC-770 V3 delivers exceptional computing performance, a wide range of I/O interfaces, and flexible expandability through i-Modules and iDoor technology integration. Furthermore, MIC-770 V3 seamlessly supports EdgeSync 360, enabling remote management for real-time status monitoring and anomaly detection. With its advanced capabilities, MIC-770 V3 serves as a reliable data gateway or industrial controller for diverse edge intelligence and AIoT applications.
Reliable High-Performance Platform with Ruggedized Industrial Design
MIC-770 V3 is a fanless system featuring the latest 12th/ 13th Gen. Intel® Core i socket-type processor, delivering exceptional computing capabilities and versatile expansion options. With up to 16 cores and 24 threads, the MIC-770 V3 boasts an over 40% improvement in CPU performance compared to its predecessor. Equipped with the Intel® R680E PCH, this system supports dual-channel DDR5-4800 ECC memory, offers up to four independent displays and provides 1 x NVMe PCIe x4 M.2 storage. The socket-type CPU design empowers customers to select the ideal processor for their specific performance requirements, ensuring effortless installation and reliable operation in various industrial application scenarios. The ruggedized construction of MIC-770 V3 supports a wide operating temperature range of (-20 ~ 60 °C) and a wide input voltage of (9 ~ 36 VDC), making it highly suitable for deployment in even the most challenging environments.
Modular Design Provides Flexibility for I/O Expansion and Easy Configuration
To meet the diverse requirements of factory automation applications, the MIC-770 V3 offers extensive onboard I/O capabilities. This includes 2 x GigaLAN, 2 x USB 3.2 (Gen2), 6 x USB 3.2 (Gen1), and 2 x RS-232/422/485 interfaces, as well as support for up to 4 x independent displays. Furthermore, the system provides enhanced functionality through Advantech's Flex I/O, iDoor, and i-Module expansion options.
Advantech offers a range of i-Module options to deliver powerful expansion capabilities, including 1-slot, 2-slot, 4-slot, storage, or GPU expansion modules. This flexibility allows customers to fulfill their specific needs, whether it's adding extra cards, increasing storage capacity, or enhancing computing power. By combining MIC-770 V3 with i-Modules, it can deliver exceptional performance for high-speed data processing, AI inference, deep learning, and other demanding applications.

The modular design of the MIC-770 V3 provides customers with flexibility and convenience. It reduces assembly time on the production line, lowers maintenance expenses in the field, and improves operational efficiency. Additionally, the system ensures reliability across various applications, catering to specific usage requirements.

Intelligent Secure Management with Value-Added Software
The MIC-770 V3 is fully compatible with EdgeSync 360, a software solution that facilitates remote management of devices for various industrial applications. By leveraging EdgeSync 360, MIC-770 V3 enables comprehensive access, configuration, monitoring, analysis, and control of all IoT network devices. This eliminates the need for on-site maintenance and reduces system downtime and operational costs. The integration is particularly beneficial for industries such as continuous manufacturing and AI-based edge computing, where system interruptions or failures can lead to significant downtime and productivity losses. This makes it an ideal solution for implementing and expanding AIoT applications, offering a practical and application-oriented approach to meet industry-specific needs.

Advantech's MIC-770 V3 Compact Fanless Modular IPC is available now. For more information about MIC-770 V3 or other Advantech products and services, please contact your local sales support team or visit our website at www.advantech.com.

About Advantech
Founded in 1983, Advantech is a leading provider of trusted, innovative products, services, and solutions. Advantech offers comprehensive system integration, hardware, software, customer-centric design services, embedded systems, automation products, and global logistics support. We cooperate closely with our partners to provide complete solutions for a wide range of applications in diverse industries. Our mission is to enable an intelligent planet by developing automated and embedded computing products and solutions that facilitate smarter working and living. With Advantech products, the application and innovation potential becomes unlimited. (Corporate website: www.advantech.com).