Executive Team
Allan Yang, Ph.D
Chief Technology Officer, Advantech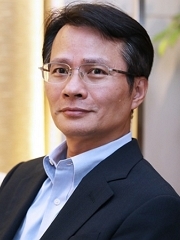 Ph.D. in Computer Science from Yale University
Worked for IBM T. J. Watson Research Center, Prudential Securities, Tiger Management LLC and Jih Sun Securities
Worked for AVerMedia Technologies as CTO for 6 years and then as President for the latest 6 years until 2013
Allan joined Advantech in Feb. 2014 and leads Corporate CTO Office responsible for design and development of WISE-PaaS, an industrial IoT Data Platform aiming at extending Advantech's world leading industrial computing platforms and imbedded systems to data driven, cloud infrastructure neutral, and AIoT empowered industrial cloud services for various verticals.
Allan earned his BS in Electrical Engineering from National Taiwan University in 1983, and Ph.D. in Computer Science from Yale University in 1992. Before joining Advantech, Allan worked as Research Associate at IBM T. J. Watson Research Center for 1 year, as Senior Associate at Prudential Securities for 2 years, as Manager of Portfolio Systems at Tiger Management LLC for 6 years, as VP of Technology Center at Jih Sun Securities for 1 year, as CTO for 6 years and then as President for the latest 6 years at AVerMedia Technologies until 2013.
Allan believes the next big wave of computing technology lies in Internet of Things in which all industrial and business segments adopt connectivity and data driven intelligences in ways that are yet to be fully exploited. Allan expects to solidly leverage Advantech's innovation platform that collaborates with many global partners to co-create an ecosystem conducive for industrial IoT cloud services to thrive and facilitate digital transformation of all industrial verticals.