Comprehensive Sanitization with the UV Disinfection Robot
11/1/2021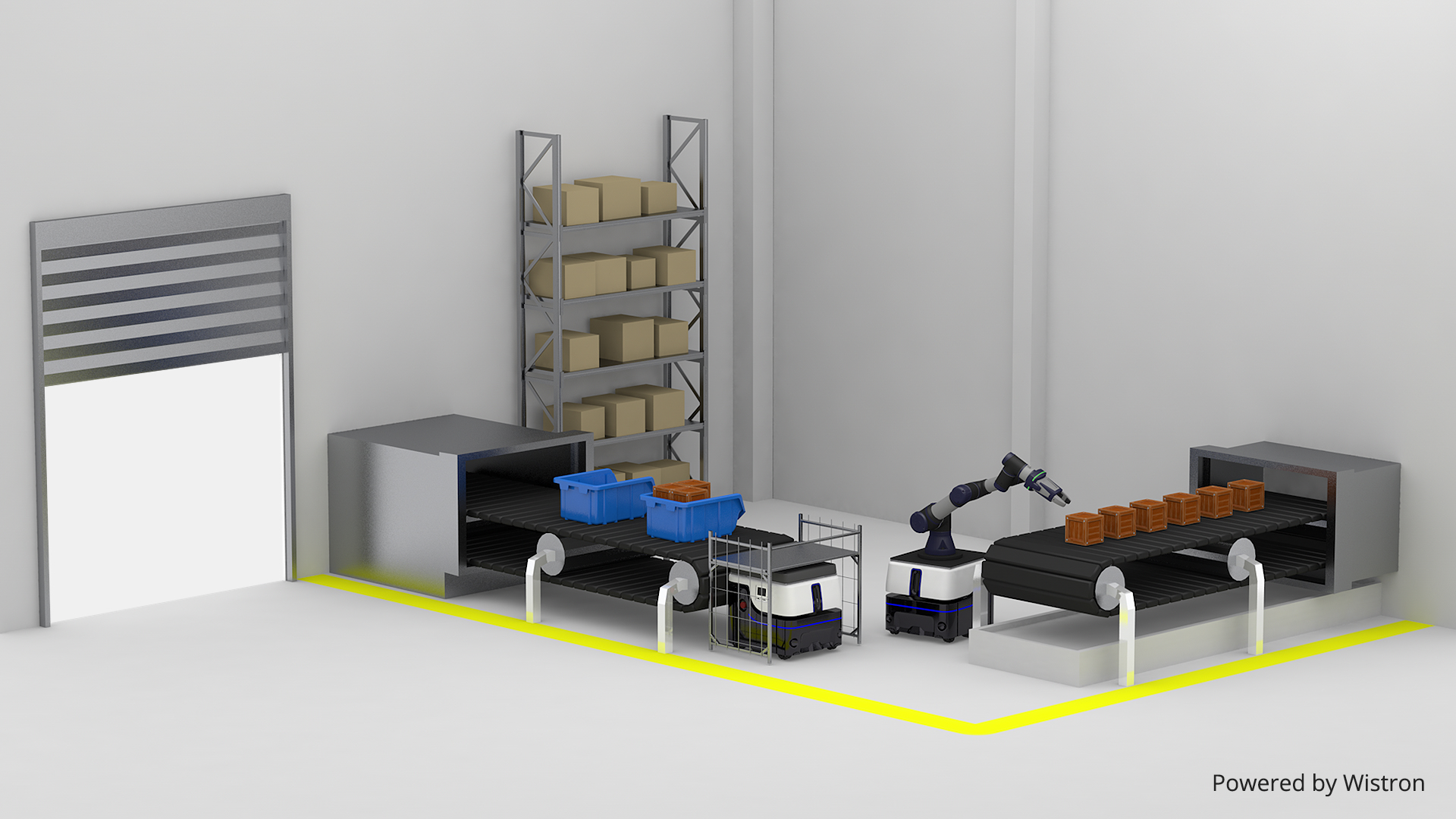 Wistron is now presenting a UV disinfection robot powered by Advantech's AI inference system, which is designed to replace humans in disinfection tasks, lowering the risk of infection while keeping the environment safe.
Under the ravaging COVID-19 pandemic, procedures such as wearing masks, checking body temperature, and washing hands have become the new norm of our daily lives. To defeat the ubiquitous yet invisible enemy, aside from keeping personal hygiene in mind at all times, periodic and frequent disinfection of the environment is also a necessity to eliminate the threat posed by the virus.
As the supervisor of the Robotics and AI R&D department of Wistron, Shu-I Lin believes that sending manpower for disinfection operations is extremely dangerous, especially in high-risk fields, where the slightest human error may cause infection sources to leak out, even starting an outbreak. By replacing humans with robots, the risk of infection can be significantly lowered, while a safe environment can be effectively maintained.
Therefore, Wistron has developed a UV disinfection robot, the ML-100 +AU-1, which will not only save manpower but also achieve complete disinfection for the sites. This product is modularized into the upper and lower components, the upper part is equipped with ultraviolet light for disinfection, and the lower part is an AI-powered autonomous motor robot (AMR), the core to achieve complete disinfection.
Route Planning with AI, Friendly User Interface, Autonomous Disinfection
The new Wistron UV disinfection robot is a product based on autonomous motor robot technology and is capable of freely navigating and moving throughout the worksite with a pre-loaded map, requiring no tracks. The built-in AI is capable of predetermining the optimal path to avoid obstacles. When the robot detects moving objects close by, it will automatically turn off the UV light and sound an alarm, warning any person accidentally intruding on the worksite to prevent accidental injuries caused by the UV light.
Developed through a web-based framework, the software allows users to wirelessly control and monitor the UV disinfection robot on a mobile phone, tablet, or computer. It also offers the function of setting up cleaning hot spots where larger crowds pass through. "The software UI is designed to be extremely user-friendly, helping users to jump-start the disinfection process," Shu-I Lin emphasized. "There's no need to install any additional APP or meddle with complicated configurations. A few simple clicks are all you need to finish the set-up."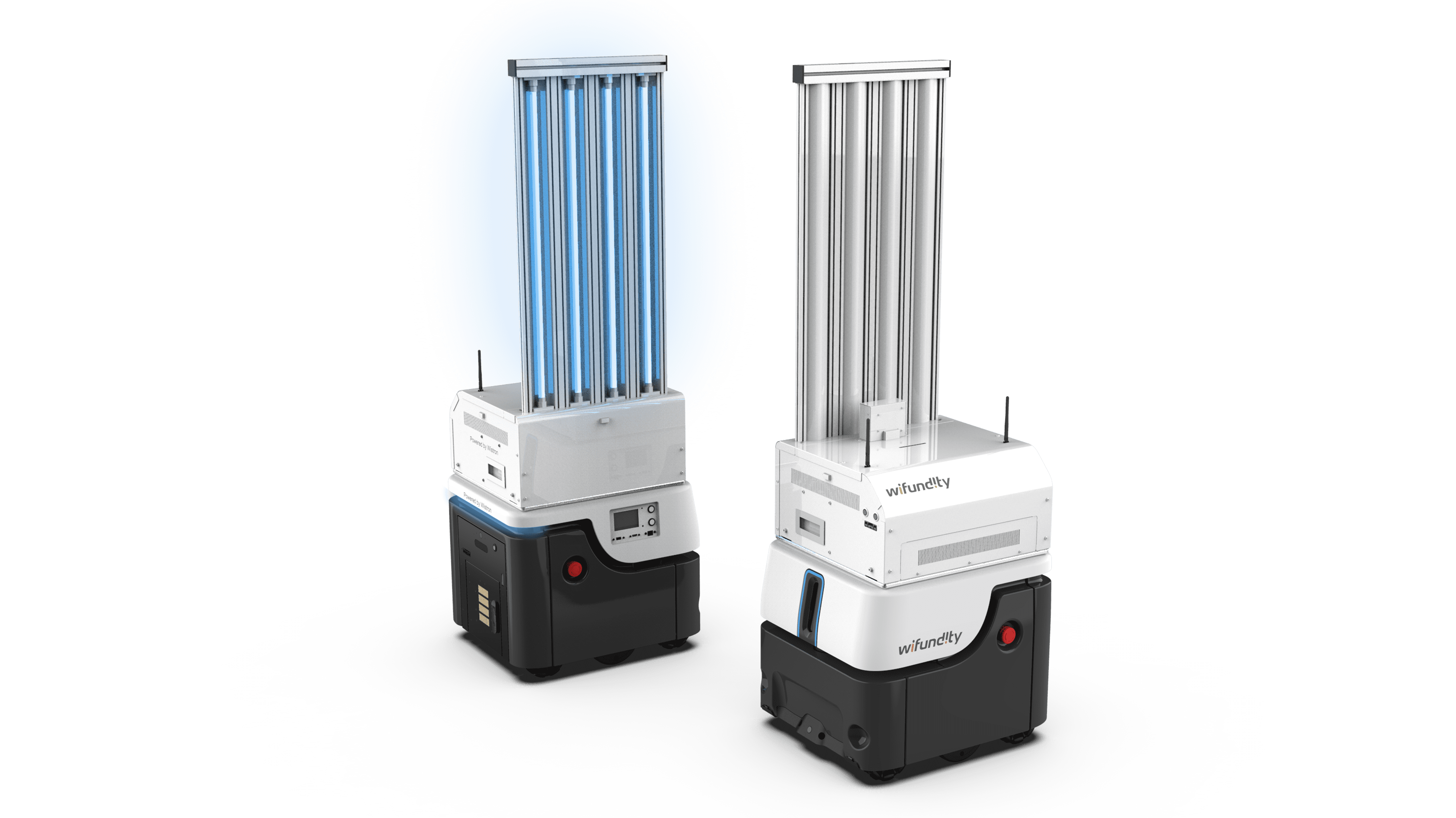 Furthermore, the UV disinfection robot also takes advantage of its autonomous features to the fullest. After the tasks were scheduled via the web interface, the robot will automatically activate at the designated time and return to its original location once the task is completed, requiring zero human intervention during the whole process. If the robot is running low on battery, it will automatically dock at the charging station for more battery power, then resume its unfinished task.
Released in September this year, this model is already actively disinfecting several Wistron's sites, including Wistron's SMT manufacturing factory in Hsin-Chu, the employee's dormitory in Shuangxi District, and the office in Xizhi District. While it takes only 30 seconds for the disinfection of a surface with UV light, Wintron set the standard to the highest by spending 7 minutes cleaning a 4 m2(2 meters x 2 meters) area to achieve complete disinfection. Shu-I Lin explained that the robot can disinfect every single corner by rotating itself, leaving no blind spots behind.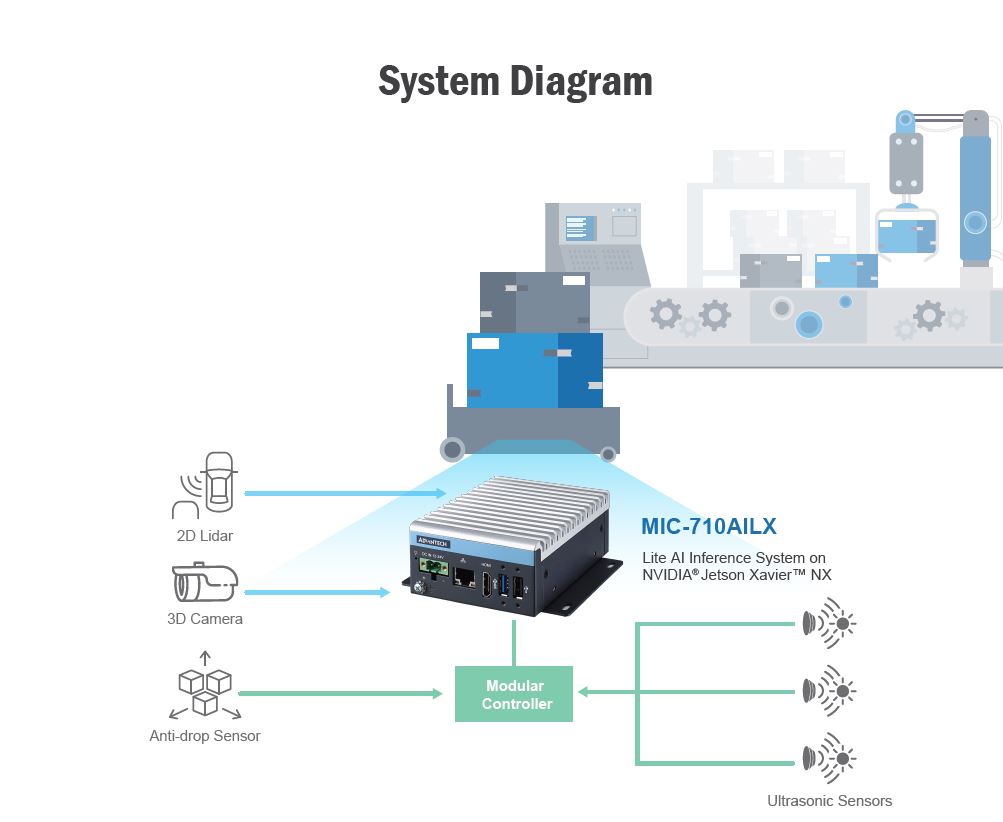 The AI Inference System with Powerful Computing Capabilities and Steady Quality
The most essential component of Wistron's UV disinfection robot is its industrial PC. After careful selection, Wistron decided to adopt Advantech's AI Inference System MIC-710AILX with wireless module EWM-W189H02E as the platform for the AMR.
According to Wistron, to let the UV disinfection robot roam in any environment, the AMR size had to be extremely compact (the length, width, and height must be less than 60 cm). Fortunately, MIC-710AILX is the smallest fanless AI platform currently on the market, with the size close to a palm (85 x 118 x 45mm), which is the most ideal solution for an ARM that requires various components in a limited space.
In addition, with its compact size, MIC-710AILX still possesses powerful computing capabilities. With the Nvidia Jetson Xavier NX platform, while the AMR is equipped with multiple sensors and performing AI deep learning to plan paths and avoid obstacles, it can always operate smoothly, eliminating any system crashes or processing delays that are often seen in traditional Industrial PC.
In terms of expandability, MIC-710AILX supports various I/O interfaces for users to upgrade the device based on their needs. In this case, an EWM-W189H02E wireless module was installed via mini PCIe, the module has also been certified in multiple countries with regulatory compliance, which helped Wistron avoid extra effort to have the robot certified and gain advantages while selling their product overseas.
"The AI inference system made by Advantech not only passed our stress test of operating for a whole week, but there has not been any system crash, signal drop, or data loss since its deployment," Shu-I Lin said. "The quality is very stable, making it extremely reliable."
A Reliable Long-term Partnership
Disinfection has been the utmost critical strategy to slow down the spread of COVID-19. Undoubtedly, performing disinfection through manual labor poses great risks of infection for the workers. In addition, disinfection is a repetitive and time-consuming task that deprives stamina, while it also puts great mental and physical pressure on the workers. Replacing humans with robots for such a wearying task is the most ideal solution to improve public health while lowering the cost.
In addition to the aforementioned factories and offices, the robot developed by Wistron with Advantech's AI inference system can also be deployed to hospitals, shopping centers, and libraries, etc. According to Wistron, the largest shopping center in Taiwan has recently adopted Wistron's UV disinfection robot to disinfect its most crowded food court area at night.
In regards to the collaboration between Wistron and Advantech, Shu-I Lin pointed out the advantages: "Choosing Advantech's product instead of in-house development allowed our engineering team to focus on the core technology and the development of the robot features. It certainly shortened our project timeline and enabled us to present our product to the market earlier."
"The quality of Advantech's product is very stable, and they always provide timely tech support. Advantech is a reliable and valuable partner with a rich product lineup," Shu-I Lin remarked. "In the future, if any demand emerges during Wistron's robot development, we believe that both the hardware and software solutions can be found in Advantech's product lines, allowing Wistron to overcome any difficulties our clients face at their application fields."