Transmission Component Condition Monitoring
1/06/2021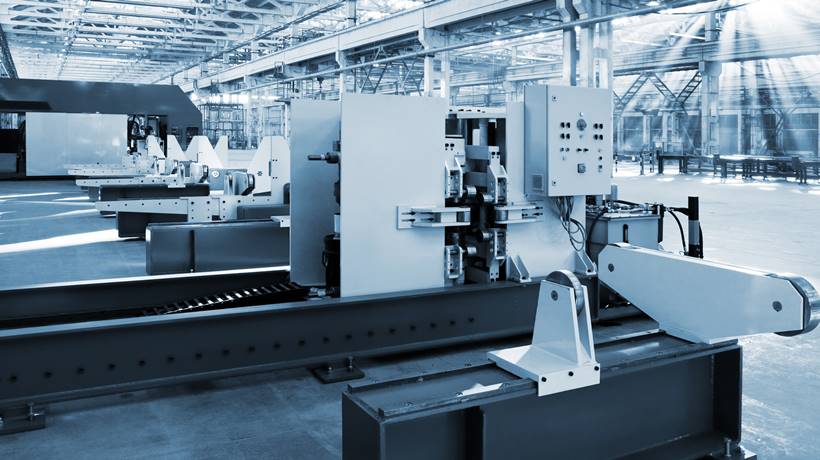 Transmission elements like linear motion guides, ball splines, and ball screws are widely used in automation. From surgical robotic arms to aircraft landing gear and MRT gate mechanisms, they are present at the core of precision instruments everywhere. Determining the status of these elements allow for the smooth execution of manufacturing processes through effective machine maintenance, reduced inventory management cost, and increased equipment uptime.
This customer sells tens of thousands of such transmission components each year and Advantech generated a large amount of growth for them by devising a data collection module that builds unique models from collected data and derives a unique algorithm that performs status diagnosis and predictive detection for smart machines.
A customer sells a high volume of transmission components each year, with their products going into high precision industrial machinery for semiconductor, medical equipment, and car manufacturing.
Linear motion systems are critical components of precision machinery composed of linear motion rails, sliding bases, and ball fixings. Linear motion systems operate through a low friction sliding motion over a linear axis. By collecting vibration signals during the operation, data processing and modeling can create reliable networked modules which will be able to determine the condition of the linear motion guides while the remote site will be able to monitor the status of all the industrial machinery.
The on-site modules will have wiring and space constraints, so given these requirements, the data acquisition modules need to be an all-in-one compact computing platform that can perform collection, storage, and data processing in addition to network connectivity.
The Advantech data acquisition solution has two parts: A DAQ module with signal conditioning and a compact computing platform that monitors the status of the linear motion guides and delivers machinery status to a remote database and control room, so factory management and engineers can easily to monitors all manufacturing conditions. The DAQ board has multiple analog data sensors with built-in signal filtering to collect the filtered X, Y, and Z-axis vibration signals from the slides and the ball fixings. Data is then compared against the reference timeline generated in real-time from four sets of digital data acquired from the positional deviation of photo interrupters.
With extensive IT programming capabilities, customers can use the streamlined instruction set of ARM-based MCUs for all the necessary controls and computation. The Linux architecture requires only 4GB of internal memory to store collected data and extract its values. Finally, the relevant information can be uploaded to the cloud through Advantech's wireless ADAM-6700E module so that engineers can remotely monitor the status of the linear motion guides and machines.
MIC-1816R: 16-bit, 1MS/s, DAQ platform with ARM Cortex™-A9 i.MX6 1GHz
ADAM-6700E: USB to MiniPCIe adaptor module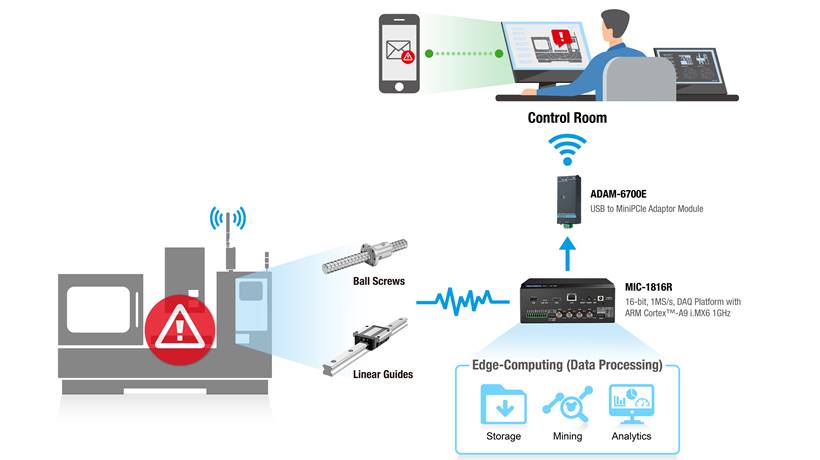 This machine condition monitoring and predictive maintenance solution for smart machines starts with the collection of physical signals (vibration signals) at the bottom level. The signal data is then filtered and sent through a high-speed data bus to the MCU for storage. The MCU then computes the eigenvalues, uploads to the cloud, and then sends real-time SMS alerts for predictive maintenance.
The client used Advantech's highly integrated Ubuntu Linux API (in combination with DAQ and Wireless imaging) to develop a highly customized on-site information flow connected to the corporate database. While the client possessed a high degree of IT capability in coding and network infrastructure, they lacked a solution for on-site data collection and hardware integration. After repeated discussions with the client, Advantech came up with a complete hardware and system integration platform appropriate to the client's IT capability by turning the standardized IPC+DAQ solution into a compact data acquisition platform.
The client was then able to use their expertise in software development to greatly reduce hardware requirements, thereby cutting the costs of deployment. The client subsequently managed to complete the deployment of the solution to more than a thousand machines in their factory. The resulting machine condition monitoring and predictive maintenance solution considerably increased manufacturing efficiency and has thus far been adopted in more than 2,000 systems in all kinds of industry.