Advantech's iEMS Solution Helps Industries Easily Inventory Greenhouse Gases
12/22/2021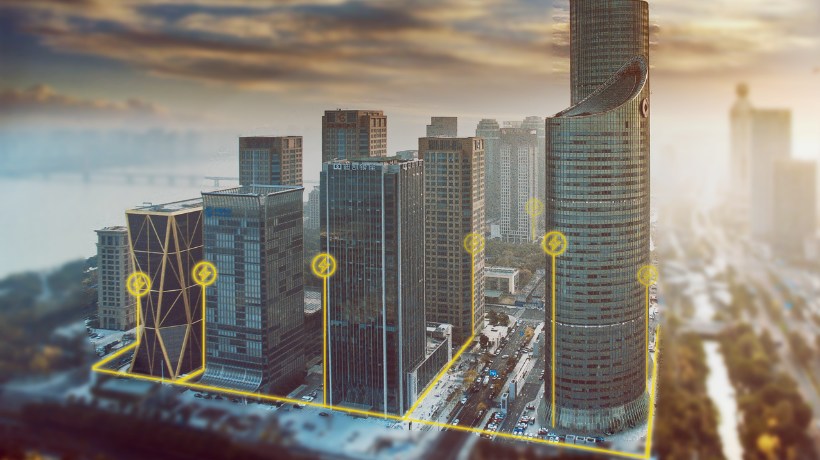 Advantech's iEMS Solution is an energy management platform that emphasizes practicality, ease of use, expandability, and scalability. It was designed to help organizations deploy smart energy management systems rapidly and at minimal cost, while also accommodating future growth.
Interview with Hans Lee, Business Development Manager at Advantech, and Ben Shiue, Product Manager at Advantech
According to the United Nations, global emissions of greenhouse gases must be reduced at least 45% by 2030 (relative to 2010 levels) to meet the long-term climate goals set out in the Paris Agreement. To this end, many countries and organizations have launched carbon neutral initiatives to assist individuals, businesses, and states to reduce their carbon footprint or reach for a net zero emissions target.
Mr. Hans Lee, Business Development Manager at Advantech, asserted that "global buyers' requirements for low-carbon manufacturing will impact the competitiveness of Taiwanese manufacturers in the international supply chain. Therefore, the purpose of deploying smart energy management systems is no longer merely to reduce energy costs, but also to demonstrate a commitment to environmental, social, and corporate governance (ESG) and net zero emissions efforts."
To keep up with the global trend for net zero emissions, low-carbon manufacturing, and smart low-carbon buildings, businesses must implement greenhouse gas (GHG) inventories. Advantech's iEMS Solution is based on its WISE-PaaS industrial IoT cloud platform framework and was designed to help industries easily inventory GHG emissions. Tallying and analyzing the emissions that need elimination, and determining how that can be achieved, are important steps for achieving carbon neutrality. By emphasizing practicality, ease of use, expandability, and scalability, the iEMS Solution helps organizations not only deploy smart energy management systems quickly, but also cost effectively, with the scalability to accommodate future growth.
Practical, flexible, and scalable smart energy management system
In recent years, Advantech has noticed growing demand for smart energy management solutions among hospitals, hypermarkets, big box retailers, universities, data centers, commercial buildings, factories, and industrial estates. These application sites have all previously implemented energy management systems for the purpose of reducing energy consumption. Indeed, these existing systems can help businesses save an average of 10% in electricity costs.
Advantech's WISE-PaaS platform provides a framework for microservices and data applications. Flexible and expandable, the architecture for this platform differs completely from that for Power SCADA, which adopts a clear and fixed database format. During the initial implementation, businesses and organizations may find it difficult to predict organizational changes that could occur in the next 5 to 10 years. Therefore, to accommodate their future needs, a flexible framework that uses microservices and data applications is required.
Based on the WISE-PaaS framework, Advantech offers three infrastructure solution modules for visualization, digital twinning, and AI applications. Unlike other energy management solutions, the WISE-PaaS platform can accept both IT and OT data, such as data from sensors, controllers, PLCs, and IPCs. The digital twinning module can digitize data from various facilities and sources.
If AI analytics is required, corresponding algorithms can be applied to convert the data into AI models for edge deployment. Thus, the logic for the entire system architecture is that the data platform serves as a foundation for creating numerous microservices, such as real-time energy consumption monitoring, consumption statistical analysis, equipment diagnosis, and energy efficiency optimization.
Mr. Ben Shiue, Product Manager at Advantech, commented that Advantech's iEMS Solution offers customers a unified and scalable management platform that differs considerably from traditional silo-based energy management systems. New sites can be easily added to the platform as required, allowing customers to conveniently conduct closed-loop management of all sites. This means corrective action can be executed based on real-time energy consumption results. For instance, if excessive energy usage is detected, the system will directly attempt to identify the cause and provide recommendations for improvements and optimization.
Highly adaptable smart energy management system for various application sites
For hospitals, retailers, data centers, commercial buildings, and universities, the key motivation is to achieve ESG goals through energy management and environmental sustainability initiatives. Whereas for factories and industrial estates, their focus is on leveraging smart energy, facility management, and Industry 4.0 solutions to boost revenue, improve overall efficiency, and reduce production costs.
Consider a project by a world-leading passive components manufacturer as an example. The manufacturer's aims were to accurately determine production costs and realize predictive maintenance. By implementing Advantech's iEMS Solution, they can now calculate the energy consumption and carbon emissions values for individual work orders. Additionally, if the energy consumption of a machine exceeds a pre-set limit, the system automatically notifies the administrator and initiates appropriate predictive maintenance action. In regards to real-time reporting of GHG emissions, managers are informed whether overall carbon neutrality KPIs are likely to be achieved, enabling them to issue corrective actions if necessary.
Other examples include two recent hospital projects in Taiwan. One project involved a newly established hospital that integrated the WISE-PaaS platform into its systems from the building design stage. However, because hospital applications involve various spaces and components, such as boilers, elevators, wards, and operating rooms, they can be rather complex compared to other applications. Fortunately, the flexible structure of the WISE-PaaS platform allowed the hospital to implement the infrastructure needed for data collection, and develop microservices for energy and building management that could be added later.
Another project involved a hospital that comprised seven buildings, each equipped with various energy management systems. To meet government standards for energy usage and to achieve ESG goals, all the building subsystems, such as energy management and work order systems, must be centrally managed in order to accurately calculate energy consumption. Moreover, the new system needed to offer a finer level of data granularity than their existing systems to facilitate calculating the overall carbon emissions amount in metrics tons. Accordingly, the hospital decided to adopt the WISE-PaaS platform to guarantee a flexible and scalable system that allows for future expansion, gives an overview of all facilities, and protects against silo-based management.
Looking to the future, Advantech will continue developing iEMS Solution functions to include more digital templates for different equipment types while exploring innovations in renewable energy generation and storage, and moving toward the goal of net zero emissions.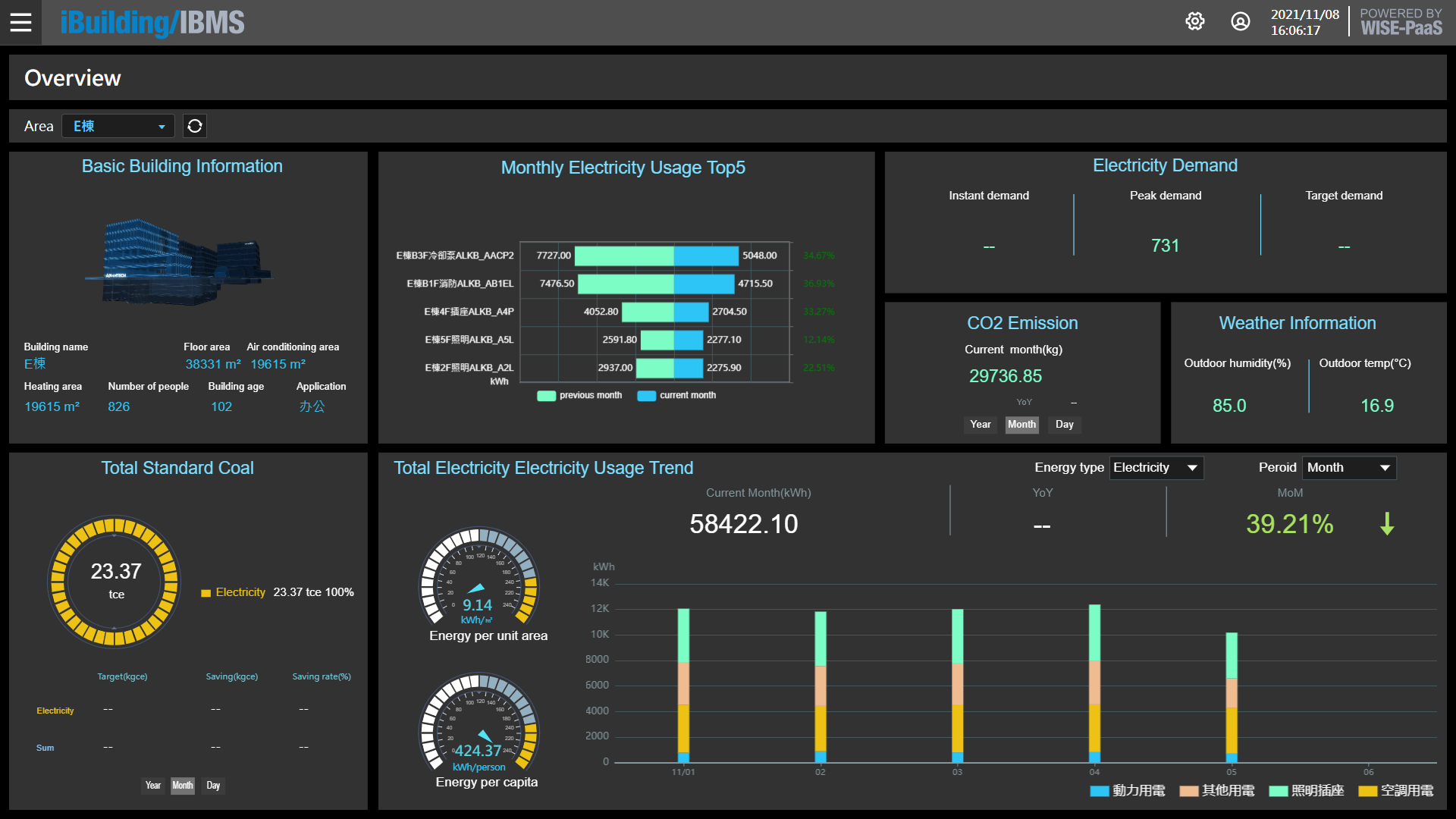 Consumption Overview
The WISE-PaaS data application platform end-to-cloud architecture provides a comprehensive development environment for data collection, analysis, management, and applications, while promoting interoperability between I.Apps via the WISE-Marketplace and accelerating the development of industrial solutions.
Advantech's
iEMS Solution
is an energy management platform powered by WISE-PaaS that emphasizes practicality, ease of use, expandability, and scalability. It was designed to help organizations deploy smart energy management systems rapidly and at minimal cost, while also accommodating future growth.