5G Deployment in Heavy Machinery Manufacturing
10/4/2021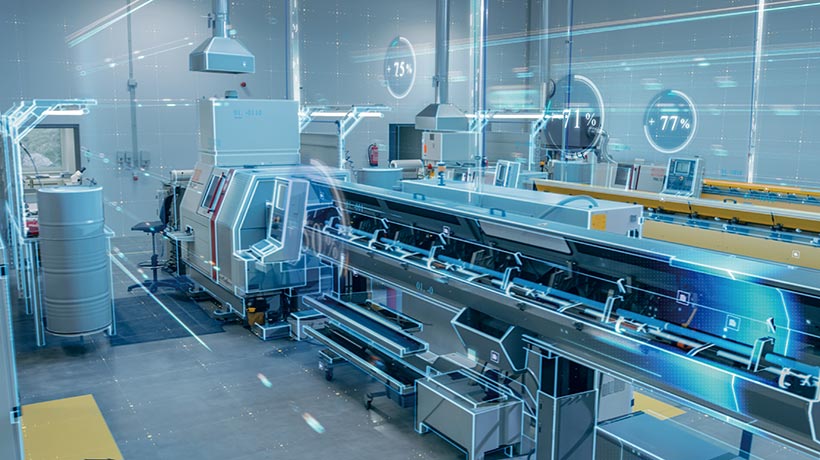 5G is the next generation of wireless connectivity and is playing a key role in the Industrial Internet of Things (IoT) and business-to-business (B2B) markets. As 5G gradually deploys across vertical markets we will gradually see more and more uptake. For industries to enjoy the benefits of 5G, they will greatly need to improve the efficiency of their operations, of which 5G will be central.
A renowned heavy equipment manufacturing company headquartered in China, which is the 3rd-largest heavy equipment manufacturer in the world, is well-known for its concrete machinery. They are also a major supplier of excavators, cranes, wheel loaders and other heavy machines. However, in their factory, they were suffering operator errors, which as it turned out, was largely caused by discrepancies by operators incorrectly inputting work orders (WO) from the MES system. There were also issues with inconsistent signal quality throughout the factory, which prevented them upgrading to full automation.
Part of their manufacturing plant contained large CNC machines that made the various parts for assembly into heavy equipment by other parts of the factory. Their workflow consisted of dispatching and inputting each and every single WO into different CNC machines manually. Over time operators became more careless and accidently keyed-in the wrong information into the CNC machines. This meant that whenever the production process changed and incorrect orders were input, these errors usually caused reworks, meaning unnecessary parts needed to be dumped and new parts reworked at great extra cost.
The company did try to fully automate their factory and had deployed consumer-grade 4G/wireless devices throughout, but it couldn't deal with the problematic signals, which meant it couldn't accurately receive production data because of the interference. So the company decided to take a chance and transform their production factory from the ground up with 5G technologies.
This required:
Connecting the MES system between CNC machines for exceptional IT/OT convergence.
Collecting data from motors, servos, core axles, and running times of CNC machines to enable predictive maintenance.
Managing all factory processes, so modules were installed in all production stations to track and monitor.
Advantech provided the UNO-137 industrial-grade integrated IoT edge controller which supports 5G. UNO-137 uses a built-in AIW-355 5G module placed in an overhead cabinet. The controller collects data from CNC machines and transmits it through a private 5G network provided by a telecom company.UNO-137 was easily integrated with factory's own production platform, which transferred the CNC production data from CNC controllers (Siemens/MAZAK) to the MES or private cloud at the factory. UNO-137 acts as Ethernet gateway and has many functions all in one device, which helped the customer to quickly deploy 5G for full automation.
Advantech solution was extendable, so in the future, if the customer needs more analog/digital I/O to collect machine status data, ADAM-6300 series remote Ethernet I/O module with secured OPC UA protocol can be integrated for its seamless IT/OT convergence over 5G networks.
UNO-137 : Industrial-grade integrated IoT edge controller
AIW-355: Highly-integrated 5G WWAN module with M.2 3052 Key-B interface.

ADAM-6300 : OPC UA Ethernet I/O modules.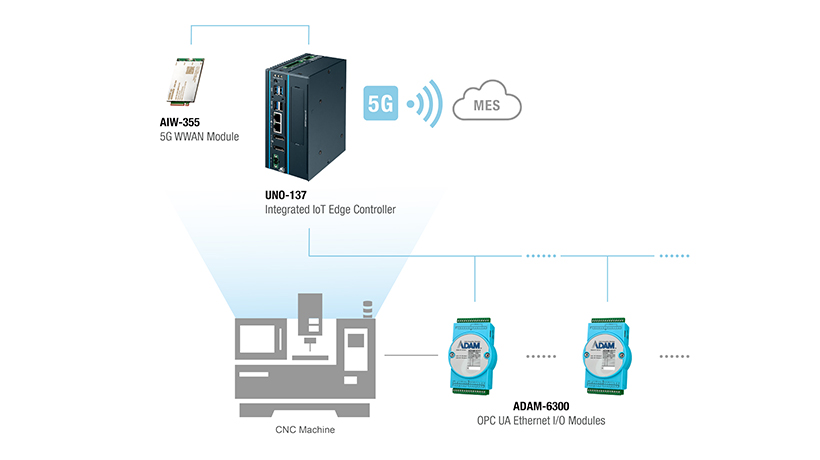 This successful 5G Industrial IoT manufacturing solution was chosen because:
UNO-137 was a multi-function device, which saved investment on purchasing multiple gateways.
UNO-137 Ethernet gateway with OPC-UA.
Experience in China IIoT market.

High-end specification, easy installation, and best data security.
In China, 5G is booming and infrastructure/stations are being built at a fast pace, but it is still relatively rare to see an edge system that supports 5G that is reliable and adequate enough to run the whole the operation. Because of the success of this project, the solution was chosen by the local government to be a showcase 5G site to demonstrate successful 5G Industrial IoT manufacturing. Overall, the customer was very satisfied with Advantech's professional service and fast shipping of products to their factory and they hope to work together again on other manufacturing projects.