Advantech industrial devices help keep water flowing for seaside water district
6/12/2021
How industrial hardware helped upgrade and innovate wastewater and storm water treatment and potable water purification for a U.S. water department.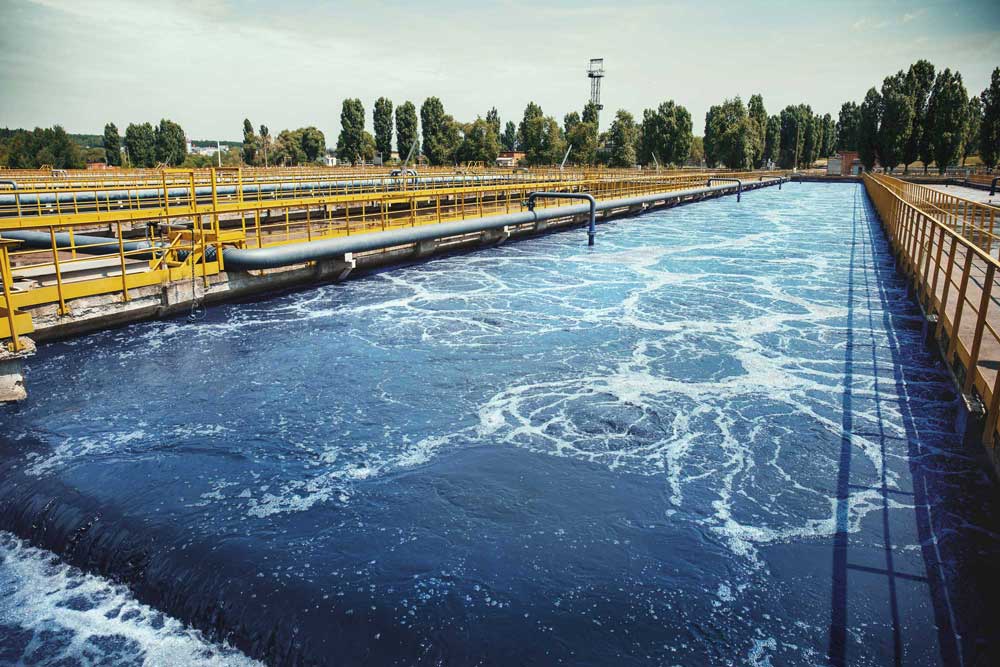 A water department in a seaside resort town had to meet the clean water needs of tens of thousands of customers. It also had to produce periodic reports for regulators regarding pH, salinity, hardness, contaminants, and other important water quality parameters. However, the installed control equipment had limited computing horsepower and small screens. These systems were also failing, so the water department had to come up with a better solution.

The basic tasks of the water department involved two main areas: wastewater and storm water treatment and potable water purification. The city invested previously in reverse osmosis technology to make salt water drinkable, and for its control challenges the water department again deployed modern, advanced technology.

The water department consists of 10 treatment plants producing drinking water, with these locations also conducting sampling, testing, and verifications needed for report generation. Upgrading the existing control system technology to handle new software and reporting would have cost the department around $500k.

Additionally, there were also more than 40 pumping stations used to put water into storage towers and other locations. Monitoring these pumping stations was a manual affair, which tied up staff and cost tens of thousands of dollars per year.
A systems integrator working with the water department approached Advantech, and the two companies along with the water department worked out an ideal solution.
For the water treatment plants, the customer utilized roughly two dozen Advantech PPC-3211SW industrial computers. These fanless panel PCs are an all-in-one system with a wide-format, 21.5" industrial-grade touchscreen display, and a sixth generation i5 processor that could run the required software applications.
The front panel is IP65 rated—extremely important since the panel PCs were going into locations where dust and water would likely be present. The large display meant engineers could easily plot two or more measures of water quality, such as pH and salinity. This capability makes comparisons between water quality parameters easy to visualize and investigate, which, in turn, can speed up report generation.

For the pumping stations, the solution involved an Advantech industrial thin client running on a solution-ready platform, SRP-FPV240-AE, and using a 21.5" FPM-7211 industrial touchscreen display. The display for both the water treatment plants and the pumping stations are identical. Consequently, staff could walk into either a treatment plant or a pumping station and have a similar user experience when working with the new control systems.

The pumping station systems only run thin clients and connect through a hard link back to a server. This ensures a secure, reliable, and locked down setup, which is critical since the pumping stations are remote and accessible to non-water department staff. The use of a thin client also translates into a substantial savings of approximately 67% per unit.

The network of treatment plants and pumping stations still must supply water to the town. So, the ongoing upgrade process involves shutting down a treatment plant or pumping station, installing the hardware and software, and then bringing everything back up and ensuring it is fully operational before moving on to the next location.
When the new technology is in place, projections for savings total around $70,000+ a year. Payback from investment will only take a few years, a relatively rapid ROI.

The PPC-3211SW is part of a product portfolio that includes customizable and all-in-one touchscreen PCs, featuring multiple panel sizes and rich I/O expansion to meet industrial standards. The PPC-3211SW is an all-in-one light panel PC with a wide format 21.5" industrial grade LCD.

It has a i5 processor and provides excellent performance, memory, graphics, and peripheral I/O support in a compact, fanless, embedded system with a die-cast aluminum alloy enclosure and an IP65-rated front panel. It is ideal for diverse applications and features:

Industrial-grade 21.5" LCD panel with 50k backlight lifetime

True-flat touchscreen with multi-touch projected capacitive control

High-performance, fanless 6th generation Intel® Core™ i processor

Up to 16 GB DDR4 SDRAM

Supports dual displays (1 x external HDMI)

Supports full-size mini PCIe expansion

Supports USB 3.0 & VESA 100

Node-RED Certification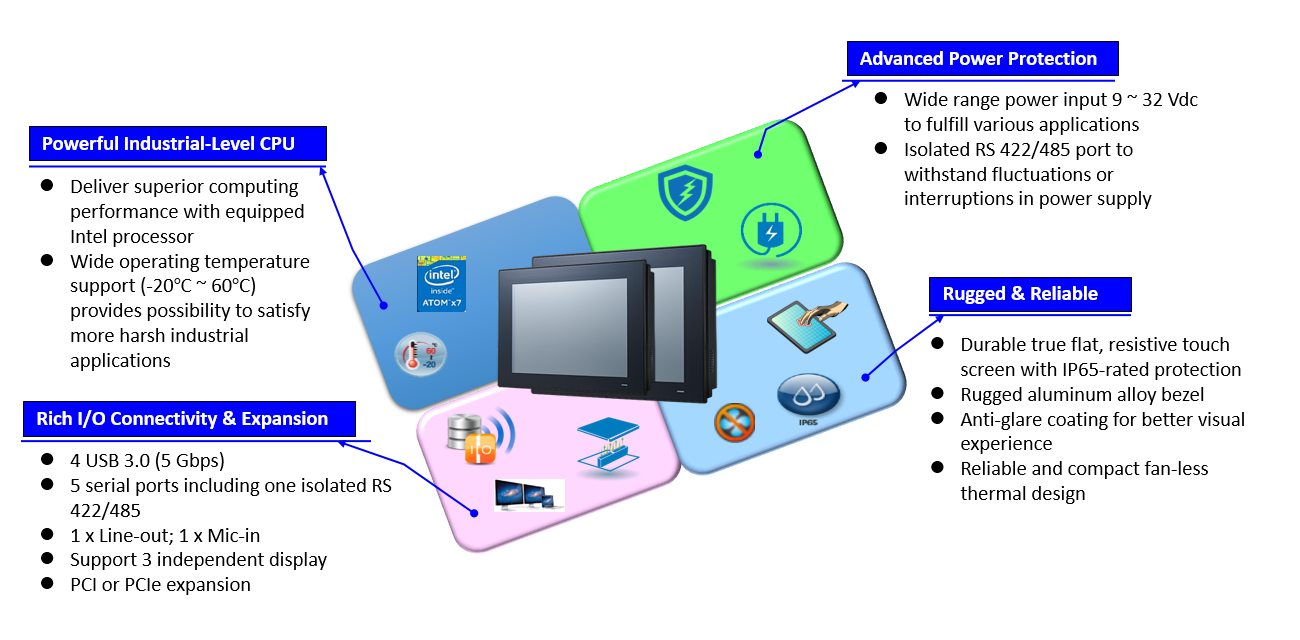 The industrially designed FPM-7211 wide-screen display has a front bezel with IP65 testing criteria. It can support 5-point touch applications and can be either panel- or wall-mounted with direct-VGA and DVI ports for input. Features include:

21.5" Full HD TFT LED LCD wide screen display
True-flat touch screen with IP66 compliance

Slim type design for panel-mount / wall-mount; easy installation

Supports industrial 24VDC power input

Supports panel-, wall-, desktop- and VESA arm-mounting

OSD control pad on rear panel

Projected capacitive touchscreen, with multi touch

Robust design with SECCl chassis and Magnesium alloy front panel