Indoor Navigation System with Deep Learning Powered by Advantech Industrial Motherboard Enhances Touring Experiences
9/29/2020
As GPS is not used inside buildings, indoor navigation systems are an essential technology in smart building and retail applications. When accompanied with deep learning algorithms, these highly-intelligent systems can guide visitors while sending personalized advice to the right place at the right time. These systems rely on wireless signaling for precise positioning. Powerful edge computing is required to support the sophisticated algorithms used in these applications.
An intelligent indoor navigation system comprises indoor positioning facilities, sophisticated triangulation algorithms, AI smart guidance, and powerful edge computers for reliable 24/7 operation. Network latency and systematic lags cause incorrect positioning and misplaced messages. Any glitch in the edge computers could paralyze entire service flows. Therefore, all intelligent navigation system components, including edge computers, must perform flawlessly.
Edge computers are expected to complete tasks with complex calculations in an infinitesimal time frame. Conversely, high-performance capabilities are not the only prerequisite for successful edge computing in indoor navigation applications. These systems need to fend off electromagnetic disturbances to avoid trips to the repair center.
The edge computer market is trending towards the small form factor designs aimed at concealed indoor installation. Clumsy or awkward equipment does not suit these applications. Computing performance is driven to a much higher level for intricate AIoT applications. The indoor navigation systems require high computing power.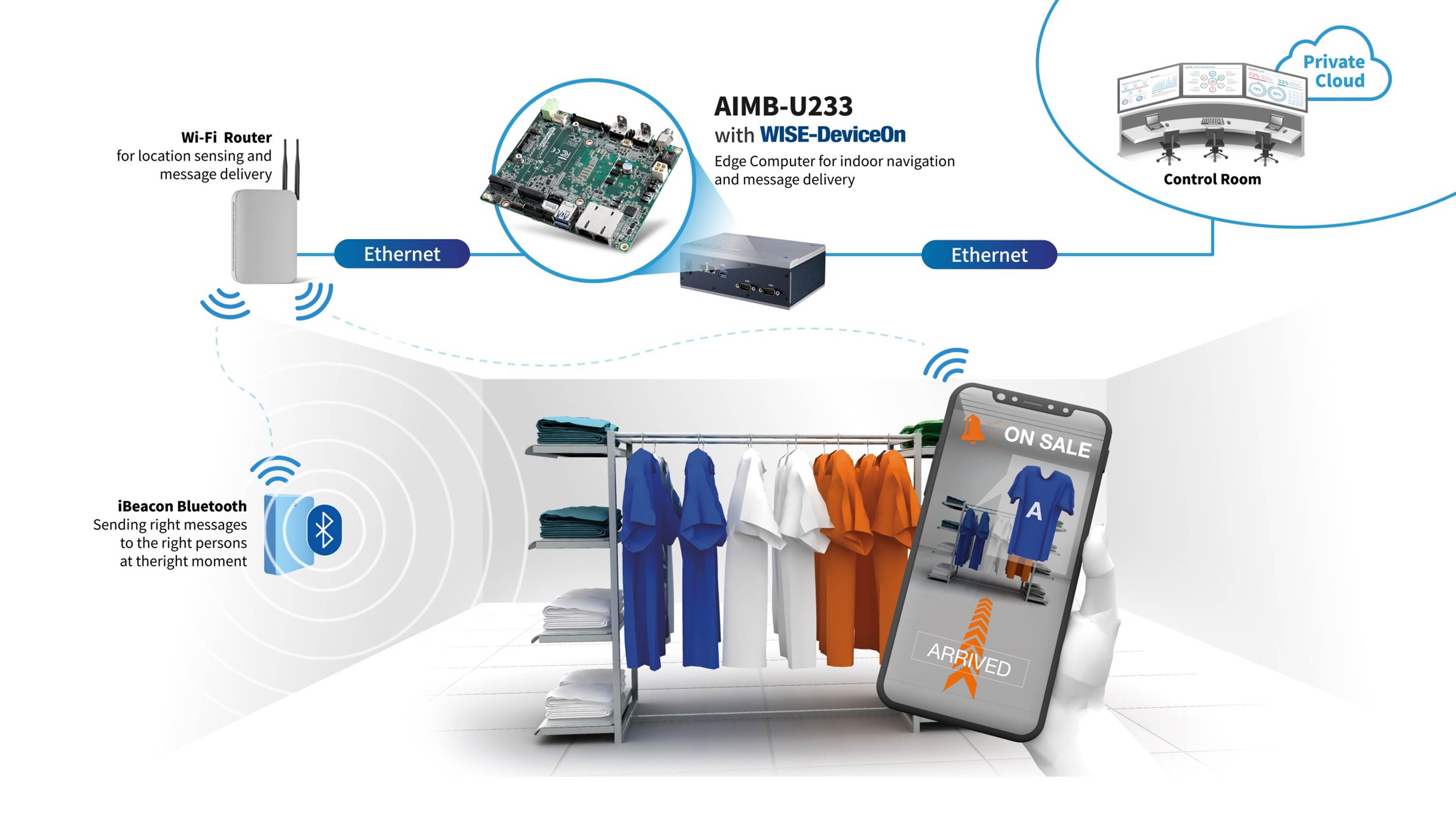 A palm-sized industrial motherboard equipped with Intel® Core™ I7 CPU is ideal solutions for indoor navigation systems. AIMB-U233, Advantech's recent innovative palm-sized series, features a highly functional small form factor design powered by an outstanding 8th Gen. Intel® Core™ i7-8665UE processor. Its dual GbE ports communicates with smart devices that constitute the positioning infrastructure and the cloud server. Combining the M.2 M-key interface with 4-lane NVMe PCIE, AIMB-U233 can increase storage read/write speeds by up to 400% compared to a traditional SATA 3.0 SSD.
Meeting demands for increased wireless connectivity, its M.2 E-key and M.2 B-key support integrates with Wi-Fi/BT and 4G LTE modules. Additionally, this motherboard's rugged design delivers a high level protection against unwanted EMC interference.
Advantech integrates AIMB-U233 hardware with our value-added software solutions to facilitate remote monitoring, preemptive maintenance, and security. The OVA BIOS system offers seamless updates and a backup recovery mechanism that greatly reduce the need for servicing from equipment technicians. To resolve minor computing glitches, the embedded USB controls can be used to discontinue device power supplies. Meanwhile, the COM ports can be configured to RS-232/422/485 mode via the BIOS, which is KVM accessible through Intel® vPro.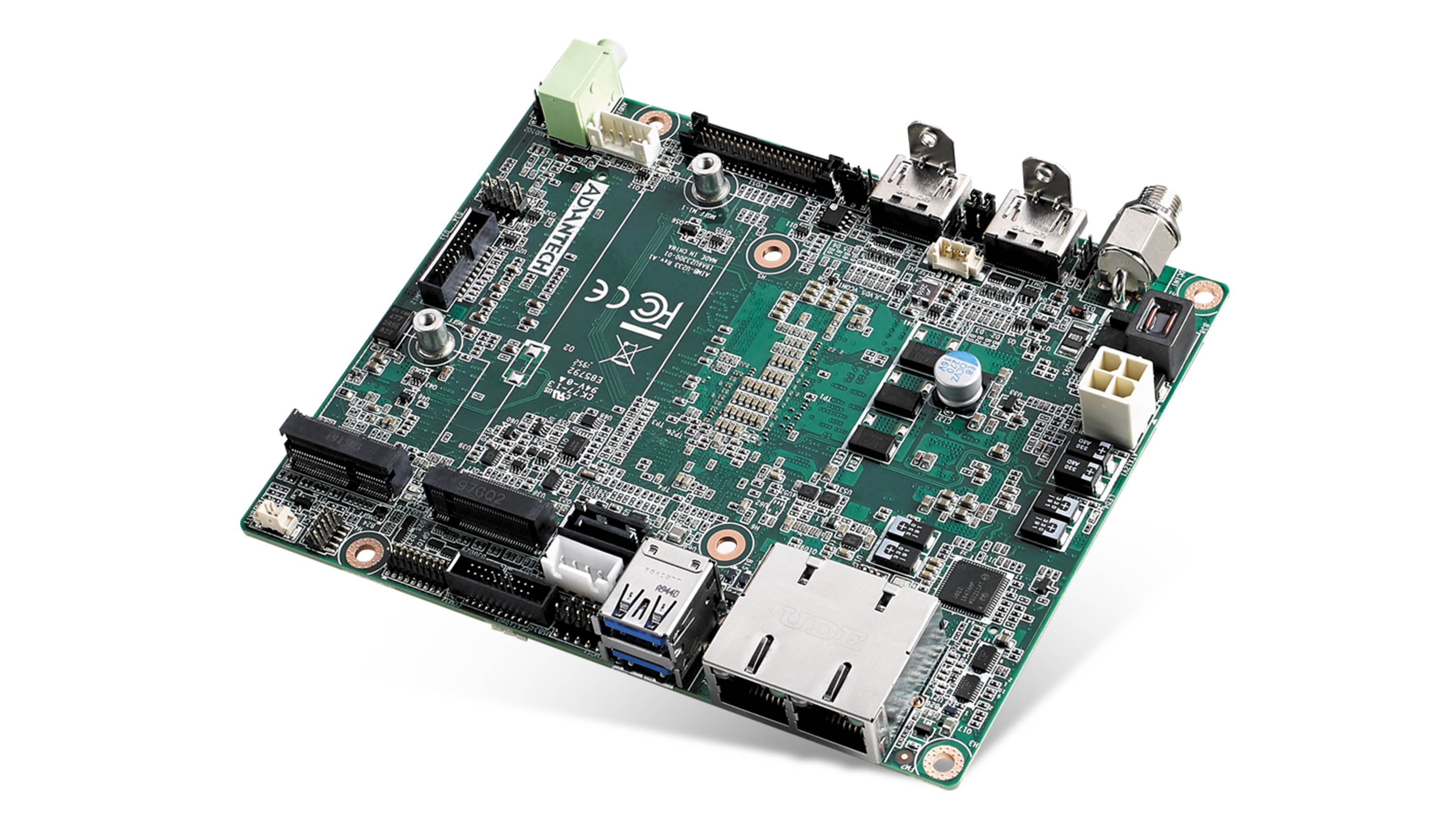 AIMB-U233 Key Features
Intel Whisky Lake Core i3-8145UE / i5-8365UE / i7-8665UE

1 x DDR4-2400 SO-DIMM

1 x eDP (LVDS co-lay), 2 x HDMI, 3 Independent Displays
2 x LAN, 2 x USB3.1 Gen2 Type-A Ports, 4 COM Ports (RS-232/422/485, selected via BIOS)

1 x M.2 E-Key, 1 x M.2 B-Key, 1 x M.2 M-Key NVMe

Intel vPro (For i5 and i7 CPU)