Remote Wireless Management for the Guangde Proving Ground that Simulates 70 Pavements and Offers 60 Kilometers of Road Testing
1/23/2019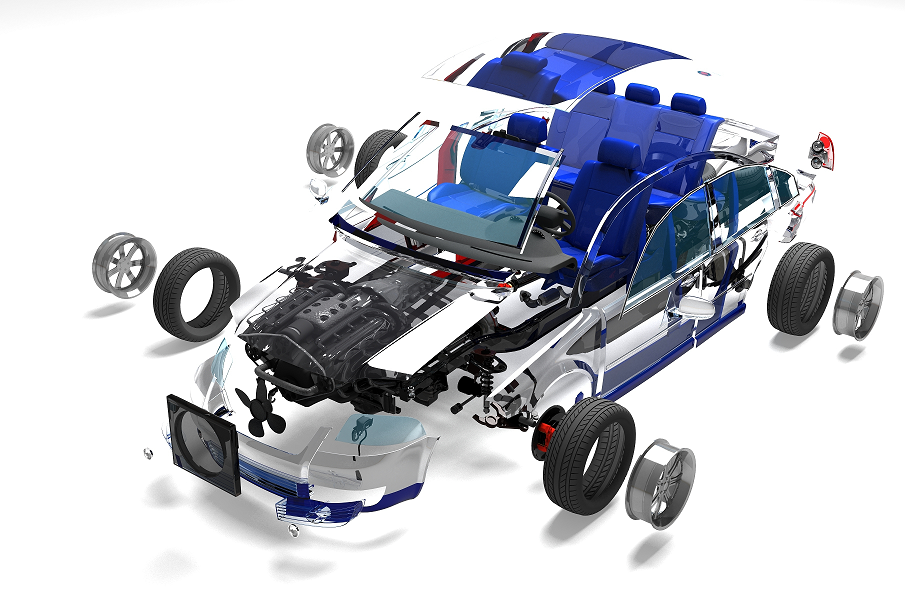 Car ownership is a widely shared aspiration for members of the middle class across the globe. This is certainly the case in China, where rapid economic growth over the span of multiple decades has propelled the country to the world's top position as both a producer and buyer of automobiles. According to recent statistics, the total annual volume of automobile sales in China is up to 28.791 million units; demonstrating 3% growth and hitting a new record high. Many internationally renowned automobile companies are positioning themselves to best take advantage of China's massive, and expanding, domestic market.
In addition to the R&D, design, and manufacturing process, each new car must pass multiple tests before going on the market. Motordrome testing plays a vitally important role in ensuring vehicle performance and driver safety.
In terms of area, the Guangde Proving Ground located in Anhui province outside of Shanghai covers 5.67 square kilometers; roughly equivalent to 795 standard international football fields. It is renowned for having extremely strict quality inspections for vehicles leaving the factory. The facility presents a range of physical environments and extreme road conditions with variations in temperature, humidity, and air pressure. At present, Guangde Proving Ground simulates 70 typical pavements and offers roughly 60 kilometers of total road testing length.
Because China is a country with vast amounts of territory and considerable terrain variation, rigorous testing of automobile tolerance and stability is essential for customer safety. Given its massive scale, the Guangde Proving Ground runs high labor and environmental costs. Hoping to improve efficiency and reduce emissions, the facility wanted solutions that lowered labor and energy costs while guaranteeing performance efficiency and safety.
Massive Scale
Not only does the Guangde Proving Ground offer vast amounts of road testing length spread across numerous types of test tracks, it requires a variety of test equipment in the environmental analog cabin to conduct quality inspection and identification. The variety of facilities, and the dispersal of their distributions, makes for extremely complicated missions which easily cause vehicle omissions and inefficiencies for auto maintainers.
Extreme Environment
Traditional measures to monitor and protect maintainers were still not in place for managing extreme environmental conditions.
Energy Conservation
Given both the scale of the testing facility and the amount of sophisticated equipment being utilized, managing energy consumption was a major issue. Addressing personnel, facilities, equipment, and environmental considerations, the Guangde Proving Ground wanted an intelligent upgrade capable of delivering a more sophisticated business model.
Information Testing
Standard computing devices featuring high-performance, fan-less, and wide-temperature design.
Data Collection
Convenient, safe, and reliable data transmission.
Data Storage and Presentation
A system capable of uploading and updating at any time while allowing users to see the actual real-time test situation through the web page.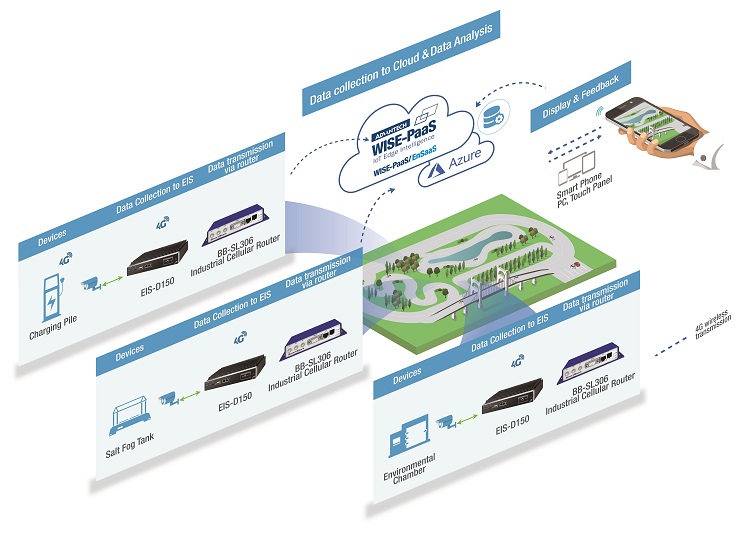 Understanding the challenges and requirements of the project, Advantech customized a complete IoT solution based on the customer's objectives. To deliver the best possible result, Advantech studied, in detail, Guangde Proving Ground's specific needs and formed an initial solution by analyzing those needs from the perspective of the Industrial Internet of Things (IIoT).
Advantech proposed the EIS data acquisition program, through EIS-D150, combined with the WISE-PaaS, as the overall data computing core and the foundation for cloud platform software. EIS-D150 features an embedded fan-less character and mini-appearance, making it ideal for installation in every test device as the core of data operation. The program supports Core i-class CPUs; providing a powerful computing function capable of meeting the requirements of modern automotive test equipment. The EIS-D150's wide-temperature design eliminated the risk of overheating, effectively removing the location of installation as a limitation. The data collected via the EIS-D150 was uploaded to the cloud platform. The facility used EIS data, consisting of EIS-D150 and Advantech WISE-PaaS software, to obtain the program by collaborating with Software Company to develop the use page for the customer's WebGUI requirements.
For data transmission, Advantech recommended its BB-SL306 B+B router to provide a LTE data uploading method and solve the dispersion problem of test equipment. In addition to connecting the test equipment, some test fields or sections of the site were equipped with cameras. Video data was uploaded directly to the WISE-PaaS platform via Advantech's BB-SL306 B+B router for real-time monitoring. The BB-SL306 series uses Huawei LTE communication modules to provide stable communication quality and supports full Netcom. Standard industrial wide temperature design, supporting multiple VPN connection methods that go with the software firewall, greatly improved data security. The BB-SL306 series allowed the customer to proceed with secondary software development for developing their own user modules through Linux scripts and Python and then transforming the standard version of the router into a tailor-made version.
After implementation, all the information collected through the process of new car testing was uploaded to the customer cloud platform through the BB-SL306 Advantech B+B router. When customers log into the cloud platform, a complete data picture is presented. By selecting the historical data graph with video images, auto companies can easily combine data and images to analyze the test results and improve the efficiency of automotive R & D verification. The Advantech B+B router BB-SL306 series used in the installation has been highly acclaimed by customers for its stable transmission performance and data security design.
In this application scenario, Advantech's powerful end-to-end solutions achieved important results for the customer. With edge processing and cloud collaboration, Advantech helped the Guangde Proving Ground realize real-time monitoring, timely processing, and predictive equipment maintenance. Advantech's solutions package reduced management costs and energy consumption while improving the degree of automation and the reliability of the final vehicle test results.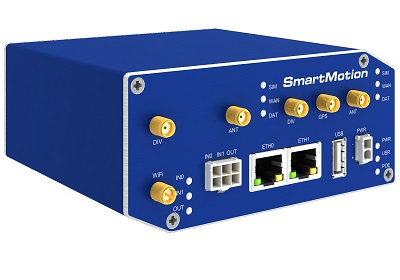 SmartMotion: Industrial Dual Module 4G/LTE Routers
The SmartMotion router offers twin, interdependent cellular modules with two SIM slots each to support multiple cell carriers. Mission critical business continuity is never a problem with SmartMotion's advanced failover architecture and Load Balancing feature which simultaneously receives Cellular, WiFi and Ethernet data.
Read More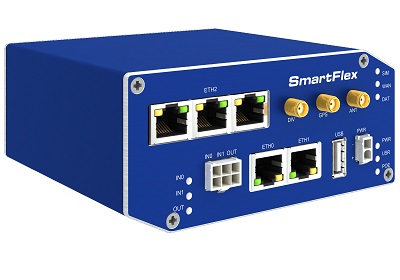 SmartFlex: Industrial Advanced 4G/LTE Routers & Gateways
The SmartFlex LTE Cat.4 & Cat.3 family of Routers & Gateways are the perfect way to connect devices equipped with Ethernet ports (up to 5x ETH) or serial devices equipped RS232 or RS485. SmartFlex has a flexible, modular hardware design to support more complex interface options. Its dual SIM provides failover back-up wireless connectivity. SmartFlex, with its powerful CPU and enhanced memory is the ideal platform for hosting high demand customer SW applications. Its open Linux platform with SDK allows the building of SW applications for Industrial IoT and Edge data processing and its MicroSD memory card slot further increases data storage. The built-in GNSS (GPS) receiver provides positioning services and optional industrial grade WiFi 2.4 and 5GHz connects wireless devices. Smartflex LTE routers and gateways, with their wide operating temperature range and as well as C1D2/Atex certifications, are proven devices which can operate reliably in a variety of harsh environments. Various models are available for the EMEA, NAM, LATAM, ASIA/Korea and Australia regions
Read More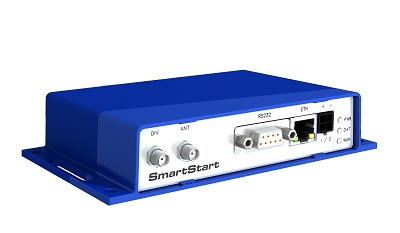 SmartStart: Industrial 4G/LTE Routers & Gateways
The SmartStart LTE Cat.4 & LTE Cat.1 family of cellular routers and gateways are the perfect way to connect RS232 and Ethernet devices to a cellular network. Industrial M2M and IoT applications include lottery terminals, ATMs , kiosk locations, gaming terminals along with RS232 traffic controllers, meters, UPS systems, PLCs and much more. SmartStart has a powerful CPU and enhanced memory ideal for hosting high demand customer SW applications. Its open Linux platform with SDK allows the building of SW applications for IoT. Various models are available for EMEA, NAM, LATAM and China regions.
Read More