Advantech AI System and AI Camera Receive 2022 IoT Edge Computing Excellence Award from IoT Evolution World
10/28/2022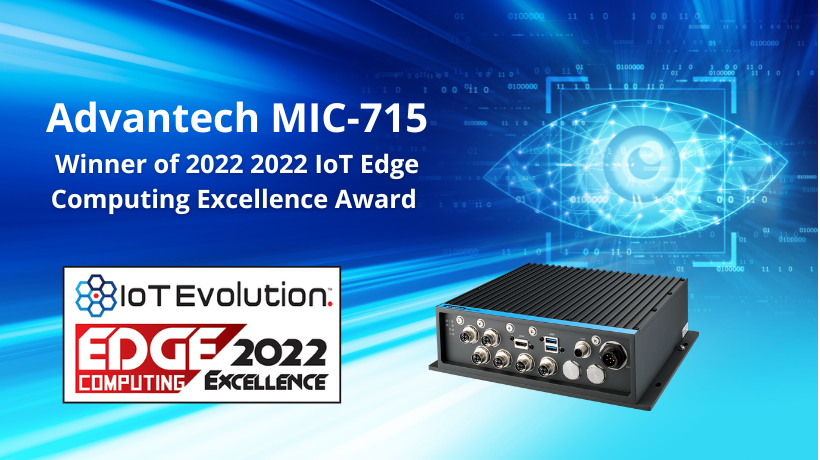 Advantech, a leading industrial edge AI solution provider, announced today that both ICAM-500 and MIC-715 have received 2022 IoT Edge Computing Excellence Awards from IoT Evolution World, the leading web site covering the Internet of Things (IoT) marketplace.
ICAM-500, Making Vision AI Easier for Smart Manufacturing
Advantech ICAM-500 combines image acquisition and AI inference functionality within the same system, greatly accelerates the development and deployment of cloud-to-edge vision AI applications. Embedded with NVIDIA® Jetson Nano™, ICAM-500 combines an industrial-grade SONY IMX 296 image sensor, advanced LED lighting, and a variable focus lens with acquisition and AI computing capabilities.
ICAM-500 has an FPGA-based trigger input, lighting strobe out and MIPI interface, which also allow ICAM-500 to perform low-latency and high-bandwidth image acquisition. These features improve the efficiency of on-site AI inference, creating an excellent solution for edge AI applications — like AI automated optical inspection, AI optical character recognition, and object recognition at the edge — that require real-time responsiveness. ICAM-500 also supports the NVIDIA DeepStream SDK. AI developers can use C/C++, Python or Graph Composer, NVIDIA's low-code tool, to quickly integrate pre-trained models for speedy deployment within vision systems.

MIC-715, A Rugged AI System for Heavy Machinery
AI has demonstrated great potential in traffic, security, and/or manufacturing applications, but remains in the early phases of its implementation within heavy industry. Heavy industries often entail costly 24/7 operation in harsh environments dangerous to laborers. AI enabled autonomous equipment presents opportunities to improve this situation by augmenting the efficiency, accuracy, and safety of these industries. Accordingly, Advantech's MIC-715 ruggedized edge AI system is designed with this and in-vehicle AI applications in mind.
Advantech's MIC-715 is powered by a NVIDIA® Jetson Xavier™ NX — a light, compact fanless module. It leverages M12 connectors, supports operation in broad temperatures, and boasts an IP67 rating. Similarly, all of MIC-715 I/O are lockable, engendering advanced vibration resistance. MIC-715 supports cameras via an integrated PoE port. This combination of features makes MIC-715 uniquely suitable to applications in to harsh environments.

IoT Evolution Edge Computing Excellence Award
The IoT Evolution Edge Computing Excellence Award recognizes the companies emerging as leaders in the growing edge computing space. Companies selected for this award have proven that their products are enabling advanced IoT deployments by offering edge solutions that bring real-time computing, data availability, analytics, AI and machine learning to edge devices.
"Advantech industrial AI systems and camera leverage NVIDIA Jetson GPU on module, the high computing power in small size empowers AI at the edge. With Advantech edge AI system and AI cameras, businesses can take huge steps forward in making AI a reality for smart manufacturing, heavy machinery and more application. This recognition from IoT Evolution World is one of the proof point of the innovative work we're doing and the value of our industrial AI system and camera" said Magic Pao, Associate Vice President of Cloud-IoT, Advantech.
"The solutions selected for the IoT Evolution Edge Computing Excellence Award reflect innovation driving the fast-growing Internet of Things marketplace. It is my honor to congratulate Advantech for their innovative work and contribution to this rapidly evolving industry," said Ken Briodagh, Editorial Director, IoT Evolution.
"It is my pleasure to recognize ICAM-500 and MIC-715, two innovative solutions that earned Advantech the 2022 IoT Evolution Edge Computing Excellence Award," said Rich Tehrani, CEO, TMC. "I look forward to seeing more AI innovation from Advantech in the future."