Advantech WISE-PaaS iBuilding Solution for Smart Building Management Optimizes Hospital Management
6/24/2021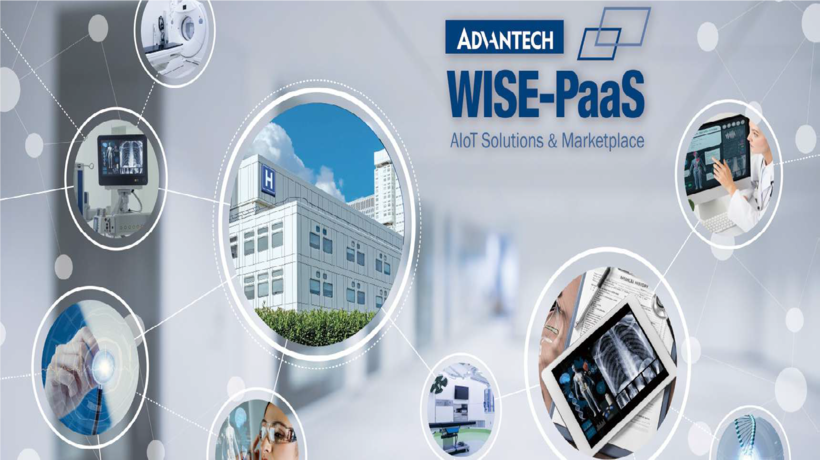 Photos provided by Advantech
Interview with Hans Lee, Manager of WISE-PaaS Business Development, Advantech
According to research by IHS Markit, smart building revenue for the healthcare sector is higher than that for the commercial sector and is expected to reach a 12.6% compound annual growth rate (CAGR) between 2018 and 2023. This suggests that demand for smart building management solutions will increase substantially in the future. But what is the reason for the strong demand for smart buildings in healthcare? Some believe it is because the many long-standing pain points require urgent solutions.
Hans Lee, manager of WISE-PaaS business development at Advantech, pointed out that the information systems used by healthcare institutions comprise numerous complex subsystems that function as stand-alone systems, forming data islands. This makes it difficult to understand the operating status of each subsystem at a glance, which negatively impacts operational and management efficiency. Moreover, to ensure infection control, healthcare institutions must keep the air conditioning system on for 24 hours a day to control temperatures. This consumes substantial energy and places a heavy financial burden on healthcare institutions, with electricity costs rising per year. Accordingly, hospitals are keen to have a solution for collecting real-time energy consumption data in order to better manage their energy use and conservation policies.
Hospital design is trending away from spatial planning and moving toward service process improvement. Previously, emphasis was placed on the functional design of large spaces. Looking forward, hospitals will put a greater emphasis on accommodating various medical specialties in order to establish integrated strategies and operations. Consequently, the ecosystem now relies on coordinated planning by both architects and solution providers to satisfy hospital requirements. The goal is to construct intelligent healthcare environments through the implementation of on-site sensors connected to existing IT systems that can continuously optimize resource distribution. Advantech WISE-PaaS iBuilding is a smart building management solution that has been expanded to enable AIoT data-driven smart building management for healthcare environments. The platform automates data collection and processing, which eliminates manual record keeping and generates reports for administrators, significantly improving operational efficiency.
Data collection and visualization for centralized management
According to Mr. Lee, a smart healthcare building is a large-scale facility that supports a wide range of medical functions and includes emergency rooms, outpatient rooms, various departments, medical equipment, medical staff, and patients. With building information modeling (BIM), healthcare institutions can design and manage physical infrastructure and assets, such as nurse carts, oximeters, tablet computers, and bedside care systems, in a virtual space. When connected to the iBuilding platform, data can also be collected and presented in a virtual space for management configuration.
Advantech's iBuilding solution features a cloud-native architecture and allows healthcare managers to monitor buildings, facilities, and equipment. Asset data, such as patient records, bed availability rates, and emergency room resources can be collected via a single system. In other words, iBuilding is a powerful monitoring platform that enables centralized data collection, monitoring, and analysis to provide a comprehensive visualized overview of all healthcare operations. The platform can also be integrated with AI or a programmable rule engine to automatically carry out specific tasks, such as uploading ward round information, generating maintenance reports, and transmitting real-time notifications.
Four key functions for optimizing operations and efficiency
Starting from the bottom layer, the architecture of the iBuilding solution comprises edge devices, WISEPaaS platform, and industrial AI, with industrial applications as the top layer. Advantech's iBuilding supports four major applications categories aimed at facility management (Facility Mgmt.), building energy management (BEMS), surveillance management, and patrol inspection management.
Mr. Lee explained that the Facility Mgmt. application of fers outstanding funct ions such as equipment monitoring, equipment information management, equipment alarm configuration, 2D/3D visualization, asset performance management, and access management. Healthcare environments typically involve a wide range of equipment and data, all of which can be incorporated into the Facility Mgmt. application with the use of sensor inputs.
The BEMS application supports basic functions such as energy management, AI-based energy conservation, and usage analysis. These functions facilitate the monitoring of energy consumption, identification of excessive energy use, and formulation of improvement st rategies. Af ter energy conservat ion goals are established, KPIs can be entered into the BEMS to enable dynamic monitoring. Data collected is then analyzed to evaluate energy conservation initiatives and optimization strategies are determined going forward.
Meanwhile, the surveillance management application combined with the WISE-PaaS/VideoService service portal supports facial recognition-based access control, people counting, and event notification functions to enable enhanced security for hospitals.
Finally, with the patrol inspection management, if the system detects any abnormalities in within a specific location, an automatic alert is triggered to notify the responsible party. This enables relevant personnel to be immediately dispatched to resolve the issue and submit a detailed report, including photographs and documents.
In summary, Advantech's iBuilding solution allows healthcare institutions to update and optimize their operations better and manage energy consumption and resource allocation via a centralized smart building management platform.