Advantech Upgrades Network Infrastructure Solutions at MWC23
2/20/2023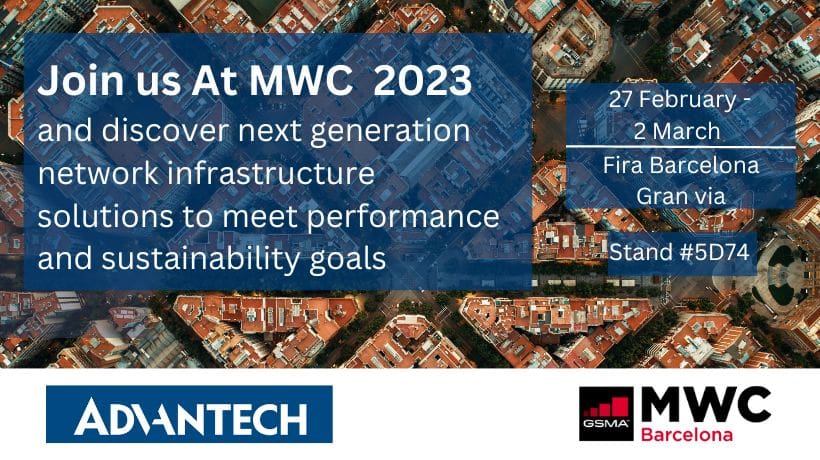 New vRAN, Edge AI, Network Security & SASE platforms help communication service providers and equipment vendors meet next generation networks performance and sustainability goals
Taipei, February 20, 2023 - Advantech (TWSE: 2395), a global leader in Industrial IoT, will be showcasing its full range of network infrastructure solutions at Mobile World Congress in Barcelona, February 27 to March 2, 2023 in Hall 5, Stand #5D74. These include optimized platforms for vRAN, edge AI, network security and SASE and new platforms based on 4th Gen Intel Xeon Scalable processors and Intel Ethernet 800 Series Controllers. Technology partners Albis-Elcon, BBT.live and Tietoevry will demonstrate solutions based on Advantech telco edge servers and network appliances at the Advantech booth. Other demos based on Advantech products can be seen at the 6WIND and Napatech booths in Hall 2 and Hall 7 respectively.
Telco Servers for vRAN, MEC & Private 5G
To meet vRAN performance and sustainability objectives, Advantech is launching a unique 1U, 290 mm depth DU server based on the new 4th Gen Intel Xeon Scalable processor with Intel vRAN Boost, which will launch at MWC 2023. The SKY-8134S-11 optimizes DU performance and power consumption thanks to its LAN-on-Motherboard (LOM) design and by supporting fully integrated vRAN acceleration into the Intel Xeon SoC. It provides unrivalled density featuring up to twelve 25G ports and two 100G ports with high precision time synchronization for front-haul and mid-haul connectivity in an ultra-short-depth form factor. The server also provides an extra PCIe 5.0 or OCP 3.0 slot for additional acceleration or I/O. The SKY-8134S-11 is a highly reliable, carrier-grade platform designed to meet NEBS-3 requirements in harsh network edge environments.

Pic 1. Advantech 1U SKY Server series SKY-8134S-11
Telco Edge Server based on 4th Gen Intel® Xeon® Scalable processor with Intel® vRAN Boost and Intel Ethernet 800 Series Controllers

The new vRAN DU server will be showcased at the Advantech booth in collaboration with Tietoevry and will demonstrate the development of vRAN solutions leveraging latest performance and energy saving optimizations in Intel FlexRAN reference software and 4th Gen Intel Xeon processors with Intel vRAN Boost. In addition, Advantech and Tietoevry will also demonstrate an update of the Tietoevry Scalable Edge Reference Platform, based on Intel Smart Edge software, Advantech SKY-8132S edge server and VEGA-3500 PCI Express card for effective edge AI acceleration, as a viable alternative to existing commercial edge solutions for multi-industrial use.

For private 5G, albis-elcon will demonstrate at the Advantech booth a dedicated, private 5G campus network solution for industries including healthcare, logistics and manufacturing based on Advantech SKY-8132S-11 Network Edge Server and FWA-3050 Network Appliance. This turnkey private 5G campus solution provides a complete 5G network including design, hardware, software, build, integration, solutions, management and optimization. Each solution is tailor made to the customer use cases and strategies, and setup, operated and optimized as a complete network.

Advantech Telco Servers will also be demonstrated at the Napatech booth in Hall 7, Stand #7B67 in collaboration with autonomous mobile core provider A5G Networks. The three partners will demonstrate an end-to-end packet core solution to enable and catalyze the upcoming transition to distributed and autonomous mobile network of networks for 4G, 5G and beyond. The solution is based on A5G Networks' autonomous mobile core and leverages the Advantech SKY-8232D Network Edge Server configured with a Napatech NT200 Smart Network Interface Card (NIC) to offload and accelerate the compute-intensive User Plane Function (UPF), freeing up the server's CPU for running applications and services. This is especially critical at regional edge and far edge locations where the Advantech SKY-8232D edge server plays a key role.
Scalable Network Appliances for Network Security, SD-WAN & SASE
For enterprise networking and security, Advantech will showcase at MWC its full range of network-optimized appliances that scale throughput from Intel Atom to Intel Xeon Scalable processors to meet enterprise networking needs. These versatile white boxes provide rich connectivity choices including 5G, LTE and Wi-Fi 6 options. Ruggedized models are ideal for Industrial and Smart City use cases. The platforms on display also include the new FWA-1013 based on Intel Atom C5300/P5300 processor with up to 20 cores to address entry level to mid-range SD-WAN challenges.

Advantech network appliances are enabled by a broad ecosystem of technology partners including BBT.live which will demonstrate its BeBroadbandTM SASE solution on the Advantech FWA-1212VC Network Edge Appliance at the Advantech booth. BBT's SD-connectivity based SASE is an all-in-one secure cloud-based connectivity solution designed for service providers to gain faster and easier access to new market segments and revenue streams, allowing them to improve profitability without sacrificing quality. The FWA-1212VC is a flexible, fanless network appliance based on Intel Atom C3000 processor with support for 5G and Wi-Fi 6 for the fast-paced and ubiquitous enterprise edge.

At the high-end, Advantech will showcase its new range of high-performance network security appliances based on 4th Gen Intel Xeon Scalable processors that have been designed for the most demanding workloads. The new FWA-5072, FWA-6072 and FWA-6172 accelerate network security application throughput while keeping an eye on power efficiency featuring built-in Intel QuickAssist Technology (Intel QAT) for compression and encryption acceleration. The platforms deliver unprecedented performance, memory and I/O capabilities with up to 104 cores, 4TB of DDR5 DIMMs and 8 PCIe 5.0 based Network Mezzanine Cards (NMC). Density is also improved with shorter 600mm depth chassis.


Pic 2. Advantech 2U Network Appliance FWA-6072
High-end Network Security Appliance based on 4th Gen Intel® Xeon® Scalable processor
The new FWA-6072 will be demonstrated at the 6WIND booth, Hall 2, Stand 2D30 featuring a Security Gateway (SecGW) application for Service Providers. Leveraging the networking and acceleration advances of the 4th Gen Intel Xeon Scalable processor, 6WIND will demonstrate upgraded throughput for its Virtual Service Router solution on the high-end FWA-6072. Focus will also be put on the performance vs power consumption improvement compared to previous generation processor.

"Communications service providers' objective of delivering fastest network speeds is evolving to embrace more efficient solutions that address one of the biggest challenges of our times, the climate change" said Brian Wilson, AVP of Sales, Advantech. "To enable next generation intelligent and sustainable networks, Advantech has developed a full of range of network infrastructure solutions that leverage latest processing and acceleration technologies in optimized platforms that help service providers and equipment vendors meet performance and sustainability objectives."

For more information or to book a meeting at MWC, please contact us at cloud.iot@advantech.com

*"Intel, the Intel logo, and FlexRAN are trademarks of Intel Corporation or its subsidiaries."
About Industrial Cloud & Video Group
Advantech Industrial Cloud & Video Group (ICVG) helps equipment manufacturers, service providers, and enterprises extend the cloud to the IoT edge by providing scalable platforms that reliably execute business and mission-critical applications anywhere in the network. Our innovative industrial, networking and video solutions enable a seamless transformation toward cloud-native operations. They are supported by a vibrant software ecosystem and supply chain, offering key foundational building blocks that accelerate digital transformation. From the Industrial and Enterprise Edge to the Network Infrastructure and Hybrid Cloud, the Advantech Industrial Cloud & Video Group is enabling the co-creation of products and services that will form the backbone of the new 5G & AIoT economy.
www.advantech.com/cloud-iot