Advantech i-Module MIC-75G20 Supports High-end 350W NVIDIA GPU Cards with Flexible Bracket Design
31-08-2022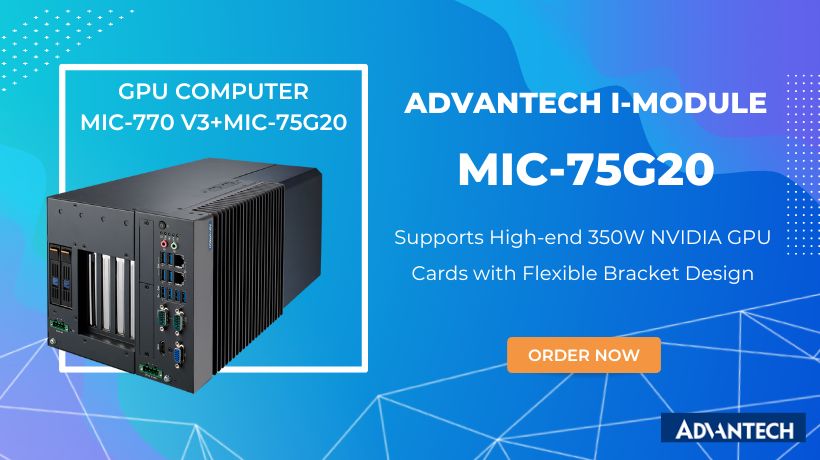 August, 2022, Taipei, Taiwan - Advantech, a leading global provider of intelligent systems and industrial edge computers, is excited to announce the release of its new MIC-75G20 i-Module, a GPU expansion module for its MIC-7 series of IPCs that feature many pioneering mechanical designs. MIC-75G20 can support a wide range of NVIDIA GPU cards, including a high-end triple-fan GPU card that requires a 350W power supply. MIC-75G20 is fully compatible with MIC-770 V3, a high-performance modular IPC with 12th Gen. Intel Core™ processors. This excellent GPU solution combination enables AI inference and acceleration at the edge and can be deployed to various automation equipment, providing high computing performance in automated optical inspection, autonomous guided vehicles, sorting machines and more.
Compact Advantech MIC-75G20 i-Module supports many high-end NVIDIA GPU cards
As AI and high-end image processing applications keep growing, the demand for more powerful high-performance GPU cards keeps increases as more and more high-performance GPU card selections become available in diverse form factors. To meet this need, Advantech designed the compact MIC-75G20 GPU expansion module in a ruggedized design to sustain more powerful and heavier cards. MIC-75G20 features a more powerful pulse width modulation (PWM) system fan to optimize thermal management, allowing MIC-75G20 to support -10~60°C wide operating temperatures. MIC-75G20 also provides independent 24VDC power inputs for up to 700W (peak) high power consumption applications. MIC-75G20 supports a single high-end 350W, 2.75-slot width, 334.6mm length NVIDIA GPU card. MIC-75G20 also includes one PCIe x4 slot and one PCIe x16 slot for a PoE camera and frame-grabber card to capture images that can be processed by the GPU and AI model at the edge, ensuring high quality image resolution and data processing, making it perfect for intelligent systems.
Flexible new GPU bracket design supports multiple form factor GPU cards
Advantech provides the powerful and versatile Advantech i-Module series for a range of different GPU-powered applications. MIC-75G20 has a flexible GPU card holder design, which is patent pending in P.R.C. and R.O.C. It features an adjustable GPU card bracket module, meaning the GPU card can be fastened securely from four different points, giving it excellent flexibility in accommodating GPU cards in various dimensions, brands, and generations. Furthermore, the ruggedized design for the GPU bracket module can resist 10Grms shock and 1Grms vibration with a card installed, making it suitable to be deployed in harsh environments. The groundbreaking innovation of MIC-75G20 not only ensures system reliability and performance, but also provides full resiliency and cost efficiency for customers to adopt new edge AI applications, and allows them to easily upgrade to higher GPU solutions.
MIC-75G20 can be bundled with NVIDIA Quadro® Enterprise GPU card and MIC-770 V3
Advantech offers a wide range of NVIDIA Quadro® Enterprise GPU card options for customers. Built on NVIDIA RTX technology, Ampere and Turing architectures, NVIDIA Quadro® professional graphics solutions can significantly enhance the performance of rendering, graphics, AI, and compute workloads, which are perfect for applications such as 3D image processing, AI acceleration, and deep learning. With 3 to 8-year longevity, and certifications via over 100 leading Independent Software Vendors (ISVs), NVIDIA Quadro® GPUs ensure optimal and stable performance for AI inference and training across various industries. Through the integration of plug-and-play GPUs, Advantech i-Module MIC-75G20, and the latest MIC-770 V3 with 12th Gen. Intel Core™ processors, this compact GPU IPC is a powerful edge AI solution for new edge AI applications. i-Module MIC-75G20 is ideal for machine automation such as high-speed pick-and-place applications in recycling plants, real-time machine vision applications such as autonomous navigation in robots and vehicles, as well as automated optical inspection (AOI) in semiconductor equipment manufacturing.
Powerful GPU solution with NVIDIA 350W high-end GPU cards for AI applications.
Independent 24VDC power inputs with reliable power and OCP solution for up to 700W maximum peak power currency.
Flexible GPU card holders (P.R.C and R.O.C. Patent Pending), ensuring GPU card stability and reliability.
Supports up to 60°C op. temp. with 350W GPU and 4-port PoE card installed and PWM fan control for intelligent thermal management.
Compact size design.

2. Modular IPC - MIC-770 V3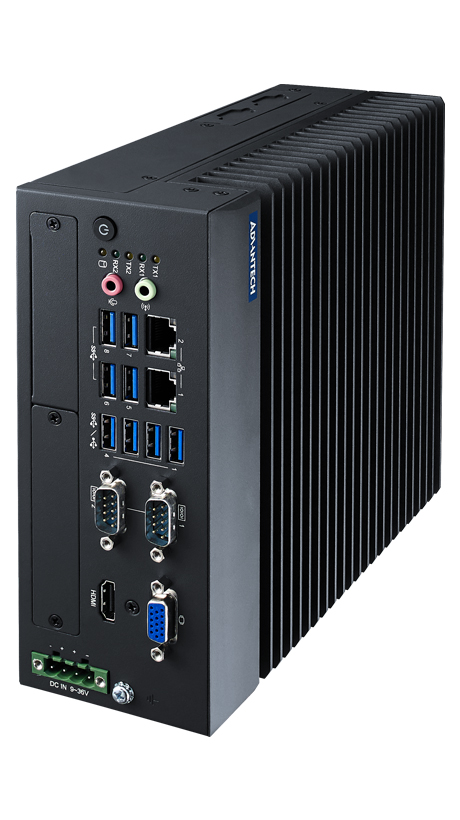 12th Gen. Intel® Core™ i9/i7/i5/i3 processors (LGA 1700).
Two DIMM sockets up to 64GB DDR5 4800 (R680E SKU supports ECC).
2 x displays – VGA/HDMI, 2 x GbE LAN, 8 x USB 3.2, 2 x COM RS-232/422/485, 1 x NVMe M.2 for R680E SKU, and Flex IO and iDoor support.
Expansion supported via Advantech i-Modules.
Fanless and wide operating temperature (-20 ~ 60 °C).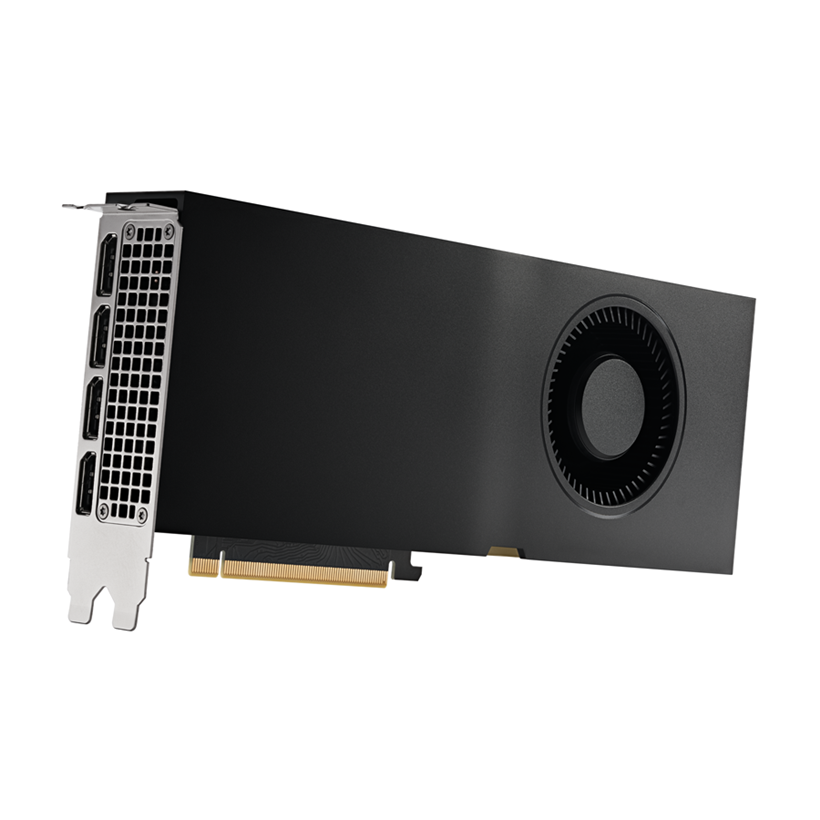 NVIDIA Ampere GPU architecture.
Supports 7,168 NVIDIA® CUDA® Cores, 224 NVIDIA® Tensor cores, 56 NVIDIA® RT cores.
Supports 20GB GDDR6 memory with ECC, up to 640GB/s memory bandwidth.
Max. power consumption: 200W.
Graphics bus: PCI-E 4.0 x16; thermal solution: active.
Established in 1983, Advantech is a leading provider of trusted, innovative products, services, and solutions. Advantech offers comprehensive system integration, hardware, software, customer-centric design services, embedded systems, automation products, and global logistics support. We cooperate closely with our partners to provide complete solutions for a wide range of applications in diverse industries. Our mission is to enable an intelligent planet by developing automated and embedded computing products and solutions that facilitate smarter working and living. The number of applications and innovations made possible by using Advantech products is unlimited. (Corporate website: www.advantech.com)