High-Performance Computing System for Simulator Training System
26/03/2021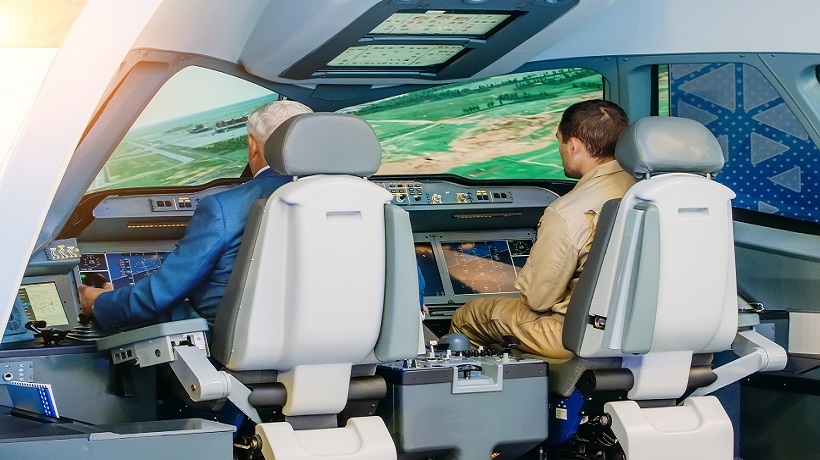 Location:Taiwan
Mission-critical military operations have long been an important application for industrial-grade servers. Training simulator systems require workstations that offer stable real-time environments to accurately replicate diverse simulations for helicopters, armored vehicles, aircraft, weapons, and other battlefield systems. Advantech provided an integrated hardware solution to one of the largest system integrators specializing in aerospace and military applications. Through close collaboration on hardware and software development, high-performance computing systems were built for a fully functional training simulator.
The host computing system for the training simulator was divided into two parts: a PXE server and the so-called "mission system". The PXE server features a six-core processor at 3.6 GHz with 32 GB of ECC registered memory, two Gigabit Ethernet ports, as well as solid-state and hard drives. These drives needed to be expandable to satisfy the project requirements. To perform flight control, avionics, and weapons training, the system needed to be super reliable and stable. Thus, 80-plus power supplies were integrated and a Linux-based operation system was selected to provide the OS platform for real-time simulations and remotely control mission functions. The mission system required similar hardware as the PXE server, but operating on a Windows-based OS. Moreover, to accelerate accurate symbol and image rendering, the mission system must be equipped with a GeForce graphics card for dedicated image processing instead of an onboard graphics controller.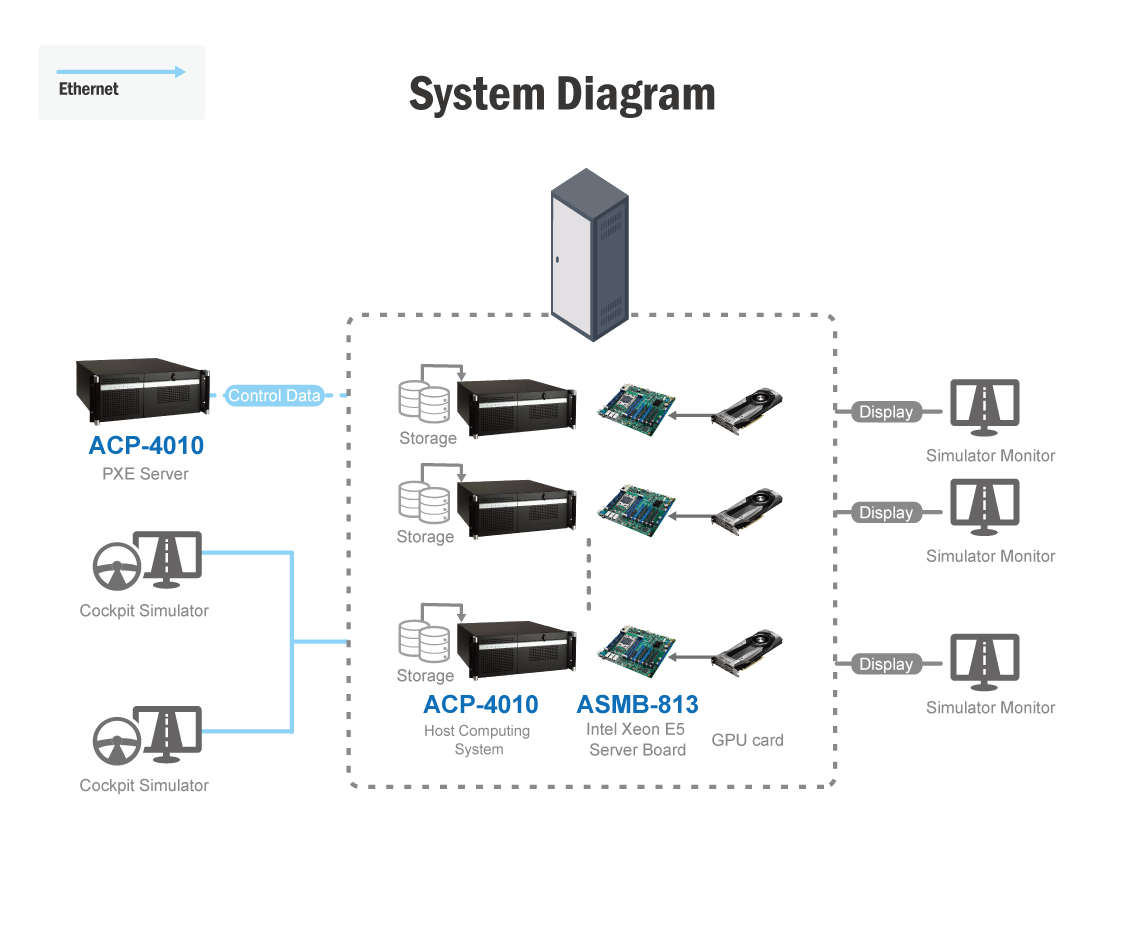 The simulator training system comprised of a host system and actual simulators; the host computing system was divided into PXE servers and mission systems. The mission system was built into a 19" inch rack and consists of several Intel® Xeon® processor-based workstations. The Intel® Xeon®E5 v4 processor gives the system the blazing performance required to power this military simulator. ECC registered memory ensures system stability and reduces the likelihood of system crashes by identifying and correcting single-bit memory errors. Each workstation was configured for a single mission according to the specific terrain and weather. A dedicated Nvidia GeForce GPU card was used for image processing and connected to single or multiple monitors. The mission system is directly connected to the actual simulator hardware, such as actuators, cockpits, and instructor stations. The Linux-based PXE server offers real-time simulation capabilities and can be used to remotely control multiple simulation workstations. All collected video and audio data from the simulations is stored in the various sub-systems.
7-years longevity commitment
Specification consultation and pre-test support
Tested for reliability in harsh environmental conditions
FAE and AE technical support in the early stage
Initially during the project bidding stage, a number of tier-one server suppliers proposed a similar solution to the customer—a systems integrator for military simulation equipment. Because simulation training equipment comprises many expensive hardware and software components, conducting a feasibility evaluation in the early development stages was essential. The more comprehensive the evaluation, the easier it was for the customer to make a decision.
In this case, the Advantech system had already been verified with not only Windows 7 and 10, but also several Linux-based OS, such as Redhat, SUSE, CentOS, and Ubuntu, which is ready-to-use for simulation applications. Also involved in the initial project evaluation was a product application engineer, who helped to clarify any issues related to system integration.
During the product development stage, the ASMB-813 motherboard underwent 24-hour testing under full-load at operating temperatures of -5 ~ 65 °C (23 ~ 149 °F). A series of environmental tests to ensure IEC 60068-2 compliance were also conducted. Compatible with ATX and micro-ATX motherboards and featuring four hot-swappable drive trays, ACP-4010 is one of Advantech's most popular rackmount chassis products. The chassis' LED indicators provide alarm notifications in the event of a system error. All components are carefully selected to ensure a long product lifecycle and Advantech offers a 7-year longevity commitment.