Advantech Unveils New Server Boards: ASMB-622V3, ASMB-817, ASMB-927, and ASMB-977, Expanding its Product Line
2023/04/28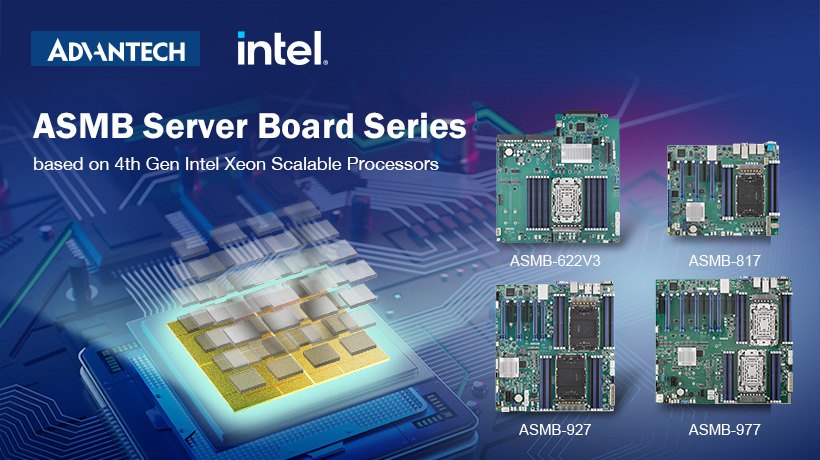 Taipei, Taiwan, April 28th , 2023 - Advantech, a leading industrial edge AI solution provider, has announced the launch of four new server boards based on the 4th Gen Intel® Xeon® Scalable Series: ASMB-622V3, ASMB-817, ASMB-927, and ASMB-977. This is an expansion of the server board product line to cater to diverse computing applications. The 4th Gen Intel® Xeon® processors have the most built-in accelerators of any CPU on the market and the new architecture is designed to support the latest technologies, including DDR5 and PCIe 5.0 to accelerate performance in AI, analytics, networking, storage, and HPC. PCIe 5.0, which delivers an ultrafast data transfer rate of 32 GT/s, is now supported by Eagle Stream, enhancing data transmission speed and reliability in high-performance computing applications. DDR5 slots on these boards utilize Intel's latest platform microarchitecture for extremely high memory bandwidth suited to AI.
ASMB-622V3 supports up to 2TB of DDR5 ECC RDIMM memory. The motherboard also includes multiple I/O interfaces and IPMI 2.0 for convenient remote management. Compatible with the HPC-62 series chassis, the ASMB-622V3+HPC-6240 edge accelerator server brings enhancements to industrial automation and video analysis, providing system solutions for customers.
ASMB-817 is the ATX server board that boasts the highest performance computing capabilities. It features up to 1TB of DDR5 memory with 8 DIMM slots.. In addition, ASMB-817 supports up to seven PCIe slots, providing flexible solutions for mission-critical applications like big data and image analytics.
ASMB-927 is a dual-socket server board that delivers power-efficient computing performance. It features up to 2TB of DDR4 memory with 16 DIMM slots and dual 10GbE. It also supports four PCIe Gen5 x16 and two PCIe Gen5 x8. With double the amount of data transfer compared to PCIe Gen4, Gen5 makes this board ideal for edge computing and other power-intensive applications.
ASMB-977 is a dual-socket proprietary server board designed for AI and object detection applications. It features up to 2TB of DDR5 memory with 16 DIMM slots. The board also supports dual 10GbE and 1GbE networking, making it suitable for AI workloads and other applications that require fast processing capabilities.
"Our new server board models reflect Advantech's commitment to providing edge computing solutions that cater to diverse computing requirements," said Barry Chang, Director of Advantech's industrial servers. "Our customers can rely on Advantech for high-quality, reliable solutions that meet the most demanding industrial application requirements."
About Advantech Industrial Cloud & Video Group
Advantech Industrial Cloud & Video Group (ICVG) helps equipment manufacturers, service providers, and enterprises extend the cloud to the IoT edge by providing scalable platforms that reliably execute business and mission-critical applications anywhere in the network. Our innovative industrial, networking and video solutions enable a seamless transformation toward cloud-native operations. They are supported by a vibrant software ecosystem and supply chain, offering key foundational building blocks that accelerate digital transformation. From the Industrial and Enterprise Edge to the Network Infrastructure and Hybrid Cloud, the Advantech Industrial Cloud & Video Group is enabling the co-creation of products and services that will form the backbone of the new 5G & AIoT economy.