Advantech's Robust Industrial-Grade Switches Connect Devices and Machines for an Interconnected Network on the Shop Floor
12/09/2017
Market: Factory Automation

Customer: Symtek Automation Asia
The rising prevalence of Industry 4.0 in recent years has set a trend of connecting all devices, equipment, and machines on shop floors. One of our customers, Symtek Automation Asia, was seeking to implement an intelligent production line connecting various devices and machines in their factory, including barcode readers, programmable logic controllers (PLCs), human–machine interfaces (HMIs), robotic arms, electric motors, automated guided vehicles (AGVs), rail-guided vehicles (RGVs), and fanless PCs. Their aim was to create an interconnected network on their shop floor, the objective of which was to maximize the potential of industrial IoT. This was realized with the help of Advantech's industrial-grade switches. Field devices and machines were interconnected so that data could be transmitted via IP to the central control center for storage, monitoring, and analysis.
The key components in the customer's intelligent production line and how they are used are briefly described as follows:
Barcode readers are used to scan items and obtain information from the ERP system.
Robotic arms are employed to pick up items and place them on conveyors.
Conveyors and motors are utilized to transport items via a conveyor belt to the lab where they are later assembled into finished goods by other machines.
HMIs are used to view quality assurance results on finished products.
AGVs and RGVs are employed to package and transfer finished products to the warehouse after they have passed a quality check.
With so many devices, equipment, and machines on the shop floor, electromagnetic interference poses a constant problem for network data transmissions. To overcome this problem, Symteck Automation Asia required a robust industrial-grade switch that could not only withstand electromagnetic interference but also perform well in the harsh factory environment. Advantech's EKI-5000 series of unmanaged switches were selected because they use the highest quality components, delivering excellent performance while operating in a wide operating temperature range (-40 ~ 75 °C) and providing Level 3 EMC protection against electromagnetic interference. Furthermore, they come with a 5-year product warranty.
In contrast to traditional fieldbus-based communication systems, Ethernet-based industrial communication systems have greater potential for implementing modern technologies and establishing real-time communication. Increasingly more devices are using Ethernet interfaces to communicate with each other. To benefit from an Ethernet-based network, Symteck Automation Asia wanted to build their intelligent production line based on an Ethernet communication framework. The network transmission workflow of Symteck Automation Asia's production line is described as follows:
Each production line has its own cabinet and workstation. The cabinet aggregates all data to an ARK-3510/1550 fanless PC, a PLC, and an HMI, and relevant data are sent to an HPC-7442 data center. All communication is achieved via Ethernet.
The ARK-3510/1550 receives material codes from the barcode scanners, and the material information is shown on the HMI.
Operators can press a "confirm" button to trigger the PLCs to operate the robotic arms.
By performing a diverse range of motions, the robotic arms pick up and place items on the conveyor. Once the material has been transferred to the specified location, the PLC triggers the next command to drive the motors. The material is then transferred to a lab and the finished product is assembled by other machines.
After the entire assembly process and quality testing have been completed, all information, including the operating schedule, material list, and test results, are transmitted to the ARK-3510/1550 and HPC-7442.
Finally, products that pass quality testing are packaged and transferred to the warehouse. For this, the PLC issues a final command to the AGV/RGV, which transports the products to the appropriate storage location, and the information is sent to the ERP system and HPC-7442.
Advantech's EKI-5000 series of switches provide flexible compatibility for linking automation devices together, and they are effective for isolating electromagnetic interferences to ensure network stability. Moreover, the EKI-5000 series' mean time between failures is over more than approximately 3 million hours, which offers greater network reliability compared with competing products. With the help of Advantech's switches, Symteck Automation Asia was able to connect all of their devices on the shop floor and build an interconnected, intelligent production line.
EKI-5525-AE: 5-port 10/100 Fast Ethernet Unmanaged Industrial Ethernet Switch
EKI-5528-AE: 8-port 10/100 Fast Ethernet Unmanaged Industrial Ethernet Switch
EKI-5526-AE: 16-port 10/100 Fast Ethernet Unmanaged Industrial Ethernet Switch
ARK-3510L-00A1E: Fanless Box PC with 3rd Generation Intel® Core™ i3/i5/i7 and two 2.5" Removable HDD Bays
ARK-1550-S6A1E: Slim and Panel Mountable Fanless Box PC with 4th Generation Intel® Celeron® 2980U SoC
HPC-7442MB-00XE: 4U Rackmount Chassis for EATX/ATX/Micro-ATX Motherboard with Four Hot Swap Drive Trays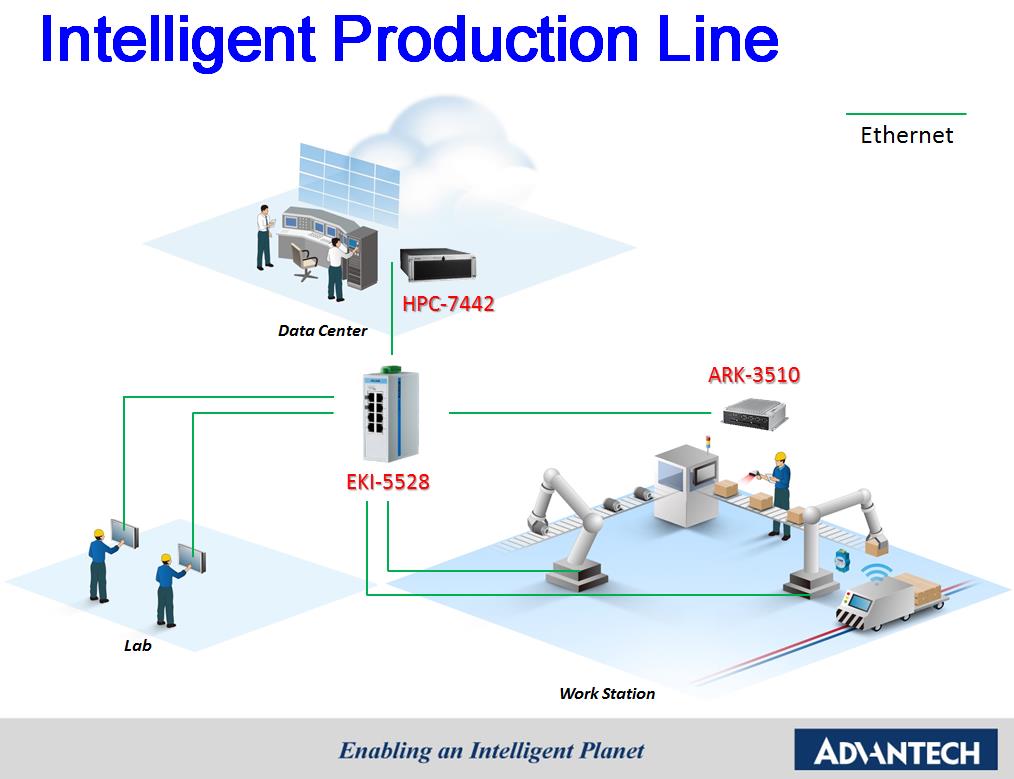 With the reliability of Advantech's products and sufficient lead time (3 ~ 5 days), Symteck Automation Asia successfully built an interconnected network to maximize the benefits of their intelligent product line, thus enhancing their productivity, efficiency, and return-on-investment.