Tunnel Monitoring System for Superhighways in Yunnan, China
25/01/2018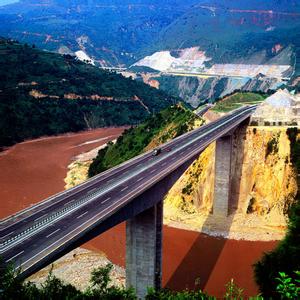 Industry Application: Tunnel Management

Industry Sector: Transportation

Location: Yunnan, China
The Longling–Ruili Highway, a section of the National Superhighway Network between Hangzhou and Ruili, Yunnan, stretches 157.712 km from the four-lane Baoshan–Longling Expressway to Ruili at the China–Myanmar border. Along the way, there are 154.6 km of expressways and 3.112 km of Class 2 highways, as well as a mega bridge, 158 regular bridges, eight tunnels (including the 3.130-km Mangsa Tunnel), and nine highway intersections, all of which amount to a total investment of RMB 10.941 billion.
The highways in Yunnan are complex and feature many long winding sections. Given the influence of fluctuating traffic levels, periodic extreme weather conditions, varying road profiles, and a range of topographical features, it is crucial that a reliable monitoring system be in place to provide real-time information on environmental conditions inside the tunnels. This would also contribute to mitigating climate change by reducing traffic congestion due to accidents or breakdowns.
Accurately monitor road traffic and weather conditions to maintain control over road operations
Detect and manage latent safety issues and reduce the number/severity of traffic accidents
Minimize the effect of incidents, accidents, and poor weather on the traffic
Guide and control traffic by using modelling to improve traffic flow during peak periods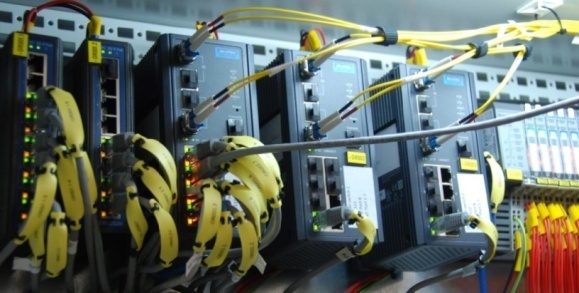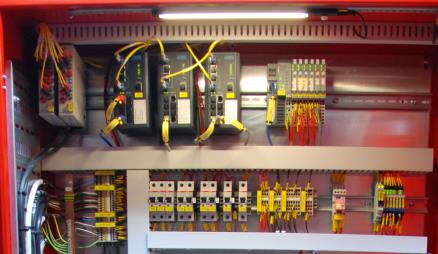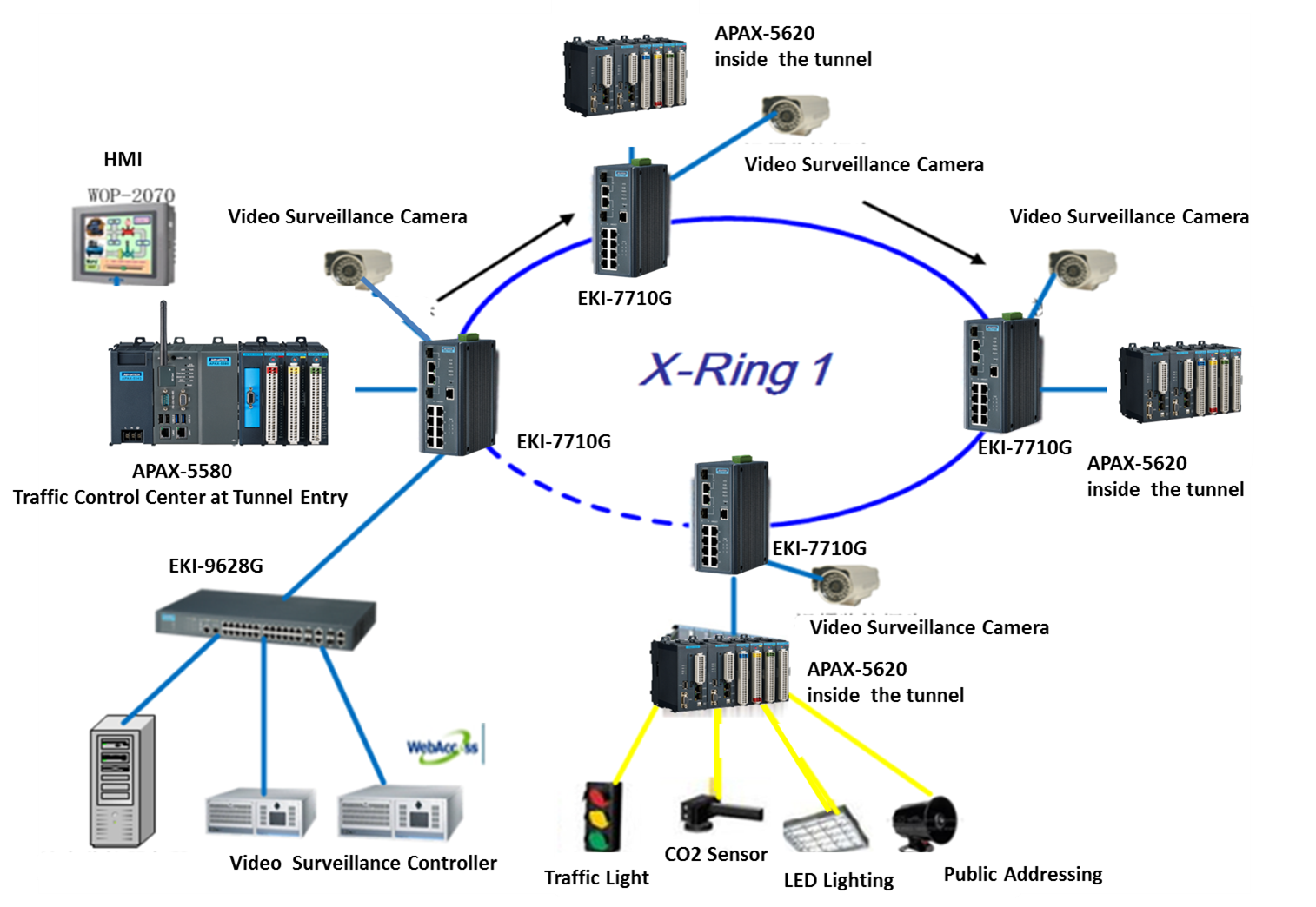 The tunnel monitoring system consists of several subsystems, namely lighting, ventilation, traffic guidance, CCTV, fire alarm/control, emergency communication, and public address (PA) systems. For the lighting and ventilation systems, Advantech provides industrial Ethernet switches, programmable automation controllers (PACs), and X-ring redundancy network technology for monitoring, control, and reliable data transmission between subsystems.
In this system, EKI-7710G switches are employed to collect data from the various equipment and devices in the tunnel and form a network ring for data redundancy purpose; all data is then transmitted to EKI-9428G layer 3 switch in the control room. Advantech's EKI-7700 series of industrial management Ethernet switches allow users to quickly scale up their industrial networks in a cost-effective manner. Their robust design also ensures reliability and stability, while Advantech's X-Ring technology gives the shortest available recovery time (<10 ms), thus improving both the reliability and speed of network infrastructure.
The APAX PACs are used for collecting data and controlling the tunnel subsystems. The APAX-5580 high performance PAC is the main control platform; with standard IEC 61131-3 development tools CODESYS, this platform allows engineers to rapidly develop programs and applications, thereby significantly shortening the time to market. APAX-5620 controllers are also employed for additional tasks pertaining to system communications, such as HMI/SACDA, database management, and data logging. This architecture ensures system stability, meaning that the APAX-5620 controllers will contribute to operate even in the event of an HMI program causing a system crash.
Finally, control over the logic configuration for network nodes, control computation, I/O points for field connections, and field network management is realized using Advantech's WebAccess software solution. This software provides a means for system monitoring through the creation of widgets and user interfaces for visualizing data and displaying alerts as well as general functions such as printing and computer network management. To do this, it combines multiple information technologies, including geographic information system (GIS), SCADA, multimedia, and network security technologies, thus providing a unified platform for viewing GIS images and monitoring data in real time.
Advantech has provided a comprehensive tunnel monitoring system for traffic regulation and tunnel ventilation control for the Yunnan Superhighway. This contributes to accident prevention, thus enabling safe, smooth traffic on China's superhighways, especially in areas where tunnels are present.