AOI Computer Vision for Smart SMD Resistor Inspection
07/10/2021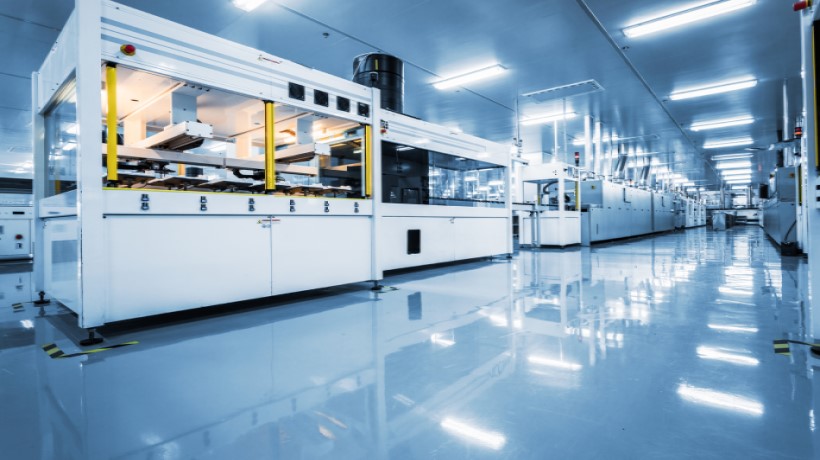 Location: China
The history of surface-mount devices goes back to the 1960s, where its application made its way into the launch vehicle digital computer (instrument unit) that guided all Saturn IB and Saturn V vehicles. At that time, components were mechanically redesigned to have small metal tabs or end caps to allow for direct soldering to the surface of a PCB. As a result, component sizes greatly decreased, becoming smaller and smaller, which meant higher circuit densities and smaller circuit boards. However, those same components made automation difficult, which proved to be a major issue. As the assembly of printed circuit boards became more and more prominent so did assembly issues. To solve the difficulties, surface mount technology came into existence. Today surface-mount devices (SMD) resistors play an ever-expanding role in every aspect of the manufacturing of gadgets and electronics that we see and use. From performance to durability, SMD devices have helped to make electronics more efficient and better performing.
Surface-mount Technology devices, resistors, are dependent on board requirements—crystal or coil as an example. However, they have become smaller and smaller over the years. Some SMD resistors may be as small as 0.6mm x 0.30mm. The benefits of using SMDs are an incredibly large improvement over past technology, improving not only the cost and reliability of circuit boards but also performance. SMD resistors have helped to pave the way for increased efficiency and durability of almost every electronic device in use today.
An additional benefit of SMDs is the decrease in power rating. Smaller means lower dissipation. Smaller also afford a greater number of resisters onto a single PCB. Having a greater number of components allows for greater complexity resulting in increased functionality on every board. Simply stated, surface-mount technology (SMT) can do more.
While the final result gives rise to greater benefits, the manufacturing of SMD resistors is a time-intensive process requiring exact precision. Making the process even more difficult is the lack of adequate automation systems for quality control.
In a particular case with a Chinese manufacturer, their market demand for SMD resistors continued to grow. To meet the demand, they needed to increase production, which, in turn, required greater measures for quality control. One of the measures included the inspection of the solder joints which was only verified by manual visual inspection. Although the employees tasked with this charge received prior training, the implementation of consistent standards became an obvious issue. The disadvantage of manual inspection, in addition to being highly subjective, was the accepted tolerance limits, which were wider than automated machines. Manual testing by definition has its limits. As the mounting number of components produced increases, human fatigue lends to a higher degree of errors and subjectivity. As the degree of lessened inspection availability increases, the number of defective components would also increase. Since SMD resistors are the most numerous components in an electronic product, the risk of releasing defective products into the market would result in a catastrophic chain of events leading back to the manufacturing origin.
In light of the imminent risk, they turned to Automated Optical Inspection (AOI) technology to alleviate issues in their quality control line and meet specific requirements including:
Multiple industrial camera support
Capacity to process high-resolution images
Analysis of production yield through high-resolution images

Flexible GPU, frame grabber, and NIC PCIe expansion support

Maximum operation speed 12,000 pcs/min

Windows 7 (64-bit) operating system support for full functions, friendly interface, and high reliability as a standalone machine.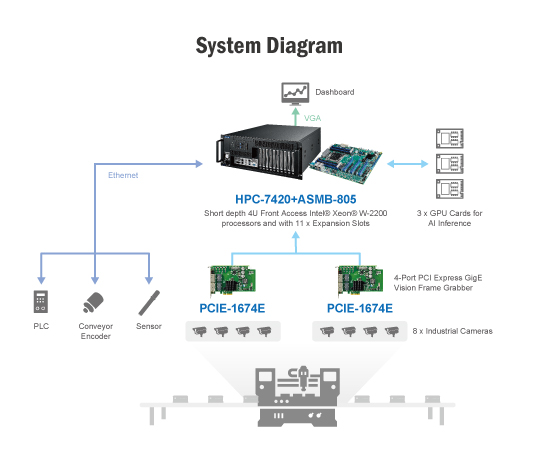 The answer came in the form of Advantech's industrial inference server (HPC-7420 + ASM-805) as the center of their inspection platform. The AOI solution included the HPC-7420 and ASMB-805 industrial inference server. The server is connected to eight individual cameras for the visual inpection of the platform. GPU processing flows through the ASMB-805. Equipped with 10 CPU cores, the ASMB-805 server board powered by the Intel® Xeon® W-2255 Processor supports up to 3 x PCIe x16 and 2 x PCIe x4 linkups to GPU cards, NIC card, and frame grabbers. Image processing through the GPU is offloaded to the PLC, allowing for expanded high-resolution image analysis to the dashboard.
The inspection method consisted of the server referencing a precise model of an SMD resistor. As the production line moves along the conveyor, eight cameras take high-quality images of the manufactured resistors, delivering the images to the inference server, where it is compared to the optimal sample. The latest production yield results are displayed on the dashboard. Any defective products are removed by the server and control systems.
In the case where the manufacturing of large quantities and precise and high-quality SMD resistors takes place, the production capabilities can only be used effectively if the inspection, after implementing an automated optical inspection system, is fast and reliable. As a result, Advantech's HPC-7420 and ASMB-805 AOI solutions have been developed to replace manual inspection. When used in the manufacturing of SMD resistors, using digital machine vision and image processing yields objective and more consistent results.
Advantech's AOI solution for smart SMD resistor inspection provided a faster, more accurate, and more economical method over manual inspection effectively allowing the inspection of small SMD resistors at a maximum overall processing speed of 12,000 pcs/min.