Reliable Network Connectivity for Passenger Entertainment Systems Onboard Trains
27/07/2023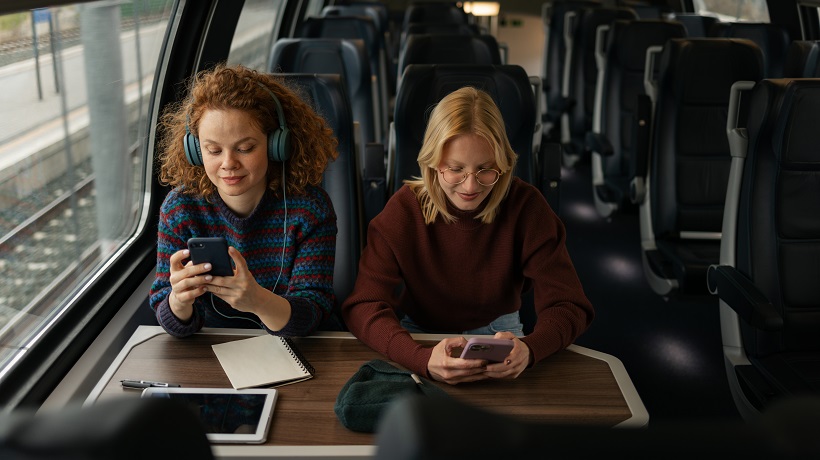 Data communication networks are essential components of modern railway infrastructure. Both freight and passenger trains require robust connectivity to transfer operational data between rolling stock systems, signaling controllers, and control centers. Achieving the goal of connected trains requires advanced networking platforms that are fully validated for the transportation industry. Offering onboard entertainment services on top of these networks can improve passenger satisfaction.
Passengers today expect connectivity and the ability to access digital services from their personal devices. This presents a huge opportunity for intercity, commuter train, and mass transit operators to increase customer loyalty and enhance the passenger experience by expanding the availability of onboard entertainment offerings. In addition to increasing ridership, the implementation of passenger entertainment platforms has the potential to create new revenue streams from paid services as well as advertising.
To deliver the robust connectivity to meet passenger demands for high-speed Wi-Fi and entertainment services, rail transportation operators need to digitally transform existing infrastructure and consolidate communication technologies into integrated networking solutions.
Maintaining connectivity while on a train is a complex challenge given that metal carriages weaken signal penetration, high user volumes strain network capacity, and harsh operating conditions can erode and degrade hardware. In this context, railway communication systems must be exceptionally reliable, as rail equipment typically has a 20-year service life.
Moreover, the railway environment is particularly stressful, featuring constant vibration, extreme temperature fluctuations, and electromagnetic interference. Therefore, all components intended for railway communication systems must meet strict performance standards and be certified to EN50155, EN50121, and EN45545 rail safety standards. To prevent loose connections or cable disconnection over time, device ports should be equipped with lockable M12 connectors.
For network hardware, such as managed Ethernet switches, communication protocols that allow complete interoperability with other products and flexible configuration into any network topology are critical. As more data is being used and demanded, a Gigabit Ethernet backbone is typically required for train networks to provide the high bandwidth that supports passenger entertainment and internet services.
Finally, the solution should be lightweight and compact to minimize disruption during deployment. The right communication system can help ensure reliable connectivity for train passengers while meeting the unique challenges of the railway environment.
EKI-9528: EN50155 Managed Ethernet Switch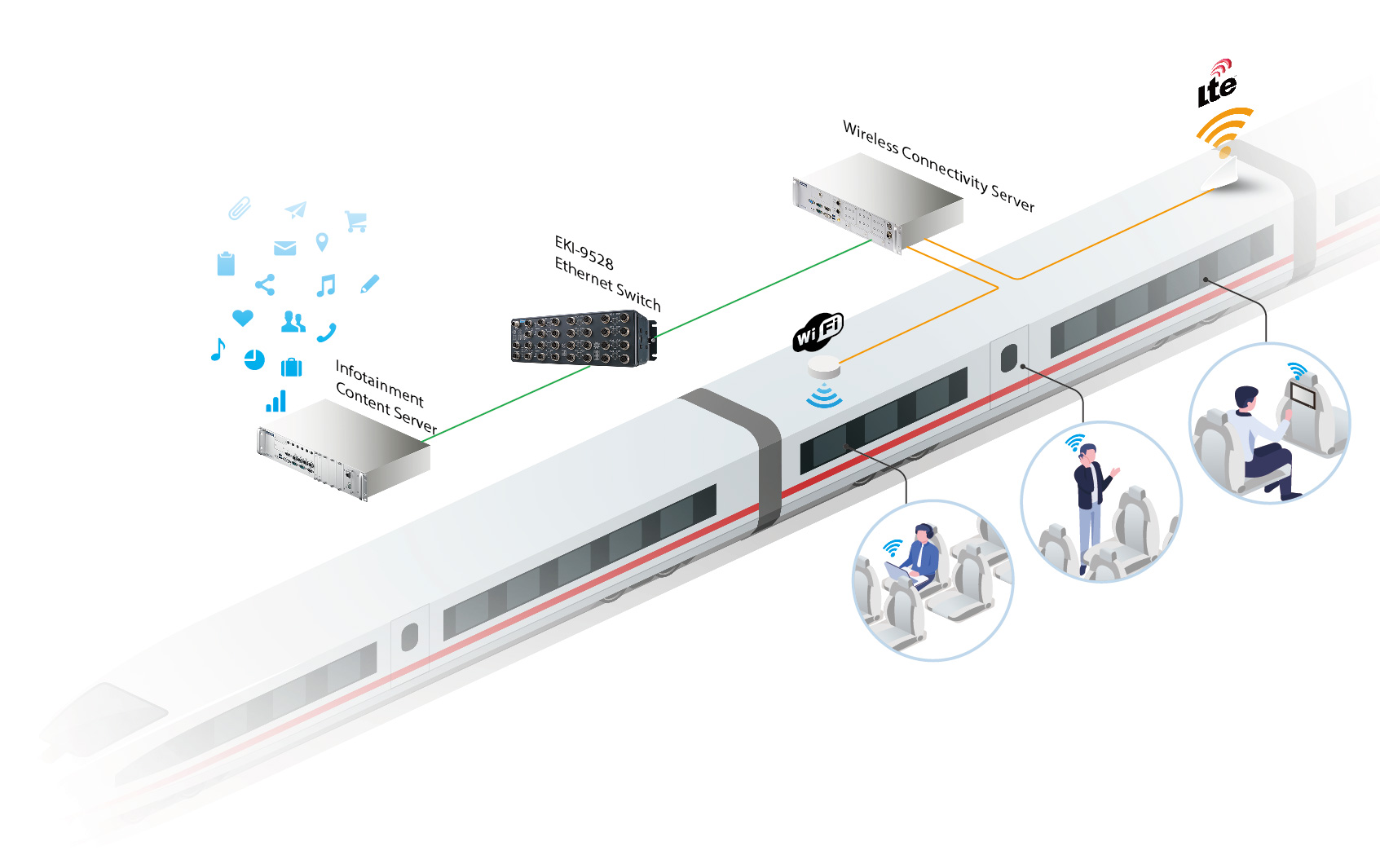 Advantech's EKI-9528 series is a set of managed switches that provide up to 28 Gigabit Ethernet ports and are designed for railway environments, including rolling stock and wayside control. The EKI-9528 switches are built to withstand extreme conditions with IP54-rated housing, a wide operating temperature range (-40 ~ 70 °C/-40 ~ 158 °F), wide power input range (24 ~ 110VDC), and high vibration/shock tolerance (5G/50G).
To ensure reliable connectivity in harsh environments, the Ethernet, console, relay, and power-input ports are equipped with M12 connectors that use screw-lock mechanisms. This feature helps prevent cable disconnection or damage due to constant vibration, ensuring a secure connection throughout the product lifecycle.
Support for IEEE802.3af/at PoE functionality means the same cable can be used for both data and power transmissions. This results in less cabling, which in turn reduces the space needed for cable ducts under carriage floors and overhead. This can help lower installation costs and downtime, as well as improve the train's fuel efficiency over time by reducing the weight of the network infrastructure.
Meanwhile, for enhanced network reliability, the inclusion of Advantech's X-Ring Pro technology ensures that a backup circuit can be established in just 20ms to compensate for any errors or broken links. This provides comprehensive communication redundancy and faster fail-over times for minimal downtime.
Advantech's EKI-9528 managed switches have the necessary certification, features, and functionality for rolling stock and railway environments. With their rugged design and high PoE power budget, they provide a future-proof technology foundation for rail operators.
These industrial-grade switches serve as powerful building blocks for onboard passenger entertainment systems and enhance the passenger experience by providing reliable, high-speed Wi-Fi access. Their EN50155, EN50121, EN61373, and EN45545 certification ensures safe operation for railway applications.
EKI-9528 Ethernet switches have a compact design with high port density, which saves installation space and reduces equipment costs. They also have a high vibration/shock tolerance (5G/50G) that ensures reliable performance under extreme conditions. The multiple Ethernet ports allow additional entertainment systems and capabilities to be integrated to extend features and services in the future.
For secure content delivery, EKI-9528 switches support standard communication protocols to ensure high compatibility with a wide range of rail systems. These switches can be connected in advanced ring topologies for large-scale networking and are pre-certified for international distribution, ensuring cost-efficient product development and a rapid time-to-market.
The reliability and long-term availability of Advantech's extensive product portfolio offers rail operators and systems integrators solution longevity for truly sustainable development. Drawing on 40 years of industrial design and manufacturing experience, Advantech produces a range of industrial Ethernet switches that are ideal for rolling stock applications. These switches come with various specifications, including Gigabit/Fast Ethernet, copper/fiber optic cable, and PoE functionality, allowing developers to design purpose-built solutions.
By leveraging Advantech's mature technologies, developers can simplify integration, verification, and certification, reducing design risk and total ownership costs. This approach enables transportation systems integrators to bring high-value entertainment service solutions to market faster. Advantech has a global presence and customer support network that offers multi-service channels, including warehousing, sourcing & purchasing, RMA services, and technical support/training, which accelerate business turnaround times.
For passenger entertainment networking solutions, Advantech products provide an extensible technology foundation that can be flexibly configured to meet customers' specific needs, now and in the future.