Tread Carefully, Security is Gold: Turkish Light Rail Adopts Intelligent Transportation System
26/03/2020
Intelligent Public Transportation: Enhancing Driver Safety and Information Sharing
Transportation plays a significant role in urban development. To improve convenience, many cities invest in intelligent public transportation systems to reduce traffic congestion caused by heavy commuting flows. In recent years, CCTV surveillance systems (CCTV) have gradually popularized—becoming standard equipment in public transit. Multiple services have been added to the system. From securing passenger safety, monitoring luggage racks, and managing traffic lights, to improving the efficiency of regional traffic control, management depends on video surveillance systems.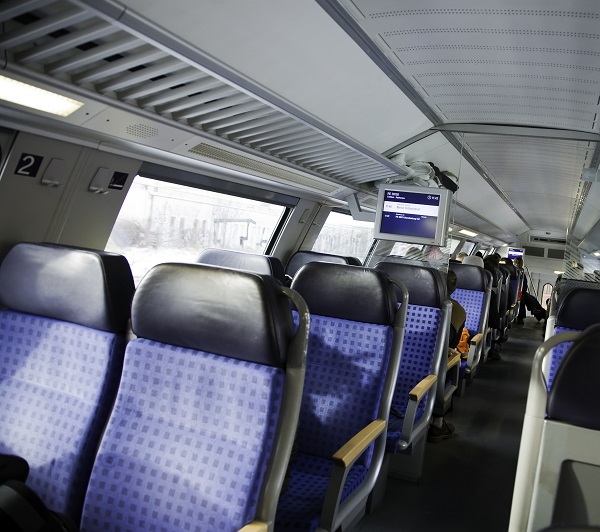 Upgrading to High-Quality Video Surveillance
To maximize the future effectiveness of video surveillance systems (applying face recognition technology, creating e-ticketing system), demand for image resolution has continually risen. Passenger information, entertainment, and ticketing are networked to improve commuter convenience and managerial efficiency. To reduce power consumption, lightweight vehicles are crucial. PoE technology, which reduces the weight of power cables, helps achieve this goal.
In line with this trend, Internet bandwidth requirements have increased significantly—especially the high-speed Ethernet used in building vehicular networks.
Istanbul's New T5 Light Rail Solves Traffic Jams
Since 2012, Dutch GPS mapping company TomTom has published its annual The World's Most Traffic-Choked Cities report. Turkey's economic center, Istanbul, which has a population over fifteen million, is on the list every year. To improve traffic flow, the Governor of Istanbul promoted public transportation construction projects. One key initiative is the operation of extra trains on the T5 light rail route.
Shared Right-of-Way Design, Safety Protection for Passengers and Vehicles
The 10km long T5 route starts at Alibeyköy, moves along the Golden Horn area for 35 minutes, and ends at Eminonu. There are 30 five-carriage trains, estimated to carry over 110,000 passengers per day, running on the T5 route. Short transportation routes with small-capacity carriages leads to a higher frequency of passengers boarding and alighting. Designed to be shared right-of-way, the T5 is extremely close to general roads. Due to these factors, securing the safety of both passengers and vehicles is of the utmost importance.
Strict Demand (1): Real-Time, High-Quality Video Surveillance
High-quality video surveillance systems with stable signals are essential for managers to supervise the real-time situation inside or outside the carriages. Through continuous video monitoring, there is no need to hire large numbers of inspectors. Additionally, the systems enable users to detect unusual conditions in the carriages or on the roads. By installing real-time, high-quality video surveillance systems, managers improve efficiency and save on human resource costs.
Strict Demand (2): A Real-Time Passenger Information System and Human-Machine Management Interface
In addition to implementing a CCTV video surveillance system, Istanbul light rail officials also required a Passenger Information System (PIS) in order to update the latest information regarding train status. Each camera installed in the first carriage was assigned an independent UID.
Strict Demand (3): Enabling Systems to Run Simultaneously Without Interrupting Each Other
To meet the requirements mentioned above, video surveillance and passenger information systems were requested to run simultaneously on one Internet backbone without interrupting each other, while offering a stable PoE power supply.
Strict Demand (4): Maximizing Space Utilization in Small Light Rail Carriages
The most difficult challenges in the case were in creating a strong and stable Internet environment in the narrow light rail carriages, ensuring all the equipment complied with the strict EN50155 standard (European Train Control System), and providing suitable Internet with a PoE power supply backup plan.
Traffic congestion problems in Istanbul have been a long-term headache for the city government. The construction and testing schedule of the T5 were was intensive. The route was organized to be officially opened in summer 2020. To satisfy the delivery demand in an extremely short time frame, Advantech integrated its enriched industry experience and global resources to offer the customer the fastest and most considerate service. Advantech's engineers on site in Turkey cooperated with related departments in the city government and clearly understood their demands with regards to managing passengers and traffic. A thorough resolution package was recommended.
Introduction of Solution Package:Industrial Extended Temperature Design + EN50155 International Standard + Backup Mechanism
Both the EKI-9508E-MPL managed Ethernet switch and the EKI-6528TPI Ethernet switch performed without issue across an extreme temperature range. M12 connectors were installed in the device to withstand the vibration and shock caused by running light rail. These two categories of switches offer considerable redundancy systems: EKI-9508E-MPL is equipped with X-Ring technology. If a device breaks in a certain area, communication is still secured and can be recovered immediately. EKI-6528TPI is supplied with dual power inputs with a seamless redundancy feature to increase power supply reliability.
EKI-9508E-MPL: Industrial Managed Ethernet Switch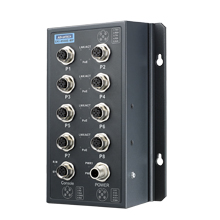 The EKI-9508E-MPL switch, complying with strict electromagnetic compatibility standards, is especially suitable for railway applications. The product is equipped with firmly installed M12 connectors that are able to overcome severe interruptions (vibration caused by running trains) and maintain a robust Internet connection.
The switch offers 8 Fast Ethernet M12 D-code ports with 8 IEEE 802.3at/af PoE ports. The PoE /PoE+ switch is classified as power source equipment (PSE), which provides up to a 90 watt PoE power budget and can be used for IEEE 802.3at/af compliant powered devices (PDs), such as IP cameras, wireless access points, and IP phones.
View product page
EKI-6528TPI: Industrial Unmanaged Ethernet Switch

EKI-6528TPI is an EN50155 certified industrial switch with IP40 protection and wide temperature support designed for railway applications. EKI-6528TPI provides 4 x PoE ports that support IEEE 802.3af and can provide up to 15.4 watts of power per port. M12 connectors ensure highly reliable connectivity for industrial communication applications.
With IP40 compact metal housings, switches are protected against dusty environments, providing a good fit for a range of industrial applications. Under no-power conditions, the 'Auto Bypass' function ensures the Ethernet signal connection through internal circuitry. This feature provides non-stop communication to rolling stock, even when no power exists in some of the carriages.
View product page
Advantech Boosts Industry: Solutions for an Intelligent Transportation Future
Ethernet architecture plays an essential role in intelligent transportation systems. In the Istanbul light rail case, high-quality video surveillance and passenger information systems brought tremendous advantages for managers while significantly improving passenger safety and convenience. The successful operation depended on stable and continuous Ethernet communication. The field of intelligent transportation still has endless possibilities and potential applications. Advantech is devoted to the development and deployment of total solution packages that continue to create the highest value for customers.
For more product inquiry, please contact iiot.tech@advantech.com
Advantech experts will be providing you with dedicated support soon!