Advantech AIW-343 Empowers Ubiquitous Wireless LTE Networking Connectivity
13/06/2022
June 2022, Taipei, Taiwan - Advantech, a leading global provider of industrial wireless solutions, is proud to release the newest member of the AIW-300 series — the AIW-343. This 4G LTE Cat 4 wireless module from Advantech Industrial Wireless (AIW) is designed for AIoT applications requiring ubiquitous connectivity, dynamic mobility, and extreme security. AIW-343 is an excellent solution for industrial computing and mobile devices; as well as smart factory and public transportation applications.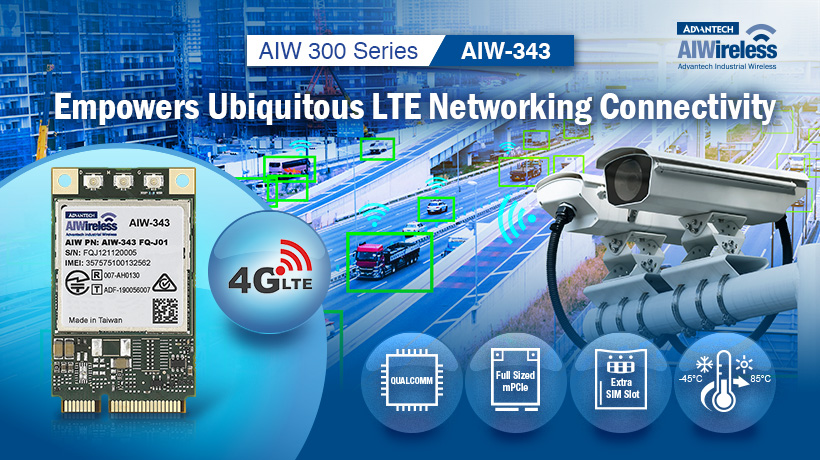 Powerful and Stable Wireless LTE Networking Connectivity
An increasing number of IoT companies are seeking new network connectivity solutions following the obsolescence of 3G. They require cost-efficient solutions that provide excellent network performance, great reliability, and secure coverage. LTE technology solutions deliver excellent application coverage with low-power consumption, stable network connectivity, flexible longevity, and enhanced reliability.
Mini-PCIe Form Factor Design with SIM Slot
The Advantech AIW-343 supports a Qualcomm MDM9X07 chipset and 4G LTE Cat 4 frequency. With maximum downlink and uplink rates of 150Mbps and 50Mbps respectively, AIW-343 provides better transmit speeds by communicating a greater volume of data. In addition, it features a mini-PCIe form factor that provides both the standard PCI Express and USB 2.0 signals. These features are suitable for shock-/vibration-intensive scenarios found in industrial automation, vehicular, and mobile, applications. Vitally, AIW-343 is designed for mainboards with limited space and features a SIM slot on its side, engendering greater integration flexibility.
Designed for Smart City and Public Transportation Systems Applications
The Advantech AIW-343 LTE module delivers high-speed capabilities to industrial monitoring, mobile devices, and public transportation applications. Indeed, AIW-343 is capable of delivering stable, high-speed, and low latency LTE capabilities to public transportation systems — including bus, metro, and bike rental systems. This solution also supports wide temperature ranges and multiple OS for similar functionality. In sum, AIW-343 is capable of optimizing public infrastructure efficiency while reducing costs.
Three versions of AIW-343 are available for applications in North America, Europe, and Japan. Every version supports LTE and GNSS wireless solutions via a SIM slot, delivering faster transmission speeds and lower network latency. The combination of features provided by AIW-343 — including its temperature ranges and compatibility with OS like Windows, Linux and Android — make it a uniquely adaptable solution.
AIW-343 Product Key Features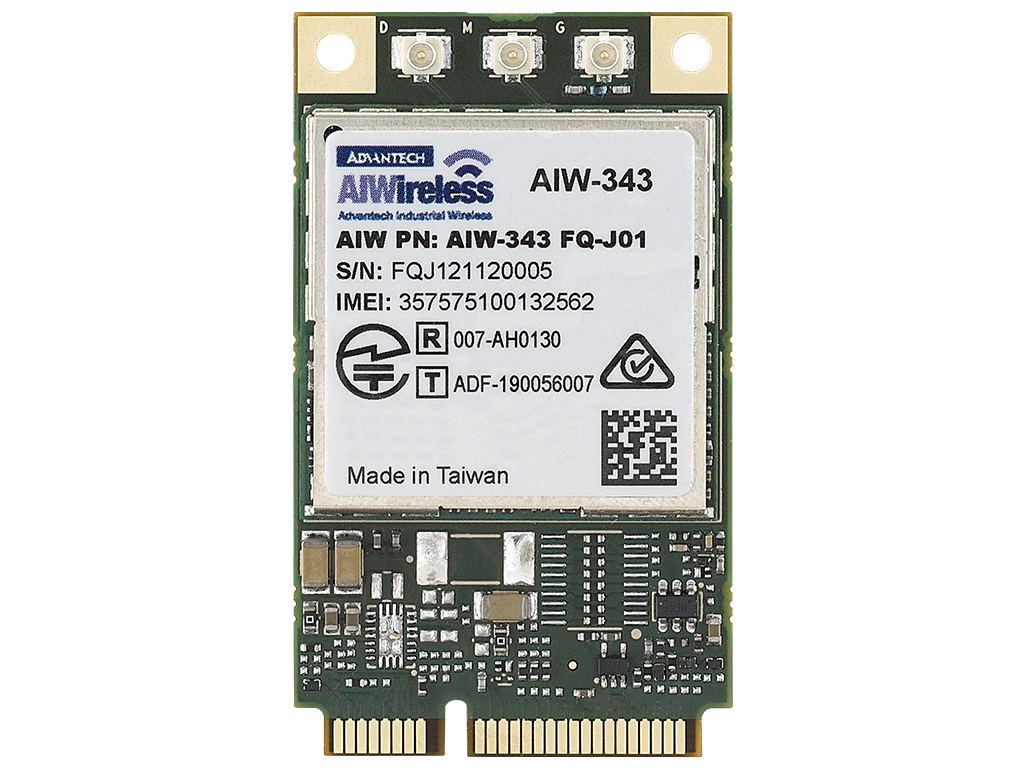 Qualcomm MDM9X07 4G LTE Cat 4 chipset

Wide operating temperature - Normal: -20 ~ 55 °C/-4 ~ 131 °F; Extended: -40 ~ 85 °C / -40 ~ 185 °F

Provides mini-PCIe form factor and USB communication interfaces with SIM slot on module

Diverse O/S compatibility: Windows, Linux (Ubuntu 20.04), and Android

Supports GNSS positioning capabilities



Toward the Next Wireless Technology Transformation
Advantech's Industrial Wireless (AIW) solutions provide market leading Wi-Fi 5/6/6E/7, 4G LTE, 5G NR, GPS/GNSS, and Bluetooth 5.2 technology. AIW solutions are reliable and robust with platform interoperability aimed at industrial customers. Combining worldwide wireless certifications — such as FCC & CE-RED — with wireless design-in services, AIW delivers a one-stop shopping experience that helps embedded customers accelerate their AIoT product development.