Advantech Launches Fully-Featured Ethernet to Fiber Media Converter Solution
26/04/2019
Taipei, Taiwan, Apr 29, 2019—Advantech, a leading supplier of industrial communication, launches fully-featured Ethernet to fiber media converter solutions. Aiming at applications that involve long distance data transmission, the fiber solutions allow for a painless upgrade so as to extend the life cycle of your network infrastructure.
Fiber is most commonly associated with long distance connections. This technology will enhance your network with additional bandwidth capacity, and can carry multiple signals concurrently, protecting data from noise and interference without electromagnetic emissions.
Intelligent Media Converters: The IMC-700 and IMC-500 Series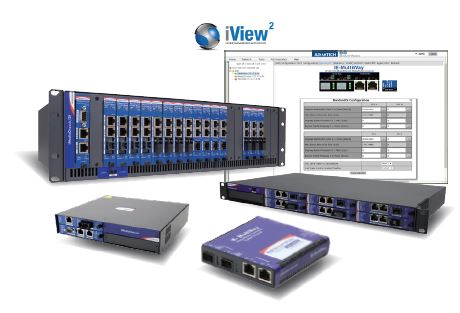 Advantech provides reliable and flexible high port density media converters consisting of chassis and a variety of Ethernet to fiber converter modules. Running on wide speed ranges up to 10GE transmission along with AC or DC power input for a redundant power solution, these media converters allow for higher deployment, flexibility, and stable operation.
The modular chassis also supports network management functionality via iView² and its SNMP for remote management and monitoring.An intelligent chassis with an installed SNMP management module can connect to the network. Through this connection, the network operator can remotely monitor and control all compatible modules via iView² from a central site.
Utilizing managed media converters in your network allows for easy troubleshooting at remote sites without the initial need for a costly truck roll.iView² is a Simple Network Management Protocol-based (SNMP-based) element management software dedicated to Advantech's intelligent IMC-574 and IMC-700 fiber module series. It enables network managers to configure, update, manage and monitor through IMC-710. The intuitive Graphical User Interface provides a real-time representation of all installed converter equipment and enables network managers to control and monitor device functions, port settings and receive device status information and traffic statistics via SNMP.
Compact/Miniature Media Converter
The IMC-300 and IMC-400 Series Advantech provides ultra-small industrial media converters measuring only 3.5 x 2 inches. Compliant with the power tray solutions, the media converters can be easily installed with the use of a common central power, saving much space and elevating power usage efficiency.
The compact media converters can be installed anywhere a network connection is needed. In addition, these media converters feature automatic link restoration for network reinstatement. They also increase the scalability of a network by providing rate conversion, distance extension, and multiple types of fixed fiber connectors or open slots for Small Form-Factor Pluggable (SFP) connections.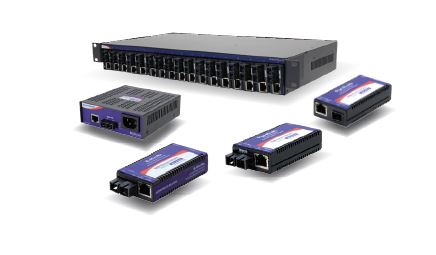 PoE+/ PoE Media converter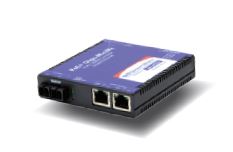 Multi-port media converters support both IEEE 802.3at (PoE+) and IEEE 802.3af (PoE) standards. The plug-and play and PoE+/PoE capability features make this product line a valuable solution for Ethernet networks.
Featuring two 10/100/1000Base-T copper UTP ports, one SFP or fixed fiber transceiver for network connection, the PoE media converters serve as Power Source Equipment (PSE) devices that can support up to a total power budget of 60 watts. The IMC-390 series is capable of powering up two Powered Devices (PD) over standard CAT5 (or higher level) cable, whereas the IMC-380 can power one PD device over one copper port while transmitting data over the other port.
The SFP (small form-factor pluggable) is a hot-swappable optical module transceiver in compact size with a variety of specifications for data communications. Offering more than 50 models, Advantech provides SFP modules with transmission speed ranging from 100Mbps to 10G. When user need a transmission service between destinations further than 100 meters where traditional copper cable cannot reach, the SFP can be useful to solve the problems.